Trading hours stock exchange Russia
Russia is not always portrayed positively in the west. Nevertheless, as an investor, you should not forget that there is still enormous potential for growth in this large country. As an investor, you can, of course, take advantage of this! But what are the opening hours of Russia's stock exchange? And on what days does the Moscow Stock Exchange close?
When will the Russian stock exchange open?
When you start investing in Russia, you might ask yourself when the Russian stock markets are opening and closing. Below you can see when the country's stock exchange will open:
The Russian stock exchange is open from 10:00 to 16:45 local time.
The Russian stock exchange is open from ##T|7:00## to ##T|13:45## your time.
Like all other stock exchanges, Russia's stock exchange closes at the weekend. This is great news for the active stock market trader who also deserves some rest!

On what days will Russia's stock exchange close In 2023?
Russia's stock exchange is not open all year round. There are several public holidays on which the stock exchange closes its gates. But do not be sad, the stock exchange always opens on a later day:
| Date | Bank holiday |
| --- | --- |
| January 2 | New Year's Day |
| February 23 | Defender's Day |
| March 8 | Women's Day |
| May 1 | Labor Day |
| May 9 | Victory Day |
| June 12 | National Day |
As you can see, Russia has a number of national holidays. This is not strange when you consider that until not very long ago Russia was a very Communist country. In that sense, it is impressive that the country already has such a well-functioning stock exchange.
Investing in Russian index
You can also invest in Russia by participating in a fund. The RTS Index of Russia Trading System tracks 50 Russian shares in dollars. This makes the index ideal for foreign investors. Do you prefer to trade in rubbles? Then you can consider investing in the MOEX Russia Index.
Both the RTS index and the MOEX Russia index have the same opening hours as the Russian stock exchange. You can trade in these indices from 10:00 a.m. to 4:45 p.m. local time or from 8:00 a.m. to 6:45 p.m. Dutch time.
Do you want to invest in Russia yourself?
Russia is part of the so-called BRICS countries. These are countries from which strong growth is expected in the future. However, political tensions may moderate these growth expectations. Below you can see at which brokers you can invest at the most advantageous rates in the Russian stock exchange:
| Broker | Fees | Register |
| --- | --- | --- |
| Compare? | Compare the best brokers & open a free demo! | |
What currency is used on the Russian stock exchange?
Shares on the Russian stock exchange are traded in the Russian rouble. Please note that your investment may decrease in value as your currency strengthens in relation to Russia's currency.
Where can you find the Russian Stock Exchange?
Russia's stock exchange can be found in Moscow, which is the capital of Russia. You can visit the website of the stock exchange here. The full address details are here:
125009 Moscow,Bolshoy Kislovsky per, 13
You can also reach the stock exchange via globalexchange@moex.com or +7 495 232-33-63.
Author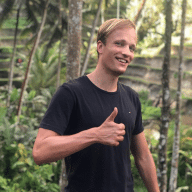 About
When I was 16, I secretly bought my first stock. Since that 'proud moment' I have been managing trading.info for over 10 years. It is my goal to educate people about financial freedom. After my studies business administration and psychology, I decided to put all my time in developing this website. Since I love to travel, I work from all over the world. Click here to read more about trading.info! Don't hesitate to leave a comment under this article.