How to buy Skanska shares (2023)? – invest in Skanska
Skanska is a large Swedish construction company that also undertakes projects outside of Europe. This diversification across different regions can make an investment in Skanska stocks attractive. In this article, we discuss how to invest in Skanska shares.
If you want to buy Skanska shares for the long term, it is essential to study how Skanska's business performs. Do you want to know where to buy Skanska shares? Then check out our comparison of stockbrokers:
| Brokers | Benefits | Register |
| --- | --- | --- |
| | Buy Skanska without commissions. Your capital is at risk. Other fees may apply. | |
| | Speculate with CFD's on increasing & decreasing prices of Skanska! 82% of retail CFD accounts lose money. | |
| | Benefit from low fees, an innovative platform & high security! | |
| | Speculate on price increases and decreases of Skanska with a free demo! | |
Well-known brand: Skanska is a well-known brand which is recognized internationally.
Diverse portfolio: Skanska has a diverse portfolio of projects in different countries, which reduces the risk of an investment.
Innovation: Skanska is known for its innovation in environmentally friendly construction practices.
Expansions: Skanska has ample potential for expansion into new markets.
What risks should you consider when buying Skanska stocks?
Dependency: Skanska generates most of its profits in Northern Europe and is therefore dependent on the economic situation in this region.
Competition: Skanska must compete with other large construction companies that sometimes have larger marketing budgets.
Economic situation: When the economy performs poorly, the number of construction projects often decreases. This can put pressure on Skanska's share price.
What are Skanska's biggest competitors?
Bouygues
Bechtel
Vinci
Turner Construction
Jacobs Engineering Group
First, open an account with a reliable stockbroker.
Deposit money into your account via bank transfer or credit card.
Select the Skanska share and enter the amount you want to invest.
Click buy to send the order to the stock exchange.
About the company Skanska
The multinational construction and development company Skanska is based in Sweden and is one of the largest construction companies in the world. Some notable construction projects of the company include the renovation of the United Nations headquarters, the Mater Tei Hospital in Malta, and the World Trade Center Transportation Hub Project. The company's headquarters are located in Stockholm, Sweden.
History of the Company
Skansa was founded by Rudolf Frederik Berg. In 1887, he established Scanian Cement Casting Ltd in Malmö, which began producing concrete products. The construction company made a significant contribution to the development of Swedish infrastructure by building roads, homes, offices, and power plants.
Due to its international expansion, the company was able to enter the international markets in the 1950s. The company became active in South America, Africa, and Asia. Skansa entered the American market in 1967 and is now one of the largest companies in its sector. The company used the name Skanska internationally, and in 1984, it became the official name of the company.
Acquisitions & Disinvestments
The company grew significantly in the 1990s, also due to the acquisition of companies. For example, the construction department of Kvaerner was acquired in 2000. In 2011, the American company Industrial Contractors from Evansville, Indiana was acquired.
Skanska decided to divest its Asian investments in 2004. The Indian subsidiary of the company was sold to Italian Thai Development Company, a construction company based in Thailand.
As you can see, Skanska is an active company that regularly acquires other companies or divests business activities. Keep this in mind when you start to invest in Skanska!
Contribution to the Environment
A construction company has a high environmental impact. However, in 2011, Skanska was ranked as the greenest company in the United Kingdom. Svenska aims to be the greenest contractor in the world, as reported by the Financial Times in 2014. The company established the "Supply Chain Sustainability School" in the United Kingdom. This e-learning initiative was set up to educate construction suppliers about sustainability.
The United States Chamber of Commerce opposed new LEED standards for sustainable buildings. Therefore, Skanska decided to withdraw from the Chamber of Commerce in July 2013.
Building a Sustainable Factory
In 2015, Skanska renovated the Bentley Works factory in Doncaster, United Kingdom. With the renovation of this location, the Swedish construction company delivered the most sustainable factory in Great Britain. The factory has become almost energy-neutral for its operational activities thanks to the installation of a biomass plant and solar panels.
The complex is equipped with natural daylight wherever possible and LED lamps provide lighting. Water-saving toilets and faucets have also been installed.
Sustainability becomes increasingly important for investors. When a company like Skanska focuses increasingly on sustainability, it can attract socially conscious investors. This can potentially drive up the stock price in the future.
Skanska is a construction company, which is therefore a cyclical stock. Its business performance improves when the economy performs well and there is high demand.
It is an advantage that Skanska is very active internationally. This allows low demand in one region to be offset by higher demand in another region.
Before investing in Skanska stocks, it is essential to determine whether the shares fit well within your current investment portfolio. Furthermore, evaluate regularly whether the shares still fit within your portfolio after you have opened an investment.
Author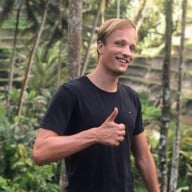 About
When I was 16, I secretly bought my first stock. Since that 'proud moment' I have been managing trading.info for over 10 years. It is my goal to educate people about financial freedom. After my studies business administration and psychology, I decided to put all my time in developing this website. Since I love to travel, I work from all over the world. Click <a href="/about-us/">here</a> to read more about trading.info! Don't hesitate to leave a comment under this article.