Buying Status (SNT): how to invest in Status?
Nowadays, the crypto market is very popular. One of the cryptocurrencies on the current market is the cryptocurrency of Status. Status is a mobile application that was introduced in 2017. With the help of this application, projects running on the blockchain chain can be managed. The digital currency of Status is the Status Network Token. The moment you start investing in cryptocurrencies such as Status Network Token, and you do this in the right way, you can make a lot of money with it.
Where can you trade in Status?
A good party where you can trade cryptocurrencies such as Status is Plus500. At Plus500 you pay no commissions when you trade in crypto CFDs. By using short positions, you can also profit from falling prices and because of this you can optimally anticipate on the movement of crypto's. Would you like to try the possibilities for free with a demo? Use the button below to open a free demo immediately:
How to buy Status?
Status is an Ethereum-based mobile application that can be compared to Google Pay or the Apple Store. You can use the platform to use applications or to chat with other users. Do you have faith in the future of the cryptocurrency Status? In that case, it may be interesting to buy the crypto Status.
At Binance you can buy Status cryptocurrencies with low transaction costs. You will never pay more than 0.1% in transaction fees. Use the button below to open an account with Binance immediately:
What is Status?
Status (SNT) is a mobile application for the Ethereum network. The Ethereum network uses blockchain technology. Status allows users to use decentralized applications built on Ethereum's blockchain network. You can use Status to write texts, for example. Later, it will also be possible to send photos and videos using Status.
Status also has its own cryptocurrency. The digital currency that comes with Status is called the Status Network Token (SNT). Cryptocurrencies from Status can be used to access applications running on the Ethereum blockchain technology. The exchange rate of this cryptocurrency, as well as Status' network, is in full development.
The makers of Status
The founders of Status are two Swiss men named Carl Bennets and Jarrad Hope. They launched the Status ICO in June 2017. Status has thus only recently launched, so the network is still in the process of development. Meanwhile, former Google manager Nabil Nahdy has also joined the team working behind the scenes for Status and its cryptocurrency Status Network Token (SNT). Nabil Nahdy's experience will contribute greatly to the further development of this digital currency. He has been made responsible for creating the vision, a roadmap and further developments of the product itself.

What are the different applications of Status (SNT)?
The Status application, and the price of the corresponding cryptocurrency, is still under full development. As a result, this application does not yet have all the functions that it would like to have. The following functions are currently available:
First, Status makes decentralized push notifications Users can decide for themselves which providers in the network send them notifications. However, to use this feature, you must pay for it. This payment can be made with Status' digital currency: the Status Network Token.
If you own crypto coins of Status, you have the right to vote on the future of the project. In this way you can influence changes in the Status network or other important decisions. This voting is not at the expense of the amount of digital currency you own. At the time you possess the Status Network Token, you will receive so-called 'Decision Tokens' for free. This second type of token can be used to cast your vote.
If you are in possession of the cryptocurrency Status Network Token, you can indicate whether you find the content displayed on the application useful or not. In this way, only the best content can be displayed.
 To avoid many people unnecessarily demanding attention from you through the Status community, you can set a so-called 'tribute'. This is a minimum amount of crypto coins that someone has to pay before he can message a stakeholder. The stakeholder will only receive this amount of coins once he has replied to the message.
The Expected Future of Status
The makers of the application Status want to expand this application much further in the future. They want to add a number of handy functions. For example, they want to create a corresponding app that allows holders to exchange fiat currency for digital currency. Status also wants to set up a directory with which decentralized applications can be designed. Finally, it is also an ambition of Status to increase user acceptance and user interaction. In this way, Status and its crypto money will become more popular.
How can I purchase Status Network Token?
When you plan to invest in Status Network Token, you must of course get this token in your possession. The digital currency of Status, the Status Network Token, is available through online platforms. There are many platforms where you can buy crypto money. It is wise to compare the different platforms in advance and investigate the reliability of the platforms. Platforms may differ in transaction costs, depending on the amount of crypto coins you wish to buy.
Save network token status
If you have bought Status Network Token, you will want to store these cryptocurrencies neatly and safely. When investing, it is also important to store your cryptocurrency, because you will not always sell it right away. There are two different types of wallets available in which you can store your Status Network Tokens. You can choose to store your digital coins in a hardware wallet or in a digital wallet. It is important to take into account the advantages and disadvantages of both wallets when choosing a wallet.
Digital wallet
A digital wallet is also called an online wallet. This is because this wallet keeps track online of the cryptocurrencies you possess. The big advantage of an online wallet is that you can have it with you at all times and can open it on various devices. It is possible to manage your wallet and digital coins on for instance your phone or laptop. As long as the device has an internet connection the management is possible. An online wallet is less safe because it is more susceptible to internet criminals.
Hardware wallet
A hardware wallet is also called an offline wallet. When using a hardware wallet, you store your wallet and crypto money on external hardware such as an USB stick. The advantage of a hardware wallet is that it is less sensitive to hackers. After all, your wallet is not stored in a cloud on the internet. The disadvantage of an offline wallet is that it is not always available. The moment you don't have your USB-stick or other external hardware with you, you can't manage your wallet and cryptocurrencies.
Investing in Status
If your wallet is filled with Status Network Tokens, you can start investing in Status. If you are going to invest in Status, you will buy Status with the expectation that in a certain period of time you can earn a return. When you choose to invest in cryptocurrencies, you are assuming that the cryptocurrencies will automatically become more valuable. Do you want to start investing in Status? In that case, you must do sufficient research in advance regarding the development of the price of the Status Network Token in the present and in the past.
Strategies for investing
In short, there are two strategies that are commonly used in the crypto market. The first strategy is called the 'short term' strategy and the second strategy is called the 'long term' strategy. One strategy is not much better than the other. As an investor, you must choose a strategy that suits you and that also track the price development of the digital currency, in this case the Status Network Token.
Short-term strategy
The short-term strategy means that you trade very actively on the crypto market. You keep an eye on the daily prices and based on these prices you decide whether you are going to sell your crypto money or whether you are going to wait until the value increases more. With this strategy you sell your digital currency on short notice and of course when you think that selling your cryptocurrency will generate a profit.
Long-term strategy
The long-term strategy is the opposite of the previous short-term strategy. In this strategy you buy cryptocurrencies, and you keep them in your wallet for a longer period of time. When you are going to invest in Status and you are using this strategy, you are actually looking at the course of the price in the long term. Of course, here too you sell your cryptocurrency at the moment when it is going to give you a lot of profit.
Conclusion: is it smart to invest in Status?
Status is therefore a mobile application that is still very much in development. Because of this, the price of the Status Network Token is still fluctuating a lot. Despite all these uncertainties, the goals of the creators of this digital currency are clear. If these goals are achieved, a bright future lies ahead for Status. However, when you currently choose to invest in Status, you must be aware of these uncertainties. It is wise to do good and thorough research on Status and to draw up an appropriate strategy for your investments.
Author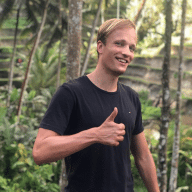 About
When I was 16, I secretly bought my first stock. Since that 'proud moment' I have been managing trading.info for over 10 years. It is my goal to educate people about financial freedom. After my studies business administration and psychology, I decided to put all my time in developing this website. Since I love to travel, I work from all over the world. Click here to read more about trading.info! Don't hesitate to leave a comment under this article.