Buying Steem: how to invest in Steem?
When people think of crypto currencies, they often immediately think of Bitcoins or Ethereum, but there are many other crypto currencies. Steem is one of them, and here we explain exactly how this coin works. The operation of the crypto coin, its advantages and disadvantages, and its future are described. That way, you can immediately determine whether it is interesting to invest in Steem by buying the coin.
How can you actively trade in Steem?
Would you like to actively invest in Steem? This is possible with an online broker! At an online broker, you can use CFDs to bet on both rising and falling Steem prices. At Plus500 you can try trading CFD cryptocurrencies with a demo, completely free and without risk. Use the button below to open an account with Plus500 immediately:
How to buy Steem?
Unlike many other crypto-currencies, there is no Steem coin scarcity: new coins are added unlimitedly. The coin is linked to a social network where users are paid for sharing high-quality content. As the use of data by social media platforms becomes more and more central, an investment in a coin like Steem can turn out to be a good thing.
Do you want to buy the Steem cryptocurrency? You can do it quickly online! At Binance, you can buy Steem at very low rates: you never pay more than 0.1% in transaction fees when buying cryptocurrencies at Binance. Use the button below to open an account with Binance immediately:
What is Steem?
Steem is an online decentralized platform where people who share content are directly rewarded for his or her contribution. It is not the case that everyone who writes receives Steem coins every day. This reward is based on reader ratings and the popularity of the shared content. In this way, users are financially rewarded for sharing meaningful content.
The reward that is paid out is in the form of a cryptocurrency. The platform makes use of Blockchain technology and the many advantages this offers. The main advantage is the decentralized trading of cryptocurrencies.
How did Steem come about?
Over the past few decades, a lot of money has been made by social media platforms by keeping their content relevant. The moment interesting and popular content is shared, the platform remains relevant to users. This attracts advertisers and that is how the social media company makes a profit.
In contrast, the people who share the content are often not rewarded for their contribution, which is why Steem was created. Steemit ensures that authors are rewarded and paid based on the content rating of other users. This ensures more qualitative and objective content.
Steem: How does it work?
The cryptocurrency around which Steem is built, is publicly traded. It therefore has a price that can be compared to other (crypto) currencies. Due to the fact that the Blockchain is constantly creating new coins, there is a strong form of inflation on the price of Steem. Every year, the number of Steem coins on offer doubles. This causes enormous inflation on the direct value of the coin. These coins are used to reward content creators in the form of SP and SMD described below.
Different values of Steem
The Steemit platform has three currencies, namely the Steem (STEEM), Steem Power (SP) and the Steem Dollar (SMD). This seems complicated, but it is simpler and more logical than it sounds at first. The platform where the cryptocurrency Steem is traded is called STEEMIT. Content creators are rewarded in 50% SP and 50% SMD.
Steem
Like other cryptocurrencies, this currency can be bought and sold on various crypto exchanges. Because more and more new tokens are added, the price of this currency should eventually decrease. However, due to the popularity of the platform, the price has risen lately.
SP
SP, or Steem Power, constitutes value on the Steemit platform, with users of the platform being judged by the amount of SP they hold. As a holder of SP, you not only acquire voting rights on Steemit, but you also pay a dividend on it. For example, every Steem token created by the Blockchain pays a dividend of 9 STEEM to all holders of SP. So in the long run you are rewarded for holding SP from the platform.
You'll have to hold SP for at least 13 weeks, which makes it a long-term investment. The advantage of holding Steem Power for a long time is that the more you possess of this currency, the more authority you have on the Steemit platform. In case of a vote your vote will count more and will be better rewarded.
SMD
SMD, or Steem Dollar, is the part of the currency which only represents value on the Steemit platform. Here 1 SMD is always equal to the value of $1 (US dollar), hence the name. This ratio persists no matter the value of a Stemm token. Interest is paid annually at 10% of the value of the SMD held. This is how users are rewarded for holding liquidity on the platform.
Investing in Steem
As with all financial values, the value of STEEM is based on supply and demand. Thus, the interest in the technology and the use of Steemit together with the aforementioned SMD and SP interests are the basis for the price. Every year the number of STEEM doubles and thus there is a huge inflation on the value of the token. Thus, the value per coin goes down by almost 0.2% per day in the form of purchasing power.
For this reason, it is recommended to convert to SMD immediately when buying STEEM to take advantage of the relatively stable dollar exchange rate. Hereby 1 SMD is always worth 1 USD. If the user wants to invest in the STEEM for the long term, it is recommended to hold SP. With such an investment, the user is convinced that the Steemit platform will contribute to the creation of online content in the future.
Holding cryptocurrencies is a good option to further diversify your portfolio. Steem is a very suitable option for this purpose. The past decades have shown that social media can be an enormous source of income, and a related token is therefore very interesting for the future.
Author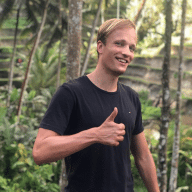 About
When I was 16, I secretly bought my first stock. Since that 'proud moment' I have been managing trading.info for over 10 years. It is my goal to educate people about financial freedom. After my studies business administration and psychology, I decided to put all my time in developing this website. Since I love to travel, I work from all over the world. Click here to read more about trading.info! Don't hesitate to leave a comment under this article.