Buying Stratis: how to invest in Stratis?
When you want to start investing, it is of course useful to research in advance which cryptocurrencies you want to invest in. A popular cryptocurrency to invest in is the Stratis cryptocurrency. Stratis is a Blockchain-as-a-Service platform which is often used by entrepreneurs.
To keep this platform running and to be able to use it, a company needs STRAT tokens. STRAT tokens are the cryptocurrencies of Stratis. There are several applications for this digital currency that are described further on in this article.
Because of these many applications and a potentially good future outlook, it is also attractive to start investing in Stratis. Are you planning to start investing in Stratis? In this article you will read everything you need to know about Stratis and the cryptocurrency that belongs to this platform before you start investing.
How to buy Stratis?
Stratis is actually an improvement on Bitcoin: Stratis is written in the superior C# as opposed to the C+ of Bitcoin. The applications of the Stratis blockchain are numerous: for example, the medical industry could use it to reliably rank medical research. Stratis could also be useful for the Internet of Things: for example, you could then digitally check into your AirBnB home, fully automated. Investing in Stratis by buying the cryptocurrency could also work out well.
Do you want to invest in Stratis? Then open an account with a reliable crypto exchange:
| Brokers | Information | Register |
| --- | --- | --- |
| | Trade in popular cryptos with a free demo & start today. Cryptoasset are highly volatile and unregulated in the UK. No consumer protection. Tax on profits may apply. | |
| | Speculate on increasing & decreasing crypto prices with the CFD provider Plus500 using a demo account. 82% of retail CFD accounts lose money. | |
What is Stratis?
Stratis is a Blockchain-as-a-Service platform. This type of platform is also called a BaaS platform. But what is a BaaS platform? The BaaS platform of Stratis is a service which companies can use to easily and quickly set up their blockchain.
This blockchain will then run on Stratis' main platform. The company's blockchain is therefore called a side-chain of the main Stratis blockchain. The cryptocurrency of Stratis is the STRAT token. This digital currency has several functions. For example, an entrepreneur needs these digital coins to connect his blockchain to the main platform of Stratis to activate the blockchain. Miners are also paid out in the form of STRAT tokens.
The founders of Stratis
The founder of Stratis is Chris Trew. He has many years of experience in the IT sector and is currently working as CEO of Stratis. Under his leadership works a strong team that has great confidence in Stratis, the STRAT token and the future of blockchain technology. The team consists of experts in different fields who all have relevant experience from their previous working years.
Key players in the Stratis team include Nicolas Dorier. He was formerly a Microsoft Certified Trainer and created NBitcoin. In addition, Carlton Pringle is also part of the Stratis team. He has also worked at Microsoft. Krushang Patel is head of the communications department. He makes sure there is good communication within the Stratis team. He also has good contacts with the teams of other cryptocurrencies.
Lowering the threshold to blockchain technology
Since the emergence of blockchain technology in 2009, the interest in cryptocurrencies has risen sharply. A blockchain contains many computers around the world, also called miners, which all manage a piece of data from the blockchain and update it when necessary.
Due to this extensive network and the independence of the computers, this network is virtually impossible to hack. In addition, this network of computers also ensures that no central authority is required to manage the cryptocurrencies and the transactions. This allows transactions to take place at lightning speed. These are all reasons that are music to entrepreneurs' ears. In the past, it was difficult for entrepreneurs to work with blockchain technology because it is very complicated. However, with the help of Stratis, entrepreneurs can easily create their own side-chain on the main Stratis blockchain.
What are the applications of the STRAT token?
If you want to invest in Stratis, it is of course important to know what the uses of the STRAT-token are. After all, this information can help you predict the price of the STRAT token in the future. The crypto tokens of Stratis are primarily intended to raise capital. Therefore, they are also seen as shares of the Stratis company.
The crypto money of Stratis is also needed to add the developed side-chain to the main Stratis blockchain. Of course, Stratis' digital coins are also used to pay out the miners. After all, they provide a computer to keep the blockchain running.
The future prospects of Stratis
The Stratis digital currency therefore has many applications. This diversity ensures that the cryptocurrencies are attractive to a wide and diverse audience. Thus, the cryptocurrencies are attractive to investors, corporations, miners, traders and many more.
What has not been mentioned before is that Stratis crypto also ensures the security of the blockchain. All these reasons can lead to the popularity of Stratis only increasing in the future. If Stratis' platform is going to be used by an awful lot of companies, then the value of the cryptocurrency is going to increase tremendously. In recent years, there has certainly been an increase in the popularity and price of the STRAT token. However, it is impossible to guarantee that this upward trend will continue.
How can I buy STRAT tokens?
STRAT tokens are the crypto money that belongs to the platform of Stratis. Cryptocurrencies can be purchased from various online platforms which are also called brokers. Prior to buying digital currencies, it is wise to do proper research on the different brokers.
This is because brokers can apply different transaction costs, as a result of which some brokers are cheaper than others. Besides that, not every broker sells all cryptocurrencies. When you want to buy STRAT tokens, you will have to check carefully if the broker you found sells these cryptocurrencies.
Storing STRAT tokens in a wallet
When you have bought digital coins from Stratis, you obviously want to store them in a safe and convenient way. The digital coins of different cryptocurrencies are stored in so-called 'wallets'. There are different types and brands of wallets in which you can store your crypto coins.
Software wallets
The first type of wallet is a so-called software wallet. These wallets are also called online wallets because your cryptocurrencies are stored in a Cloud. The handy thing about this type of wallet is that you can access it on different devices and at different moments. The only thing you need is a device and an internet connection. The disadvantage of storing your digital coins in an online wallet is that this wallet is somewhat susceptible to internet criminals because a Cloud is used.
Hardware wallets
The second type of wallet you can store your crypto coins in is a so-called hardware wallet. This type of wallet is also called an offline wallet because your assets are stored on external hardware. The disadvantage is that it is not always possible to reach this external hardware from all devices. Contrary to the online wallet, with an offline wallet, your digital currency is well protected against internet criminals. After all, the wallet is not stored on a Cloud or something like that.
Investing in Stratis
Investing in cryptocurrencies is a common way to make money. But what is investing? If you are going to invest in Stratis, this means that you first buy a bunch of crypto tokens of the corresponding digital currency. These STRAT tokens will then be stored in your software or hardware wallet. Over time, the value of these tokens will vary.
The aim of investing is to sell your cryptocurrency at the right time. The right moment is of course the moment when a cryptocurrency is worth more than when you bought it, because this way you will make a profit. This way you will make a profit. Remember that investing in cryptocurrencies like Stratis is very risky: you could lose a large part of your deposit.
Strategies for investing
When investing, you must choose a strategy in advance that suits you and the cryptocurrency you want to invest with. Roughly speaking, there are two types of strategies that are often used by investors. Both strategies can generate profits. The first strategy is called the 'long term' strategy and the second strategy is known as the 'short term' strategy.
Long-term strategy
If you don't want to be very active on the crypto market, and you don't want to monitor the prices of all kinds of cryptocurrencies every day, the long-term strategy is more suitable for you. In case of the long-term strategy, you namely examine the development of the price over a longer period of time.
Your STRAT tokens will sit idle in your wallet for a relatively long time. Based on the course of the price in the past, you try to predict at what point in the future the value of the digital coins will be high. By that time, you sell your coins and make a nice profit.
Short-term strategy
The active investors in the crypto market use the short-term strategy. With this strategy, the price of the cryptocurrency is monitored on a daily basis and each day a decision is made whether to sell the cryptocurrency. This makes this type of strategy very active and perhaps more intensive than the long-term strategy. With this strategy, too, investors can make a lot of money.
However, always remember that investing in cryptocurrencies carries a high risk!
Author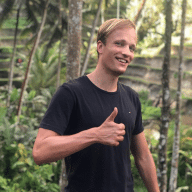 About
When I was 16, I secretly bought my first stock. Since that 'proud moment' I have been managing trading.info for over 10 years. It is my goal to educate people about financial freedom. After my studies business administration and psychology, I decided to put all my time in developing this website. Since I love to travel, I work from all over the world. Click here to read more about trading.info! Don't hesitate to leave a comment under this article.