Buying Tezos: how can you invest in Tezos?
Tezos (XTZ) is a cryptocurrency that aims to surpass the well-known Ethereum. In 2017, Tezos was introduced to the crypto market and soon this cryptocurrency won a lot of trust from all kinds of traders. However, due to various technical problems, Tezos remained under the radar for a while. Nowadays, all these technical problems have been resolved and Tezos is trying to make its way back into the crypto market.
How to buy Tezos?
As a (new) trader you may wonder whether it is wise to start trading Tezos. That's why we have made a handy overview with the most important information about Tezos in this article. Tezos is unique in that users themselves can decide on the future of the cryptocurrency. This democratic element can make it interesting to buy Tezos.
Do you want to buy the Tezos cryptocurrency? You can do this at a reliable crypto exchange:
| Brokers | Information | Register |
| --- | --- | --- |
| | Trade in popular cryptos with a free demo & start today. Cryptoasset are highly volatile and unregulated in the UK. No consumer protection. Tax on profits may apply. | |
| | Speculate on increasing & decreasing crypto prices with the CFD provider Plus500 using a demo account. 82% of retail CFD accounts lose money. | |
What is Tezos?
Tezos is a blockchain network connected to a digital token. This digital token is known as tezzie or Tez. The blockchain is decentralized. This means that there is no central place where the system is controlled and there is no central person who controls the system.
Tezos is a cryptocurrency which is fully adapted to the future by means of convenient Smart Contracts. During the development of these Smart Contracts, it was decided to make use of formal verification. This form of verification ensures optimal security and correctness, as it can mathematically prove the correctness of the code.
The Tezos blockchain also contains a built-in Consensus System that avoids conflicts over the development of the network. In this way, they ensure that the Tezos grows as a unit and that there are no splits.

How did Tezos come about?
The well-known cryptocurrencies, such as Bitcoin and Ethereum, are highly centralized. This means that the decision-making for the development and design of these cryptocurrencies is largely in the hands of special development teams and various miners. As a result, the blockchains of these cryptocurrencies were not very flexible.
Whenever there was disagreement between the development teams, they often decided to split off and continue working on a new cryptocurrency of their own, where they could work according to their ideas. However, because of these splits, the original cryptocurrency could not develop any further. The creators of the Tezos wanted to prevent this. As a result, they chose to develop a decentralized blockchain where the decision-making process is in the hands of the users.
Investing in Tezos
There are a number of rules that users must adhere to. When they do so successfully, they can approve or reject upgrades or changes to the Tezos network. This more democratic approach encourages users to participate in the development and upgrading of the network, making it much more effective than a centralized cryptocurrency like Bitcoin.
What are the functions of Tezos?
The well-known cryptocurrencies like Bitcoin are known for being possible replacements for 'real money' like the pound or the US dollar. Unfortunately, Tezos is not yet a replacement for this kind of money. Therefore, Tezos or TXZ tokens are mainly bought by project backers and traders, who have confidence in the project and express this confidence by investing in the project.
Investing in Tezos
Most traders in the Tezos are only looking for ways to make money in the short term or in the long term. The function of Tezos is mainly to keep the blockchain running and not so much to become a true alternative currency. Tezos coins are called Tezzies and can be used to hold an ICO or to make micro payments on the network. Of course, owning Tezos also means that you can vote on the development of this blockchain.
What are the benefits of Tezos?
The first advantage of Tezos is that this blockchain is a self-modifying one. Therefore, there is no need for a centralized location or team to make changes or upgrades to the system. This reduces the risk of fragmentation of this blockchain and allows the rewards for users to be adjusted.
Secondly, Tezos offers users a systematic and organised way to reach consensus on changes and upgrades in the chain. The so-called election cycle ensures that every user on the blockchain can participate in the management of the network. This will enhance the improvement of the network.
Reward for changes
The third advantage of Tezos is its reward system. With a decentralized blockchain, it is especially important that individuals get motivated to contribute to the development of the platform. For this, Tezos uses a convenient reward system where acceptance of a proposal ensures that a reward is available for its developers. After all, there are often costs associated with the changes proposed by developers, and it is of course nice if these finances become available upon acceptance of a proposal. In this way, more and more ideas are proposed, which benefits the development of the Tezos.
Fourth, the combination of formal authentication and smart contracts ensures that there is enhanced security for applications. Also, this mechanism can easily detect and resolve problems, so any problems will not have much impact.
The final benefit of Tezos is the so-called Proof of Stake (PoS) protocol, which is used to build consensus for any blockchain developments. Every user can be part of this protocol and gets a direct reward for contributing to the development of the network's security. The entry requirements are low, making participation in the PoS protocol straightforward.
What are the disadvantages of Tezos?
There have been technical problems in the past that have made Tezos less popular. This was mainly due to the fact that these problems could be avoided around the ICO.
Apart from this carelessness, there are a number of other drawbacks to Tezos. Many people find Tezos' intentions rather ambitious. Tezos wants to compete with Ethereum. Ethereum is a giant on the current crypto market, which makes it seem an impossible battle for Tezos.
So Tezos will really have to prove itself on the crypto market before it can become even more successful than Ethereum. The main reason to be suspicious of Tezos is surely the fraud scandal that has occurred in the past. In 2019, Tezos achieved the highest amount ever raised (at the time) in an ICO.
However, soon after this success, Tezos was sued for securities fraud. As a result, many traders and investors lost their confidence in this cryptocurrency. Time will tell if Tezos can regain this trust. Do you have faith in Tezos? In that case, it may be interesting to invest in Tezos by buying the cryptocurrency.
What should you watch out for when trading Tezos?
When trading Tezos, it is important that you are aware that it is not possible to be completely anonymous. Your public addresses and transactions are quite anonymous, but you will always leave a digital fingerprint when trading Tezos, which means that a knowledgeable individual or government agency will be able to trace the available information back to you.
You will also have to enter personal details during verification when buying XTZ tokens. When trading Tezos, it is also important to know that Tezos has no roadmap. Due to many problems in the past, Tezos is running behind schedule, which means there is no accurate roadmap available for this cryptocurrency. So, it remains to be seen what the plans are for Tezos in the future.
Buying Tezos
Investors looking to purchase Tezos should also be aware of the fact that Tezos are stored in customized wallets that other digital currencies may not use. For a seamless transaction, you will need to set up your wallet before purchasing Tezos.
In addition, you as a potential Tezos investor or trader will also be able to buy Tezos without verification. This kind of trading often takes place on open marketplaces. However, as a Tezos trader, you should take care when you come across these plausible offers. Often, these are stolen and tainted crypto, which can put you at risk as a trader. If you start trading with this type of crypto, you run the risk of being traced and then lose all your Tezos or even face criminal charges.
It is therefore important as a Tezos trade to make sure that you obtain your Tezos via safe and trusted transactions that take place with verification. This way you, as a trader, don't have to be afraid of the law. Finally, Tezos uses a special reward system where you receive extra rewards if you store your tokens in special wallets unused for a certain period of time.
If you decide to trade in Tezos instead of investing, you will miss out on these extra rewards. It is therefore important to make a good consideration between the returns you receive when you start trading in Tezos and the returns you receive when you decide to invest in Tezos for a longer period of time.
Author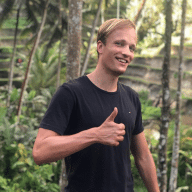 About
When I was 16, I secretly bought my first stock. Since that 'proud moment' I have been managing trading.info for over 10 years. It is my goal to educate people about financial freedom. After my studies business administration and psychology, I decided to put all my time in developing this website. Since I love to travel, I work from all over the world. Click here to read more about trading.info! Don't hesitate to leave a comment under this article.