How to buy Umicore shares?
Sustainability is increasingly important for the average investor. Umicore is a Belgian company that knows how to respond to this trend. They do this, for example, by producing rechargeable batteries. Do you want to invest in the company Umicore? In this article you can read how you can buy Umicore shares and take a look at the current stock price.
Do you want to buy Umicore shares? You can directly trade in Umicore stocks with one of these reliable brokers:

| Brokers | Benefits | Register |
| --- | --- | --- |
How can you actively invest in Umicore?
The prices of a share can fluctuate constantly. This is no different for the Umicore share. Speculators actively trade the price of a share: this enables them to achieve a good result under all market conditions.
A good party where you can actively trade in Umicore shares is Plus500. With Plus500 CFDs, you can take a position on both a falling and rising price which allows you maximum flexibility. Use the button below to instantly open a free demo on Plus500:
What is Umicore's stock price?
You can see Umicore's current CFD share price in the graph below. With the buy and sell buttons you can directly open a position on the share.
About the company Umicore
The multinational materials technology company Umicore N.V. is headquartered in Brussels, Belgium. Previously, the company was known as Union Miniére. In 1989, 4 companies in the mining and smelting industry merged with each other. This merger led to the creation of Umicore.
After it was founded, the company was transformed into a more technology-oriented company. Activities of the company include refining and the recycling of metals. Umicore also produces specialized products of precious metals, cobalt, zinc, germanium and other metals. Since its foundation in 1991, Umicore has been listed on the Belgian BEL-20 stock exchange index.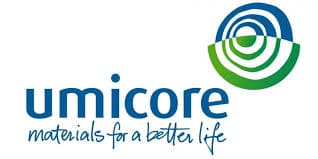 Umicore's activities
The company obtains its income mainly by actively building a more sustainable society. The company does this by producing rechargeable batteries. In addition, the company is engaged in emission control and recycling.
The company received the Fray International Sustainability Award in 2011. They received this award for developing breakthrough technologies for recycling rechargeable batteries. In addition, the company had taken significant initiatives to protect the environment. In 2014, the company was ranked ninth among the 100 most sustainable companies in the world.
Do you think this sustainable approach will contribute to achieving better results in the future? Then it may be smart to invest in Umicore by buying shares.
Farewell to mining
In the past, mining was the main activity of the company. The company is not involved in mining anymore: all these activities have been sold. In 2005, the copper mining and refining activities were sold to Aurubis. In 2007, the zinc smelting activities were sold to Nyrstar.
In 2008, the last mining activities were terminated. The company had a minority stake in the zinc producer Padaeng Industry as the only remaining mining activity until 2008. This zinc producer operates a mine in the north of Thailand. This minority interest was sold in April 2008.
Umicore's divisions
Umicore has four divisions: Energy Materials, Recycling, Catalysis and Performance Materials.
The Energy Materials division produces a range of metal and metalloid products for industrial use. An example of this are the products made from the oxides of salts of cobalt. They also produce lithium and nickel which are used in glass, ceramics and batteries. This division of Umicore also produces and sells products made of germanium.
The main activity of the Recycling division is the refining and recycling of various precious metals and other non-ferrous metals. In terms of recycling, Umicore is the largest recycler of precious metals in the world.
The recycling section also has other activities. For example, the Battery Recycling business unit focuses on the recycling of rechargeable batteries that are used in laptops and cell phones. The Jewellery and Industrial Materials business unit produces semi-finished products based on precious metals. Scrap and residues from the jewelry industry are also recycled. The Recycle segment sells precious metals in cast form to industrial customers.
The Catalysis division consists of two parts: Precious Metal Chemistry and Automotive Catalystics. This division has been conducting research in the field of automotive catalysts since 1968.
The Performance Materials division produces specialized articles. These articles are mainly made of precious metals and zinc.
When considering an investment in Umicore, it is important to carefully examine the activities and perspectives of these different divisions.
Author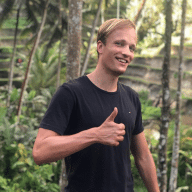 About
When I was 16, I secretly bought my first stock. Since that 'proud moment' I have been managing trading.info for over 10 years. It is my goal to educate people about financial freedom. After my studies business administration and psychology, I decided to put all my time in developing this website. Since I love to travel, I work from all over the world. Click here to read more about trading.info! Don't hesitate to leave a comment under this article.