Buying VeChain Thor: how to invest in VeChain Thor?
Investing in crypto-currencies is extremely popular at the moment. More and more people think that digital currencies could play an important role in the future financial world. VeChain is one of the projects that analysts are praising for its possible future. Since there is a small chance that you are familiar with this cryptocurrency, we decided to provide you with the most important information in this article. By reading this article, you will know exactly what VeChain Thor is and what you can use the cryptocurrency for!
How can you actively trade in VeChain Thor?
Do you want to actively invest in VeChain Thor? You can do so with an online broker! At an online broker, you can use CFDs to bet on both falling and rising VeChain Thor prices. At eToro you can try CFD trading completely free and risk-free with a demo. Use the button below to open an account with eToro immediately;
How to buy VeChain Thor?
It may be smart to buy VeChain Thor! The cryptocurrency VeChain Thor has unique applications that can be very useful for business. For example, by allowing companies to track their products from production to delivery, the market for counterfeit products can be combated.
Do you want to buy the VeChain Thor cryptocurrency? You can do it quickly online! At Binance you can buy VeChain Thor at very low rates: you will never pay more than 0.1% in transaction fees when buying cryptocurrencies at Binance. Use the button below to open an account with Binance immediately:
What is VeChain – goals of the blockchain
Before we can look at VeChain Thor, it is necessary to zoom in on VeChain. After all, this is the umbrella blockchain of the project. VeChain (VET) is one of the first blockchains that was built specifically to meet the needs of enterprise-level customers. The developers behind the project are trying to improve the supply chain and product management through the use of a special blockchain
The special feature of this project is that the platform offers users a variety of new functionalities that allow supply chain protocols to be set up just a bit better. VeChain offers companies the possibility to easily keep track of a huge amount of data. This data can look at things like quality, authenticity, storage temperature and transport status. The special thing is that VeChain offers all these functions through a trust-free and distributed business ecosystem.
Gas for the VeChain ecosystem
VeChain Thor, also known as VTHO, is slightly different from VeChain itself. However, it plays an incredibly important role within the VeChain ecosystem. This is because VeChain Thor is necessary for transferring data to the VeChain Thor blockchain. This means that every transaction (sending tokens or sending data to a smart contract) must be paid for in VeChain Thor. In many ways, you can compare this to NEO's GAS for the blockchain.
How much VeChain Thor is needed for a transaction? This really depends entirely on the size of the data you want to send. A simple VTHO transaction generally costs 30 VTHO, whereas sending a data-filled transaction to a smart contract can cost 1000 VTHO. This may seem a lot, but for companies sending huge amounts of data, it is of course not so bad.
What is an application of VeChain?
The VeChain blockchain can be very useful for businesses. This is because the blockchain focuses on making the supply chain transparent: the blockchain can be used to track how a product moves from the place of origin to the time of delivery.
This functionality is especially attractive for luxury brands. This is because the products of luxury brands are regularly counterfeited and as a result, companies miss out on around $500 billion annually. By using VeChain, potential customers can verify the authenticity of products. At the same time, producers can track their products, giving them a better idea of the lifespan of their products.
The token THOR is then used to pay for the use of these functionalities. Large companies do not mind paying for this kind of information, which is why VeChain Thor can be a success. An investment in VeChain Thor is therefore not a bad idea!
Is it smart to invest in VeChain Thor?
If you want to invest in VeChain Thor, you should look for the special code VET on the exchange. This token really serves as a value generator within the VeChain blockchain. VeChain Tor can transfer value across the blockchain and trigger smart contracts. This is therefore how users pay for transactions on Dapps that function on the VeChain blockchain. You can buy VET from many well-known exchanges such as Bitfinex or Binance.
VeChain's system is set up so that a total of 86,712,634,466 VET can be issued. This means that it is a scarce resource, which is good for the price. Currently, the coin is in the top 30 of the total crypto market. This shows that it is a project which is already known to the public and which has already experienced major growth. Of course, this does not mean that the price cannot continue to rise. Due to the relatively low risks and the good future prospects, this is definitely a coin to consider if you want to buy altcoins for your portfolio.
The arrival of VeChain Thor Energy
VeChain Thor is not the only token used within the VeChain blockchain. In fact, we are also familiar with VeChain Thor Energy. This special token acts as a faster kind of currency for smart contract transactions. These tokens are not publicly available. This also means that you cannot invest in them as a starting investor. Only developers use these tokens to cover their contract execution costs. As an investor, you can only choose the regular VeChain Thor token. So please think about this while investing.
Store VeChain Thor in special wallet
A mistake many people make is that they buy VeChain Thor and then just leave the coins on the exchange. This is fine if you want to actively trade, but not if you want to hold it as an investment. The fact is that there is a chance that the exchange will be hacked one day. If this happens, you can forget about your VeChain Thor tokens. Therefore, it is wise to always transfer your coins to a reliable wallet after you have acquired them, if you want to play it safe.
With a wallet, you are the owner of your tokens and therefore in control. The paper wallets are very accessible, but they are not as convenient as the other wallets. Therefore, we advise you to choose a software or hardware wallet. The hardware wallets offer the most protection. However, the software wallets are a lot cheaper. If you choose for a hardware wallet, the Ledger is generally the best option to choose.
Conclusion – to invest in VeChain Thor or not?
If you see a future in VeChain Thor's new blockchain, it is not a bad idea to include the currency in your investments. Due to the high level of security and anonymity, the project is likely to appeal to the general public. Of course, the question is how governments will deal with it. Ultimately, it remains a personal choice to make, we can only provide you with useful advice for investing in VeChain Thor. Also be sure to take a look at the many other articles that can be found here on the site!
Author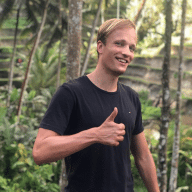 About
When I was 16, I secretly bought my first stock. Since that 'proud moment' I have been managing trading.info for over 10 years. It is my goal to educate people about financial freedom. After my studies business administration and psychology, I decided to put all my time in developing this website. Since I love to travel, I work from all over the world. Click here to read more about trading.info! Don't hesitate to leave a comment under this article.