How to buy Verizon Communications shares?
Verizon is a provider that responds well to the new 5G technology. If Verizon succeeds in attracting new customers to buy the more expensive, unlimited data package, this may be a good reason to buy Verizon Communications stocks. But what is the best place to invest in Verizon, and what is the current stock price of Verizon?
Where can you buy Verizon Communications stocks?
Do you want to buy Verizon shares? You can directly trade in Verizon stocks with one of these reliable brokers:

| Brokers | Benefits | Register |
| --- | --- | --- |
How can you actively invest in Verizon Communications?
The price of a share fluctuates constantly: this is also the case with the Verizon Communications stock. As an active investor or trader, you can respond to both rising and falling share prices. Would you also like to trade actively in Verizon Communications? You can with the CFD-broker Plus500! Use the button below to try out the possibilities with Plus500 at no risk and free of charge;
What is the stock price of Verizon Communications?
Are you curious about the latest share price of Verizon Communications? The chart below shows the price at which you can buy Verizon Communications CFD stocks:
About the company Verizon Communications
The company Verizon Communications Inc. is a telecommunications' operator. This company provides internet services, wireless services and fixed line and data services. The company also operates large communications networks. These communication networks are used by the government and also for telephone lines for businesses.
The wireless network, which accounts for 75% of Verizon's turnover, is by far the most important part of this company. The company, which is primarily focused on the US, generates almost all of its turnover in the US.
Verizon Communications, one of the largest U.S. telecom companies, has a company name that is a combination of the words "veritas" (security and reliability) and "horizon" (a forward-looking vision). The company is headquartered in New York.

The business units of the company
Verizon Communications consists of two business units:
The Wireless section offers all wireless activities. This part of the company, which is responsible for 75% of the turnover, is the most profitable part of the company. The number of subscribers for mobile communications is increasing every year.
The Wireline component offers, among other things, the fixed telephone connection. The number of subscribers with a fixed telephone connection decreases every year. This business unit also offers television and internet via cable. For large users of data, a fibre-optic cable connection is supplied.
Company history
In 1997 Bell Atlantic merges with Nynex, which is also a Bell company. In 2000 Bell Atlantic acquires GTE, creating the company Verizon Communications.
MCI, formerly US telecom company Worldcom, was acquired by Verizon Communications in 2005. Verizon, which was particularly interested in MCI's corporate customers, paid $6.7 billion to acquire this company.
Vodafone's 45% stake in Verizon Wireless was acquired by Verizon in 2014. It was a transaction worth USD 130 billion.
Verizon bought the internet company AOL in 2015. In 2016, the company announced a $4.8 billion acquisition of Internet company Yahoo. After the merger of the two internet companies, Verizon expects to start earning more from advertising sales.
As you can see, Verizon makes various acquisitions: it is advisable to keep a close eye on these types of acquisitions. An acquisition can be a good reason to buy Verizon stocks when it adds value to the company. When this is not the case, you need to be careful when investing in Verizon.
Millions of fines for failure of properly protecting customer data
On February 2020, the Federal Communications Commission (FCC), the US telecoms watchdog, announced that Internet companies would be fined a total of USD 200 million. The fine was imposed because the US internet companies had failed to properly protect their customers' location data.
According to the regulator, the Internet companies had not done enough to safeguard the privacy of their customers. In addition, ISPs had not done enough to prevent unauthorized access to customers' data. Verizon was therefore fined USD 48 million.
Fines of this kind are bad for a company's reputation. It can therefore be a good reason to wait before buying Verizon shares.
Author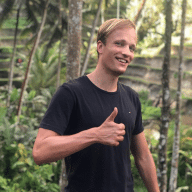 About
When I was 16, I secretly bought my first stock. Since that 'proud moment' I have been managing trading.info for over 10 years. It is my goal to educate people about financial freedom. After my studies business administration and psychology, I decided to put all my time in developing this website. Since I love to travel, I work from all over the world. Click here to read more about trading.info! Don't hesitate to leave a comment under this article.