How to buy Visa stocks (2023)? invest in Visa
Visa is perhaps the most well-known payment company in the world. Since Visa doesn't issue credit cards itself, an investment in Visa stocks can be attractive in all market conditions. In this article, you can discover how to buy Visa shares, and you can examine the current stock price.
Almost everyone in America and Europe owns at least one credit card. With the rise of online shopping, credit cards are gaining popularity. Furthermore, the company promises to refund users in case of card fraud, which makes credit cards increasingly popular for online payments.
Due to Visa's wide acceptance, it can be an interesting investment. You can easily buy Visa shares through an online broker. By doing so, you become a co-owner of the company and can benefit from its future growth. Open an account with one of these brokers to buy Visa stocks today:
| Brokers | Benefits | Register |
| --- | --- | --- |
| | Buy Visa without commissions. Your capital is at risk. Other fees may apply. | |
| | Speculate with CFD's on increasing & decreasing prices of Visa! 82% of retail CFD accounts lose money. | |
| | Benefit from low fees, an innovative platform & high security! | |
| | Speculate on price increases and decreases of Visa with a free demo! | |
What is the stock price of Visa?
If you want to know how Visa's stock is performing, you can check the current stock price in the chart below:
Company details of Visa
Below, you can see the key company details of Visa.
Analysis of Visa stocks
Before deciding whether to buy or sell Visa shares, it's important to analyse the stock thoroughly. In the overview below, you can see how Visa has performed over the past period.
Visa stock prices over the last 5 days
In the table below, you can see the stock prices of Visa from the last 5 days:
What does the Visa stock price do in 2023?
Are you curious about what analysts predict for Visa in 2023 and the following years? We have combined the forecasts of analysts using data from Alpha Vantage. Keep in mind that this figure is just a prediction of Visa's stock performance and may not be accurate.
Global payment network: Visa is one of the largest and most accepted payment networks worldwide. Additionally, Visa benefits from the transition from cash to electronic payments, which allows the company to continue growing in the future.
Strong brand: Visa is known as a trusted and reliable brand, which makes it more likely for consumers to choose this type of credit card.
Innovation: Visa has made significant contributions to the development of contactless payments, mobile wallets, and other new payment options.
Growth of digital payments: As people increasingly shop online, the total volume of commerce is growing. Visa benefits from this by charging transaction fees when customers use their credit cards.
What are the risks of investing in Visa stocks?
Regulations: Due to its strong position, Visa is closely monitored. Legal issues related to data breaches can lead to significant fines.
Competition: The payment industry faces intense competition, which can put pressure on the company's profit margins.
Economic dependence: Visa's performance is strongly tied to the economic situation. When the economy contracts, people spend less money, which results in fewer transaction fees for the company.
Technological problems & cybersecurity: Emerging technologies such as blockchain can disrupt traditional payment providers. Additionally, Visa must be cautious about hackers, as cybersecurity issues can impact the company's performance.
Who are the biggest competitors of Visa?
Discovery Financial Services
PayPal
UnionPay
How to invest in Visa stocks?
Step 1: Open an account with a broker
You can buy Visa stocks through a broker that offers US stocks. When selecting a broker, pay attention to conversion costs as many brokers charge extra fees for converting dollars to euros. Click here to compare different brokers directly.
Step 2: Activate broker account & deposit funds
After opening an account with a broker, you can start investing in Visa stocks. Often, you still need to activate your account. Then, deposit sufficient funds into your investment account for your Visa stock investment.
Step 3: Buy Visa stocks
You can buy Visa stocks all at once, or you can choose to apply dollar-cost averaging (DCA). With DCA, you buy Visa stocks at different times, allowing you to achieve an average return.
Select the Visa stock within the trading software and enter the amount you want to invest. With modern brokers, you can start investing in Visa with as little as $100. Subsequently, click on "buy" to send the order to the stock exchange. You can track the results of your investment in real-time within your open positions overview.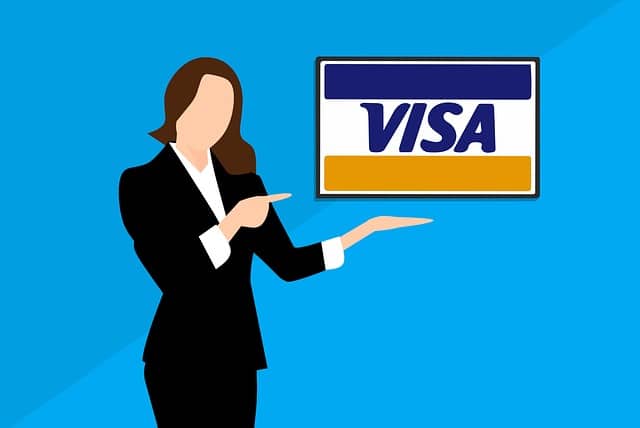 What does Visa do?
Visa Inc. (Visa) is a payment network for individuals. It connects consumers, businesses, merchants, financial institutions, and government agencies through electronic payments. By facilitating value and information transfer, the company enables global trade among participants. The headquarters of this company, founded in 1958, is located in Foster City, California.
The company's divisions
The American company Visa consists of two divisions. The publicly traded division, Visa Inc., includes the US interests. Visa Europe is not listed on the stock exchange. In the past, this division was part of European banks, but nowadays, it is a subsidiary of Visa Inc.
Visa's activities
Visa Inc. provides systems and services to member banks and financial institutions. The company is mainly known for its credit card services and issues the well-known VISA card. This also includes many credit cards that were issued in the past, such as the Bank America card and the Franse Carte Blue.
Visa also issues debit cards under different names. In the US, the debit card is called Visa Check, in the United Kingdom Visa Debit Card & Visa Electron, and in Europe V Pay.
Initial Public Offering of Visa's US operations
In 2006, Visa consisted of Visa Canada, Visa International, and Visa U.S.A. Visa decided to merge these entities into a new company. This new company, Visa Inc., later went public. In 2016, another credit card company, Mastercard, had a successful IPO.
Visa Inc.'s shares debuted on the New York Stock Exchange in March 2008. The initial offering price for these shares was $44 per share, which was higher than the expected range of $37 to $42 per share.
Acquisition of Visa Europe
In 2015, Visa Inc. initiated negotiations to acquire Visa Europe. The owners of Visa Europe, 3,000 banks and other financial institutions, expressed interest in this acquisition. Visa Inc. paid $20 billion for this acquisition, which was completed in June 2016. This acquisition consolidated all Visa activities under one company.
Is it wise to invest in Visa stocks?
Some of Visa's competitors also issue credit cards, such as American Express. When the economy performs well, this can be advantageous. In such cases, companies ultimately earn a significant amount of money through credit card interest. However, when the economy struggles, it becomes a disadvantage as many people cannot repay their debts. Since Visa doesn't issue credit cards themselves, it is considered a safer choice during economically uncertain times.
Visa earns money by processing customer data and payments. They also offer special services at an additional cost. The brand operates in 200 countries and regions, which helps to diversify the risks. Mediocre results in America can be offset by performance in Asia or Europe.
Another trend that Visa can capitalize on is the shift to e-commerce, where credit cards are a popular payment option. Additionally, the global COVID-19 pandemic has increased attention on digital payments. These are all compelling reasons to consider buying Visa stocks.
The company is also interested in cryptocurrencies. Although Visa no longer works with Facebook's digital currency, embracing this technology could be attractive as it could further reduce transaction costs. If Visa succeeds in effectively implementing blockchain technology, it would be another good reason to invest in the company.
Lastly, Visa's adeptness with new technologies is another argument for buying Visa stocks. For example, Visa collaborates with Facebook to enable payments through WhatsApp in Brazil. This technology is already highly popular within WeChat and could enhance Visa's profitability in the future. Keep an eye on these developments!
Author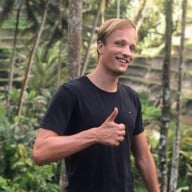 About
When I was 16, I secretly bought my first stock. Since that 'proud moment' I have been managing trading.info for over 10 years. It is my goal to educate people about financial freedom. After my studies business administration and psychology, I decided to put all my time in developing this website. Since I love to travel, I work from all over the world. Click <a href="/about-us/">here</a> to read more about trading.info! Don't hesitate to leave a comment under this article.