How to buy Vodafone shares (2023) – invest in Vodafone
Vodafone is the market leader in mobile communications. They also aim to capitalize on new trends such as the Internet of Things, which allows you to connect all devices in your home. Do you want to invest in Vodafone's future? Here, you can directly discover where to buy Vodafone shares and check the current stock price.
Are you considering buying Vodafone shares for the long term? You can do so with an online broker! An online broker is a party that enables you to add shares to your portfolio. Below, you can see a clear overview of the brokers where you can buy Vodafone shares:
| Brokers | Benefits | Register |
| --- | --- | --- |
| | Buy Vodafone without commissions. Your capital is at risk. Other fees may apply. | |
| | Speculate with CFD's on increasing & decreasing prices of Vodafone! 82% of retail CFD accounts lose money. | |
| | Benefit from low fees, an innovative platform & high security! | |
| | Speculate on price increases and decreases of Vodafone with a free demo! | |
What is the current stock price of Vodafone?
The current stock price of Vodafone constantly changes. Below, you can see the price of Vodafone shares. If you want to trade Vodafone shares, use the buy or sell button:
Company information of Vodafone
Below, you can find the key company information of Vodafone.
Stock prices of Vodafone over the last 5 days
In the table below, you can see the stock prices of Vodafone for the last 5 days:
What will the Vodafone price do in 2023?
Are you curious about what analysts think Vodafone will do in 2023 and the following years? We have combined the forecasts of analysts using data from Alpha Vantage. Remember that this figure is only a prediction of the price movement of Vodafone and it may not come true.
What makes an investment in Vodafone stocks interesting?
Global presence: Vodafone is one of the largest telecommunications companies with a strong international presence. The company operates in various countries and serves millions of customers, which provides ample room for further growth.
Emphasis on 5G: Vodafone actively invests in the rollout of 5G technology worldwide. This allows the company to benefit from increased network speed and can generate new revenue streams.
Diversification: Vodafone offers various telecommunications services such as mobile data, fixed lines, enterprise solutions, and IoT connections. This enables Vodafone to reach customers in different segments.
Strong brand: Vodafone is a recognizable brand in the telecommunications industry, known for its high level of service.
What are the risks of investing in Vodafone stocks?
Intense competition: The telecommunications industry is highly competitive, with various global and local players vying for market share. Increased competition can put profitability under pressure.
Legal challenges: Vodafone must constantly monitor the latest legislation to avoid legal issues.
Technological developments: Vodafone must constantly keep up with the times by embracing new technologies such as 5G, cloud services, and IoT.
Economic situation: Economic growth, spending patterns, and regulations can impact Vodafone's profitability.
You can invest in Vodafone shares through a professional stockbroker. It is smarter to invest in Vodafone through a broker as they charge lower fees. Click here to directly compare different stockbrokers.
It doesn't take much time to open an investment account; however, you need to activate the account by uploading a copy of your passport and address. Once your information is approved, you can start investing in Vodafone shares right away.
Navigate to the Vodafone stock within the investment platform and fill in the following details:
Amount: the amount you want to invest in Vodafone shares.
Order type: with a market order, you buy the shares immediately, while with a limit order, you set a minimum price.
Take profit/stop loss: with these order types, you automatically close the investment at a certain profit or loss.
After you open the investment, you can see the results within your investment account. If you are no longer satisfied with your investment in Vodafone, you can sell the shares directly.
What are the competitors of Vodafone?
Deutsche Telekom
Orange
Telefonica
Telecom Italia
BT Group
About Vodafone
Vodafone is the market leader in mobile, fixed-line, broadband, and television communications. The company is always innovating and preparing for the future. For example, Vodafone invests in the Internet of Things and mobile payment services. Vodafone is also actively engaged in digital transformation and focuses on emerging markets.


Vodafone is a global player!
Vodafone operates worldwide and has well over 300 million customers. The diversification across different regions is a good reason to buy Vodafone stocks. If one region performs less well, the results from another region can compensate for it.
The largest broadband network in Europe
Vodafone has the largest broadband network in Europe, which connects 118 million people to the internet, which makes it a dominant and important player in the broadband market.
Do you think Vodafone can maintain this strong position? Then it may be interesting to buy Vodafone shares.
Other services of Vodafone
Vodafone also provides solutions for the Internet of Things by ensuring secure communication across Vodafone's networks. Additionally, Vodafone offers Cloud Services for businesses and households. For the business market, they have tailor-made service packages for small home offices as well as large multinational corporations. If Vodafone continues to innovate and launch new, appealing services, it can have a positive impact on the company's results.
What is the future expectation for Vodafone?
Through Vodafone's network, it is possible to enable communication between devices and people. Vodafone's services help with traffic flow, public transport, waste management, bicycle transportation, and home assistance.
In the future, the refrigerator will be able to automatically notify the supermarket when the milk runs out. This technology will make even greater strides than we currently expect. Vodafone and other communication companies will play a major role in this. This is a great opportunity for Vodafone; if the company responds well to this trend and stays ahead of its competitors, it can boost the stock price. It is important, however, that Vodafone stays ahead of its competitors. Do you think they can do this? If so, it may be interesting to invest in Vodafone by buying shares.
Before you buy Vodafone shares, it is essential to thoroughly research the company. The company plays a leading role in communication technologies, and with over 300 million customers, its reach is enormous. Furthermore, the company pays an attractive dividend, which can make investing in Vodafone appealing for investors looking to build an income from stocks.
Timing can be crucial when investing in Vodafone shares. The stock price can fluctuate significantly, and by conducting a thorough analysis, you ensure that you make the most of your investment strategy. If you find it challenging to buy Vodafone shares at the right moment, you can also choose to buy the shares gradually. By purchasing Vodafone shares at multiple times, you avoid the risk of investing all your money in the stock at its peak.
It is also advisable to compare Vodafone shares with the competition. By doing so, you can determine whether it is more attractive to buy another stock.
As one of the largest telecommunications companies, Vodafone can be an interesting investment. With a strong brand, Vodafone has built a good reputation, and by introducing its network in new markets, it can continue to grow.
Despite this potential, it is important to consider the risks. For example, the competition is intense, and if Vodafone fails to adapt to the latest technological developments, the stock price may come under pressure.
Author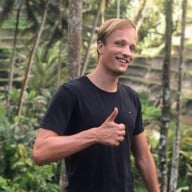 About
When I was 16, I secretly bought my first stock. Since that 'proud moment' I have been managing trading.info for over 10 years. It is my goal to educate people about financial freedom. After my studies business administration and psychology, I decided to put all my time in developing this website. Since I love to travel, I work from all over the world. Click <a href="/about-us/">here</a> to read more about trading.info! Don't hesitate to leave a comment under this article.