How to buy Vodafone shares?
Vodafone is the market leader in mobile communications. They also try to respond to new trends such as the Internet of Things that allows you to connect all the devices in your home. Do you want to invest in the future of Vodafone? Then we will show you where you can best buy shares. You can also request the current stock price of Vodafone here.
Where to buy Vodafone stocks?
Do you want to buy Vodafone shares? You can directly trade in Vodafone stocks with one of these reliable brokers:

| Brokers | Benefits | Register |
| --- | --- | --- |
| | Buy Vodafone without commissions. Your capital is at risk. Other fees may apply. | |
| | Speculate on price increases and decreases of Vodafone with a free demo! | |
| | Benefit from low fees, an innovative platform & high security! | |
How to actively invest in Vodafone?
Do you want to actively invest in Vodafone? Then derivatives are your best choice. With a derivative, you can place orders on rising and falling prices. Does Vodafone issue a profit warning? Then you can place an order at a falling price. This way, you can benefit from your investments within all market conditions.
A good party to trade in Vodafone CFD shares is Plus500. At Plus500 you can also try the possibilities completely free of charge with a demo account. Click the button below to start investing online immediately:
What is Vodafone's current stock price?
Vodafone's current share price is constantly changing. You can benefit from this as a trader! Below you can see the price of the CFD share Vodafone. Do you want to trade in Vodafone? Then use the buy or sell button.
Is it wise to invest in Vodafone?
Before you buy Vodafone shares, it is important to examine the company carefully first. The company has a leading role in communication techniques and with more than 600 million customers, the company's reach is enormous. In addition, the company pays an attractive dividend which makes investing in Vodafone interesting for the investor who wants to build an income from stocks.
Timing can be especially important when you invest in Vodafone. The share price can rise & fall and by doing a good analysis, you make sure you get the best out of your investment strategy. If you find it difficult to buy Vodafone shares at the right time, you can also choose to buy the shares staggered. You then buy Vodafone shares on several occasions so that you do not run the risk of investing all your money when the stock is just at its peak.
It is also advisable to compare Vodafone stocks with the competition. That way you can determine if it is not more attractive to buy another share.
About Vodafone
Vodafone is the market leader in mobile, fixed network, broadband and television. The company is always innovating and preparing for the future. The internet of things is a good example of this. It is already on the rise and Vodafone is well-prepared for it.
They are also highly active with the rise of mobile payment services. In addition, they are active in the digital transformation of emerging markets. Vodafone is a global player and not only active in the Netherlands or Europe. The company was founded in the United Kingdom in 1985. Now they operate in 42 countries with their own mobile networks or those of partners and with broadband Internet.

Vodafone is a global player!
The company has 625 million mobile customers (in 2019), 27 million broadband customers and 22 million television customers. They have these customers through their companies or together with partners in the different countries and associated companies of Vodafone. They are working on the digital future that works for everyone.
The spread across different regions is a good reason to buy Vodafone shares. If one region underperforms, the results from another region can accommodate this.
Mobile and Vodafone
There are several mobile services that Vodafone customers can use to call, text and access data bundles. They have a strong and good network and aim for 100% quality. Vodafone has the largest 5G network in Europe.
Europe's largest broadband network
Vodafone has the largest network for broadband solutions in Europe. They connect 118 million people in Europe to the Internet, making them a dominant and important player in the broadband market.
Do you think Vodafone can maintain this strong position? Then it may be interesting to buy Vodafone shares.
Other Vodafone Services
Vodafone also offers solutions for the internet of things by ensuring secure communication over Vodafone's networks. In addition, Vodafone Cloud offers services for businesses and households. For the business market they also have customized services packages both for small home offices and large multinationals. When Vodafone innovates further and launches new, interesting services, this can be positive for the company's results.
What is the future forecast for Vodafone?
More and more innovative solutions are being added to make cities smarter. A company like Vodafone plays an important role in this. Through their network it is possible to let devices and people communicate with each other. Vodafone's services help with the flow of traffic, public transport, waste, bicycle transport, and to help at home.
The refrigerator can automatically inform the supermarket that we are out of milk. This technique is about to make even bigger leaps than we expect. Vodafone and other communications companies will play a big role in this. This is a great opportunity for Vodafone; if the company responds well to this, this can boost the share price. It is important, however, that Vodafone stays ahead of its competitors. Do you think they can do so? Then it may be interesting to invest in Vodafone by buying their stocks.
Author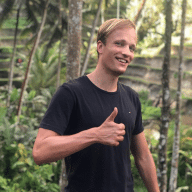 About
When I was 16, I secretly bought my first stock. Since that 'proud moment' I have been managing trading.info for over 10 years. It is my goal to educate people about financial freedom. After my studies business administration and psychology, I decided to put all my time in developing this website. Since I love to travel, I work from all over the world. Click here to read more about trading.info! Don't hesitate to leave a comment under this article.