How to buy Activision Blizzard shares?
Activision Blizzard is a well-known game developer. Gaming is becoming increasingly popular: annual revenues are over $160 billion! By buying Activision Blizzard shares you can benefit from this interesting market. But where can you invest in this share? And what is the company doing? In this article you can read all about it!
Do you want to buy Activision shares? You can directly trade in Activision stocks with one of these reliable brokers:

| Brokers | Benefits | Register |
| --- | --- | --- |
By actively investing in Activision shares, you can benefit from both rising and falling prices. When Activision's sales are going well, you may decide to buy the shares. If it's bad, you can take advantage of a flop by opening a short position. With CFDs, you can easily speculate actively in the price development of Activision shares.
A good party where you can actively trade in CFD Activision shares is Plus500. At Plus500 you can even use a leverage. With a leverage, you can open a larger position with a small amount. This allows you to respond to the smallest changes in the price. Do you want to try actively trading in Activision CFD shares without risk? With the button below, you can try out the possibilities immediately:
What is Activision's current stock price?
Are you curious at what price Activision stock is traded? In the graph below you can see how the stock has developed over the past period. The buttons allow you to immediately open a CFD position on the stock:
Tips for investing in Activision
A big advantage of investing in a company like Activision is that games are non-cyclical. Even in bad times, people play a lot of games. Sometimes people play even more games when they feel anxious. During the corona crisis, for example, people had to stay indoors a lot. As a result, people were more interested in entertainment options that could be used indoors.
A stock like Activision can react strongly to the results of new releases. When a game is excellent and sells well, it can give the stock price a good boost. It is therefore wise to keep an eye on which projects the company is involved in. Are the games Activision is working on more interesting than the games the competitors are working on? Then it can definitely be a good move to buy some shares.

What does Activision Blizzard do?
In 1979, the American computer games company Activision was founded. This company has paved the way for other companies in this sector. Why? Because this company was the first independent developer and distributor of entertainment software. Activision releases popular games. By focusing on popular games like the Game of Duty series, the company is achieving good results. The company's headquarters are located in Santa Monica, California.
The creation of Activision
The company was founded in 1979 by a number of former employees of Atari. The company started making games for the Atari-2600. Atari wanted to prevent Activision from marketing its games for the Atari consoles. They filed a lawsuit which they lost.
Activision was allowed to market games for every game console, from Atari or from another manufacturer. Other computer game companies were allowed to do the same. Activision was the first company to make games for different consoles. They released games for the Commodore 64, MSX and Sega Master System.
Computer game companies go bankrupt
There was an oversupply of computer games in the early 1980s. Due to the low quality of many games, the consumer lost confidence. As a result, many computer game companies went bankrupt. Activision also went through difficult times. The company went bankrupt in 1983. The company was acquired by Robert Kotick. He managed to make the company a success.
Merger with Blizzard Entertainment
Activision decided to merge with Blizzard Entertainment. This was announced in December 2009. The computer game company Blizzard Entertainment is known for the computer games World of Warcraft and StarCraft. The merger is a smart move. Why? Because both companies have a stronger position in the computer games market as a result of the merger. Activision's computer games can now also be played on Blizzard's online platform Battle-net.
Do you think that this merger will lead to increased profitability in the future? Then it may be attractive to buy Blizzard Entertainment shares from your broker.
Many well-known games
Activision released popular games. A great success are the Call of Duty series. Other games known to the public include Spider-Man and Guitar Hero. The games developed by the company can usually be played on various consoles. This is a smart move, because it ensures high sales numbers. The quality of the games is increasing. By using recent techniques, ever better games can be developed.
A profitable business
Activision is a profitable company. This is beneficial for the shareholders. In the period 2014-2019, both turnover and net profit increased each year. The share price has risen considerably during that period.
Author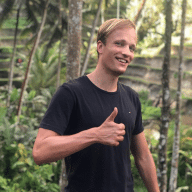 About
When I was 16, I secretly bought my first stock. Since that 'proud moment' I have been managing trading.info for over 10 years. It is my goal to educate people about financial freedom. After my studies business administration and psychology, I decided to put all my time in developing this website. Since I love to travel, I work from all over the world. Click here to read more about trading.info! Don't hesitate to leave a comment under this article.