How to buy Airbus Group SE shares?
Airbus and Boeing are always in fierce competition: because of Boeing's problems, Airbus may well win in the coming years. Wondering where & how to invest in Airbus? In this article, we discuss in detail how you can buy Airbus stocks.
Where can you buy Airbus stocks?
Do you want to buy Airbus shares? You can directly trade in Airbus stocks with one of these reliable brokers:

| Brokers | Benefits | Register |
| --- | --- | --- |
How can you actively invest in Aribus?
The stock price of Airbus can fluctuate sharply. You saw this, for example, during the corona pandemic: when all the aircraft were grounded and there was little perspective, the share price fell sharply. The price rose sharply later when positive news about the vaccines came out. By actively trading, you can respond well to all the movements in the Airbus stock.
Do you want to actively trade the price of Airbus shares? You can at Plus500! At Plus500 you can use CFD's to speculate on price increases as well as decreases of the Airbus stock. Use the button below to try the possibilities immediately for free with a demo:
What is the stock price of Airbus?
Are you curious about how the stock price of Airbus is developing? In the graph below you can see immediately at which price you can buy & sell CFD shares in Airbus:
Is it wise to invest in Airbus?
An investment in Airbus can, depending on the economic situation, turn out well. When aviation is doing well, Airbus shares usually perform well too. Therefore, keep a close eye on the economic situation if you want to invest in Airbus. When there are many new orders, Airbus can post better profit results.
Airbus' biggest competitor is Boeing: these two titans are actually always competing for market share in civil aviation. Airbus manages to compete well in this market. In the military branch, it does not always do so well: the A400, for example, was a failure in 2016. Nevertheless, future results on normal aviation may compensate for these disappointing results.
Compared to its competitor Boeing, Airbus is perhaps in a better position. Boeing's reputation has been dented by technical problems. Because of this, Airbus may well win the competition in the future, which could be a good reason to buy Airbus shares.

About Airbus
The company Airbus Group was known as European Aeronautic Defence and Space Company(EADS) until 2014. This company is a European aerospace and defence consortium. The company was formed in 2000 with the merger of the French Aerospatiale-Matra, the German DASA and the Spanish Construcciones Aeronautics CASA).
The Airbus Group has a total of 170 locations worldwide. Several branches can be found in Belgium, Germany, France, Spain, the United Kingdom and the Netherlands. The branches in the Netherlands are located in Amsterdam and Leiden. In Leiden, the head office of the Airbus Group is located. The head office is located in the Netherlands because the Netherlands is a neutral location.
The three divisions of the Airbus Group
The Airbus division is the company's largest. This division contributes two-thirds of the turnover. This division supplies passenger aircraft to airlines.
The Airbus Helicopters division produces helicopters for military and civilian use.
The Airbus Defence and Space division produces military aircraft. In addition, this business unit contributes to space programmes, for example by supplying artificial satellites. Defence contracts account for approximately 15% of the company's turnover.
The history of the company
European governments maintained three times as many defence companies as the United States, even though their budget was only half that of the United States. There was a risk that big American companies would buy up smaller European ones. Therefore, a merger was announced in 1999.
This created the company European Aeronautic Defence and Space Company N.V. (EADS). The company was formed under Dutch law with headquarters in the Netherlands. Headquarters were also established in the countries of the three merger partners DASA, Aerospatiale-Matra and Construcciones Aeronautics (CASA). These headquarters were established in Munich, Paris and Madrid.
After the merger, the company was the world's largest builder of helicopters, missiles and launchers. It was also one of the largest arms manufacturers and the third largest aircraft manufacturer.
In 1999, the newly merged companies made a combined loss of EUR 900 million. However, it was expected that the merger of the three companies would result in increased profits in the near future. The first black figures were written in 2001. This was partly due to the record number of aircraft sold by Airbus.
560 aircraft delivered by 2020 despite corona
Aircraft manufacturer Airbus managed to deliver 560 aircraft to customers in 2020, despite corona. That is over 300 aircraft less than in 2019. However, with the sale of 560 aircraft, Airbus did meet its internal target. With this number of aircraft delivered, Airbus remained far ahead of US competitor Boeing. This company announced in November 2020 that it had only delivered 118 new aircraft.
Author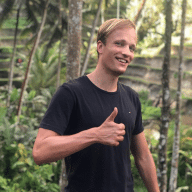 About
When I was 16, I secretly bought my first stock. Since that 'proud moment' I have been managing trading.info for over 10 years. It is my goal to educate people about financial freedom. After my studies business administration and psychology, I decided to put all my time in developing this website. Since I love to travel, I work from all over the world. Click here to read more about trading.info! Don't hesitate to leave a comment under this article.