How to buy Boeing shares?
Boeing is a world-renowned manufacturer of aircraft. Do you think the stock is going to rise soon? Then buying Boeing shares can be interesting. But even when the price is taking a nosedive, it can be attractive to invest in Boeing. Before you open a position, do not forget to check the latest stock price.
Do you have confidence in the economy, and do you think the number of orders for aircraft will increase in the future? Then investing in Boeing by buying shares can certainly be interesting. A good broker to get off to a flying start with investments in Boeing is eToro. At eToro, you can quickly open an account. With eToro, you do not pay set commissions when buying and selling shares. Click the button below to open a free demo:
How to actively invest in Boeing?
The price of a stock never moves in a straight line. You would be better off comparing the price development to severe turbulence. In most cases, there is a clear course (737 Max excepted here), but you may still suffer from turbulence. As an active trader, you can profit from the entire journey.
The active trader analyses the latest news and decides on that basis whether it is smart to trade in new shares. A good party to actively trade in Boeing shares is Plus500. Here you use CFDs, which means that you can also apply a lever. Moreover, with a lever you can take a large position with a small amount of money.
Click the button below to open a free demo account at Plus500:
What is Boeing's current stock price?
Are you curious about the latest price developments of Boeing shares? Look at the chart below! You can find the current CFD price of Boeing shares. In addition, you can click the buttons to open a position directly.
Competition for Boeing
Boeing is in a favourable position because they only have a limited amount of competition. In the market for aircraft manufacturers, there is a duopoly: together with Airbus, they produce most of the aircraft.
However, this favourable position does not have to last: China is trying to compete through the company Comac. Comac currently produces some smaller aircraft for 90 and 156 passengers. At the same time, Japan's Mitsubishi and Honda also produce small aircraft.
However, Boeing should be wary of Airbus. Airbus has successfully launched the A320, which is a narrow-body aircraft. Due to the more efficient aircraft engines, the aircraft consumes less fuel than the Boeing 737. At times, Boeing seems to be lagging in terms of new developments: where Boeing pays a lot of dividends to shareholders, Airbus is developing new aircraft models. Before you buy Boeing shares, it is wise to determine how Airbus is doing. Perhaps an investment in Airbus is more attractive?
Boeing also faces competition in the military market: Lockheed Martin and General Dynamics both produce military aircraft for the U.S. military. Consequently, Boeing will have to continue to innovate to win new contracts from the military.
Is it wise to invest in Boeing?
Investing in Boeing shares is not without risk. Airbus' competition is strong, and it is also difficult for Boeing to keep up in the military market. For example, they recently lost a contract to develop the Joint Strike Fighter to Lockheed Martin.
Boeing's financial position has been severely eroded by the problems with the 737 Max and the corona pandemic. It can take a long time for Boeing to return to profitability, especially when you consider the company's hefty debts. Therefore, buying Boeing shares is not for the investor who likes to avoid risks.
Briefly about Boeing
Boeing is a well-known aircraft manufacturer that built civil aviation aircraft. The company also provides corporate and maintenance services. Their most recent civil aviation model is the Boeing Dreamliner 787. In addition, Boeing also produces all kinds of defence systems. Among other things, Boeing makes missile installations, radar systems, and military aircraft. A well-known Boeing military aircraft is the Apache combat helicopter.
Because Boeing also produces equipment for the military, results are less sensitive to the economic situation. This makes it more attractive to buy Boeing stocks.
Buying Boeing shares can be interesting. Worldwide, the number of flights is still increasing. Flying is becoming affordable for an increasing group of people. This will lead to a greater demand for new aircraft in the future. A bigger demand is good news for Boeing: they can then generate a larger turnover.
However, it is important to remember that Boeing shares are cyclical. Airlines must place orders for new aircraft. They will only do this when the economy performs well. Is there an economic disaster and are societies at a loss? Then they will not place new orders soon.
It is wise to analyse the economic situation carefully before buying Boeing stocks. Do you have faith in the future? Then you can consider an investment in Boeing shares.

Some highlights from Boeing's centenary
In 2016, Boeing was 100 years old. The first aircraft was the wood-made Bluebill B&W, model 1. During World War I, planes were built for the U.S. Army. In the 1930s, the demand for larger and comfortable airliners increased sharply. Boeing developed the 307 Stratoliner, the first passenger aircraft with a pressurized cabin. In 1938, Boeing built the 314 Clipper, the largest passenger jet in the world.
During World War II, Boeing produced the bombers B-17 and B-29.
After the Second World War, the demand for airliners increased even further. Boeing developed the Boeing 707, the first airliner with a jet engine. The Boeing 737 and Boeing 747, developed in the 1960s, became immensely popular. A successful new airliner is the Boeing 787 Dreamliner.
Boeing 737 Max
Investors in Boeing shares had no reason to complain from the beginning of 2017 until the first months of 2019. The price of Boeing shares rose sharply. During that period, the price rose from $158 to $440. Two accidents involving Boeing's Boeing 737 MAX put an end to this spectacular rise.
The Boeing 737 MAX was then grounded for a long time. At the end of March 2019, the price per share fell to $309. This decrease is not very dramatic: a price of 440 dollars is still well above the price of $294. This was the share price just before the accidents.
The accident had a negative impact on the share price: the price fell more than 15 percent over the weekend. As an active trader, you can benefit from these types of events by opening a short position.
Boeing's future
After an investigation, these accidents were found to be caused by an error in the Boeing 737 aircraft. Boeing is working hard to solve the problem. Every month that the planes are grounded and production is not active costs a huge amount of money. The yearly costs are estimated to be around a billion dollars a year.
However, an advantage is that competition is limited. Airbus's order book is also full, and it is not easy for airlines to conjure up planes from somewhere else. If Boeing manages to solve the problems, they will still be able to deliver many aircraft.
Boeing stock price falls further
The stock of planes has grown exceptionally large. Boeing is forced to cease production of the Boeing 737 MAX. The resignation of the CEO of Boeing slightly increased the share price. Still, shareholders have no reason to rejoice: by the end of 2019, the share price was about $340.
Then, the price fell even further due to the corona pandemic. The corona pandemic has made things difficult for airlines. They are less likely to place new orders and there is a chance they will cancel existing orders. When you want to buy Boeing shares, it is therefore important to analyse the economic situation carefully. Boeing's share price is strongly influenced by the different preconditions.
Author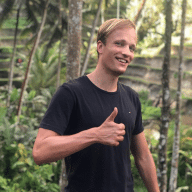 About
When I was 16, I secretly bought my first stock. Since that 'proud moment' I have been managing trading.info for over 10 years. It is my goal to educate people about financial freedom. After my studies business administration and psychology, I decided to put all my time in developing this website. Since I love to travel, I work from all over the world. Click here to read more about trading.info! Don't hesitate to leave a comment under this article.