How to buy Alibaba shares?
Alibaba is seen by many people as the Amazon of China. Founder Jack Ma has great ambitions and the company is now among the top 10 largest global companies. An investment in this well-performing company can therefore be very interesting. In this article you can read how to buy stocks in Alibaba. You can also consult the current stock price of Alibaba here.
Where can you buy Alibaba stocks?
Do you want to buy Alibaba shares? You can directly trade in Alibaba stocks with one of these reliable brokers:

| Brokers | Benefits | Register |
| --- | --- | --- |
How can you actively invest in Alibaba?
Do you want to actively invest in Alibaba? That is possible! A big advantage of this way of investing is that you can react to the latest developments. During the trade war with America, for example, important news came out on a regular basis. You can react immediately on stock price fluctuations by placing a position on a falling or rising price.
A good way to actively trade in Alibaba is to use CFDs. This type of derivative allows you to take a large position on the stock with a small amount of money. A good party to trade in CFDs in Alibaba shares is Plus500. Use the button below to open a free demo account with Plus500 :
What is Alibaba's current stock price?
Are you curious about the current stock price of the Alibaba stock? Use the graph below! Below you can see the CFD price of Alibaba offered by Plus500. You can also use the buttons to directly take a trading position.
Briefly about Alibaba
In 1999 Jack Ma founded the website Alibaba.com. He did this to bring Chinese companies in contact with foreign buyers. In 2003 Ma expanded the company by founding the online marketplace Taobao. This marketplace is in the top-20 of the most visited websites in the world.
The company became known as the Alibaba Group. The websites of the Alibaba Group are popular: within China, 60% of all parcel deliveries are made via their website. The company is not only known in China: Alibaba is conquering the world.
Alibaba is a huge company of which you can buy stocks yourself. But why should you consider buying Alibaba shares? Below we will discuss some strong arguments for buying the stock.
Enormous offer
Alibaba offers a huge, diverse range of products. This gives the company extra stability. When one market is performing poorly, this can be absorbed by profits in another market. A large offer reduces Alibaba's business risk. This makes it a more attractive investment.
Emerging markets
China is experiencing strong economic growth. A few decades ago, China was still poor and people were dying of hunger. Today, China is no longer seen as a developing country. The purchasing power of the average Chinese is high and almost everyone has access to the Internet. Prosperity in the country is still growing, and with it the number of Chinese with purchasing power will only increase.
Alibaba can benefit from this. Alibaba is a company of Chinese origin that can perfectly respond to the needs of Chinese consumers. Do you think that economic growth in China will continue? Then it could certainly be attractive to buy Alibaba shares.
Enormous growth
Alibaba is still growing rapidly. One of the reasons for this is China's increasing prosperity. The general trend in which the internet and online shopping are becoming more and more common is also playing into the company's hands. In China, for example, smartphone use is increasing considerably. All this can contribute to the further growth for Alibaba.
Alibaba is profitable
Many technology companies are not profitable. Some examples are Uber and Snapchat. Alibaba does, however, make a profit. In 2019, for example, it made a profit of almost USD 8 billion. In the next few years, it is expected that this profit will only continue to grow. This will make it possible to pay dividends in the future. Do you believe that Alibaba can maintain this profitable trend? In that case, you can certainly consider buying Alibaba stocks.
International expansions
Alibaba does not just focus on the Chinese market. For example, the company has established a large distribution centre in Belgium. This can greatly reduce the delivery time of products within Europe. A point of criticism from many European customers was the often longer delivery time. Now that the delivery time can be reduced, Alibaba is becoming even more interesting for the European consumer.
Moreover, there is also an increasing demand for European products in China. Through the distribution centre Alibaba can return products to the Chinese market. Do you think Alibaba is succeeding in becoming popular in Europe as well? In that case, buying Alibaba shares could certainly turn out well.
Risks investment in Alibaba
Of course, there are also risks involved in investing in the giant Alibaba. What should you pay attention to when you start investing in Alibaba?
Local legislation
There is a lot of fuss around the Chinese Alibaba and local legislation. For example, Alibaba would not always properly enforce the rights of European customers. This could cause problems in the future. Alibaba could be fined, for example. In addition, customers may decide to turn their backs on Alibaba if the conditions are not favourable enough. Alibaba will therefore have to make an effort to comply with local legislation.
Beware of hypes
It is important to remain vigilant when investing in Alibaba. Share prices are created through the interplay between supply and demand. There is currently a great deal of interest in Alibaba stocks. The company is regularly mentioned as the potentially largest company in the world. It is, of course, not at all certain whether Alibaba can live up to these high expectations. Therefore, remain cautious and keep a close eye on the latest developments.
Limited power
As a stockholder, Alibaba has only limited power. The structure is complicated, which means that, as a small party, you have no say at all. There is also no arbitration board. An Alibaba stock can therefore be a good investment, but you have absolutely no power in regard to the developments within the company.
The competition
Competition is also an important issue to keep an eye on. There are many alternatives to a platform such as Alibaba. The giant Amazon is, of course, the best-known example of this. However, there are also local platforms in all countries with which Alibaba will have to compete.
Do you think Alibaba can compete and stay a few steps ahead? In that case, investing in Alibaba could certainly be a good idea.
Politics
Finally, politics can also throw a spanner in the works. Especially with America, there is a lot of fuss about trade tariffs. When international relations deteriorate, this can have a strong influence on the share price of Alibaba. It is therefore important to keep an eye on political stability before buying Alibaba stocks.
Is it wise to invest in Alibaba?
After reading the pros and cons of investing in Alibaba, you might ask yourself whether it is wise to invest in Alibaba shares yourself. A big risk of investing in Alibaba remains the unstable Chinese government. Chinese regulators, for example, stopped the Ant Group IPO in 2020, which is also detrimental to the company Alibaba: Alibaba owns 33% of the shares in the Ant Group.
However, the company does not seem to be in trouble: turnover is still growing strongly and Alibaba is the clear market leader in China. With 56%, Alibaba is clearly the largest e-commerce party. The biggest competitor, JD.com, only has a market share of 17%. Alibaba also controls more than 40% of the country's cloud computing infrastructure, while the biggest competitors, Huawei and Tencent, both only control 15%.
Despite the green figures in the e-commerce segment, there are problems within the company. The Alibaba Cloud, Digital Media and Entertainment and Innovation Initiatives divisions are all loss-making. The profits of the e-commerce division are used to keep these divisions running.
Investing in Alibaba is therefore certainly not without risk. It is wise to keep a close eye on the new antitrust laws in China. If the Chinese government tries to weaken the powerful position of Alibaba, which could put pressure on the stock price.
How can you invest in Alibaba?
You can invest in Alibaba with almost any broker. The shares of Chinese Alibaba are listed on both the Hong Kong and New York stock exchanges. For most people, it will be more advantageous to buy the stocks on the New York Stock Exchange.
To buy & sell Alibaba shares you need an account with a reliable broker. Would you like to know at which broker you can open an account? Then take a look at our comparison of best brokers:
After you have opened an account, you can place an order on the stock. This is done by using the search function to navigate to the Alibaba stock. Here you can choose between two types of orders:
Market order: open the investment directly at the prevailing price.
Limit order: open the investment at a price of your choice.
After you have placed the order, it will be passed on to the stock exchange within a few seconds. Good luck with your investment in Alibaba!
A large e-commerce company
The Alibaba Group, founded in 1999, is now a large company. The company currently (2020) has a stock market value of more than 570 billion dollars. In the top 10 of largest companies in the world, the company ranks seventh. Their websites enjoy worldwide popularity. Especially the websites alibaba.com and aliexpress.com generate a lot of money.
Alibaba is here for suppliers of wholesalers and for consumers.
The company has many wholesale suppliers as customers. Worldwide, millions of wholesale suppliers are served by Alibaba. Of course the company also has many consumers as customers. Consumers can buy products directly via the AliExpress platform at very low prices. Alibaba has no less than 785 million active users. The websites account for 85% of the turnover.
The Hema branches of Alibaba
The Hema is the name of the supermarkets opened by Alibaba, with an average surface area of around ten thousand square metres. Consumers use the Hema app to scan their groceries. The groceries are then paid for using Alipay. Online orders are delivered at home. To benefit from the delivery service, you have to live within three kilometres of the Hema supermarket.
Three divisions of the Alibaba Group
E-commerce accounts for approximately 85% of turnover. Alibaba has three other divisions: Alibaba Cloud Computing, Alibaba Digital Media & Entertainment and Alibaba Innovation Initiatives.
Alibaba Cloud Computing
Alibaba invested billions in cloud computing. There are now 19 Alibaba Cloud data centres worldwide. Alba Cloud Computing now accounts for 8% of the company's turnover. The recently introduced Al-chip should improve cloud performance. With this chip, the search function within the website can also be improved. In addition, the chip offers automatic translations to shoppers from all over the world.
Amazon has already shown that cloud computing can be very profitable. Most of Amazon's profits nowadays come from cloud computing. If Alibaba manages to gain a larger market share in cloud computing, then this may be a good reason to buy Alibaba stocks.
Digital media & Entertainment
Alibaba has various video and music services. For example, in China, the company has the video hosting service Youkou and the music streaming service Xiami. Alibaba cooperates with the company Netease to share their music libraries. This division's turnover increased by 23% in the past quarter. The division accounts for 6% of the total turnover of the company.
Innovation Initiatives & Others
This division focuses on artificial intelligence. Jack Ma, the founder of Alibaba, thinks that most of the work can be automated in the future. In the meantime, Alibaba has invested USD 3 billion in, among other things, research centres for artificial intelligence.
New techniques are being developed in the centres. An example of this is the ability to pay with facial recognition, which is already possible in a Chinese branch of the fast food chain KFC. Do you think Alibaba is developing even more interesting new techniques? Then you can certainly consider buying Alibaba stocks.
Alibaba's stock market listings
In 2004 Alibaba went to the American stock exchange. At the time, one share was worth 68 dollars. In the meantime, the value of the stock has tripled. In Asia, it is considered strange when a large Chinese company does not have a listing on a stock exchange in the east.
That is why Alibaba was listed on the Hong Kong stock exchange in November 2019. This enthusiastically received IPO raised USD 12.9 billion from investors. Investing in Alibaba shares is worth considering in view of the listings.
About Jack Ma
Jack Ma is a well-known Chinese entrepreneur who founded Alibaba himself. At the age of 55 he decided to retire. Indirectly he still has influence through the board of directors. His retirement does not mean that he is not doing anything: he still has many dreams he wants to realize. For example, he is working on improving health care in poorer countries by means of a foundation.
Author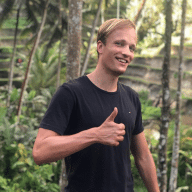 About
When I was 16, I secretly bought my first stock. Since that 'proud moment' I have been managing trading.info for over 10 years. It is my goal to educate people about financial freedom. After my studies business administration and psychology, I decided to put all my time in developing this website. Since I love to travel, I work from all over the world. Click here to read more about trading.info! Don't hesitate to leave a comment under this article.