Buying Aragon (ANT): how to invest in Aragon?
You are probably aware of the fact that there are many cryptocurrencies you can invest in. These numerous options make it difficult for many people to make a choice. Which cryptocurrency should you really pay attention to? One of the projects that has experienced a lot of growth over the past years and months is Aragon. In this article, we will show you what kind of project Aragon actually is and if it is wise to invest in it. Time to know everything about Aragon!
How can you actively trade in Aragon?
Do you want to actively invest in Aragon? This is possible with an online broker! At an online broker, you can use CFDs to speculate on both falling and rising Aragon prices. At Plus500 you can try trading CFD cryptocurrency with a demo, completely free and risk-free. Use the button below to open an account with Plus500 right away;
How to buy Aragon?
Aragon should make it easier for organizations to develop decentralized applications, even when they lack the explicit knowledge to do so. Aragon also makes it possible to resolve errors in smart contracts and it makes it possible to use arbitration to resolve subjective violations of smart contracts. These updates could make Aragon an interesting cryptocurrency for companies.
Do you want to buy the Aragon cryptocurrency? You can do this at a reliable crypto exchange:
| Brokers | Information | Register |
| --- | --- | --- |
| | Speculate on increasing & decreasing crypto prices with the CFD provider Plus500 using a demo account. 82% of retail CFD accounts lose money. | |
What is Aragon? – goal of the project
Later on, we will elaborate on the future of the project. For now, it is useful to dwell on what Aragon actually is as a crypto project. Aragon is a decentralized app (dApp) on the Ethereum blockchain. With the help of this app, it is possible for anyone to set up or manage a decentralized organization. The project is open source but is led by the Aragon Foundation. Ultimately, the team hopes the project will become a fully decentralized dApp that can be used by anyone.
Now you are probably wondering what this means. Normal organizations have a considerable budget for overhead and administrative functions. When they transact with other organizations, they can spend an enormous amount of money for the total cost. These costs mean that there is less money left over for the things that are essential. Aragon's goal is to eliminate this problem with decentralized organizations working on a large shared platform.
Marketing blockchain technology
Many companies are interested in the blockchain for conducting transactions. However, there are some obstacles that make it difficult for companies and organizations to take the first step. The biggest obstacle is a lack of expertise. Most companies do not employ blockchain experts. There are also bigger problems associated with blockchain that make organizations a little reluctant. The idea of an immutable ledger can quickly become frightening if errors cannot be quickly corrected. In the case of smart contracts, there is always a chance that bugs will get into the code.
Aragon makes it possible to overcome these problems easily. Aragon's explicit goal is to create a digital shared platform with a kind of shared jurisdiction. Just as countries have jurisdiction over their citizens when it comes to courts, Aragon wants to create the first digital court. This court would not operate on the basis of national borders, but would apply to everyone. The team's vision is to make it easy for an organization to set up something on the blockchain. Using open-source tools and the security of the Ethereum blockchain is a great goal to pursue.
The team behind Aragon
Aragon is an open source, non-profit project. This means that anyone can work on it, there is no boss to control it. Technically, the project does not have a CEO or CTO. Instead, it started with a project leader. Following the decentralization goals of the project, the project leader stepped down when Aragon One was created.
Luis Cuende led the project from the beginning. In 2011, he received a "Best Underage European Programmer" award, and is a recipient of Forbes' 30 under 30 recognitions. He has advised the Vice President of the European Commission on crypto. He has also set up several start-ups. This shows that they really are a team with a vision.
The token of the Aragon project
A special token is used within the project. This token is called ANT and gives the owner the right to vote on decisions concerning the direction of future development. Through this token there is a real attempt to give the owners and investors more influence in the project. How much voting right you have, depends on how many coins you actually hold. This does not differ much from the normal voting rights of shares. If you want to invest in Aragon, you actually always buy a share in the ANT currency.
Invest in Aragon through an exchange
If you would like to invest in Aragon yourself, you will actually always end up at an exchange. The exchange can be seen as the central trading location for trading the cryptocurrency. It is important to always choose a safe exchange, because this is the only way you can invest money in the crypto market responsibly.
Through an exchange like Bitvavo or Plus500 it is possible to invest in Aragon with CFD products. This ensures that you no longer need to store the coins in a wallet, but that you can still invest in the various underlying projects.
Conclusion – should you invest in Aragon?
We think that the information in this article has already helped you understand more about the project and the team behind Aragon. This will give you more insight in the possible goals this company can achieve. Whether it is a good project to invest in, really depends entirely on whether you think Aragon will succeed or not. This is of course the case with every project, it is always the question if the team will deliver on its promises. Looking at the experts, however, we see that they foresee a good future for Aragon.
Author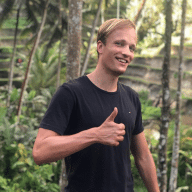 About
When I was 16, I secretly bought my first stock. Since that 'proud moment' I have been managing trading.info for over 10 years. It is my goal to educate people about financial freedom. After my studies business administration and psychology, I decided to put all my time in developing this website. Since I love to travel, I work from all over the world. Click here to read more about trading.info! Don't hesitate to leave a comment under this article.