Plus500 review: is this a good broker?
Plus500 is one of the most popular online brokers. The user-friendly software and the extensive trade possibilities play a key role in that increasing popularity. In this extensive review we research if it is wise to start trading with Plus500. Read my Plus500 experience and discover yourself if this broker could become your proper partner in trading.
General conclusion review
Overall, I am pleasantly and positively surprised by Plus500 in this review. Thanks to the user-friendly software and the extensive CFD possibilities, investors have all they need at Plus500 to take an active trade start. Their rates are favourable and the trade possibilities are extensive. However, do not expect extensive support or educational material. Plus500 should be your number one choice when you are mainly looking a broker to actively trade the markets.
86% of retail CFD accounts lose money.
In short: pros
+

Extensive offer of stocks CFD's

+

User-friendly & fast software

+

Free demo of $40.000 for new customers

+

Reliable broker under supervision
In short: cons
–

No customer support by phone

–

No educational material for costumers

–

Not suitable for long-term investments
Tip: Would you like to know more about trading at Plus500? Please feel free to read our free Plus500 guide.
Plus500 review
Would you like to immediately browse to a particular chapter of this investing Plus500 article? Please use the below list to browse to the information you need.
What kind of broker is Plus500?
Plus500 is a so-called CFD broker. Contrary to directly buying stocks at a normal broker, a CFD broker is the place to actively speculate the markets. When you buy or sell a CFD, you speculate on the price rises or price falls of that particular stock. Upon opening a position, the price fluctuations determine your result.
Plus500 allows investments on both price increases and price falls and is therefore the place to go when you would like to promptly respond to market circumstances and changes. Would you like to know more about investing in CFD's? Then read this article.
Software review
A broker's software is of the utmost importance. The financial market namely requires prompt responses, actions and order placements. In this part we will discuss the Plus500 platform to determine whether it's a high-quality software. We will discuss opening an account, the quality of the platform, the use of orders, the analytical features, the demo account and the mobile software.
Opening an account
You can easily open a demo account through the website. The Plus500 software uses your browser and the website is responsive to allow mobile phone trading. Would you like to open an account at Plus500? Click here!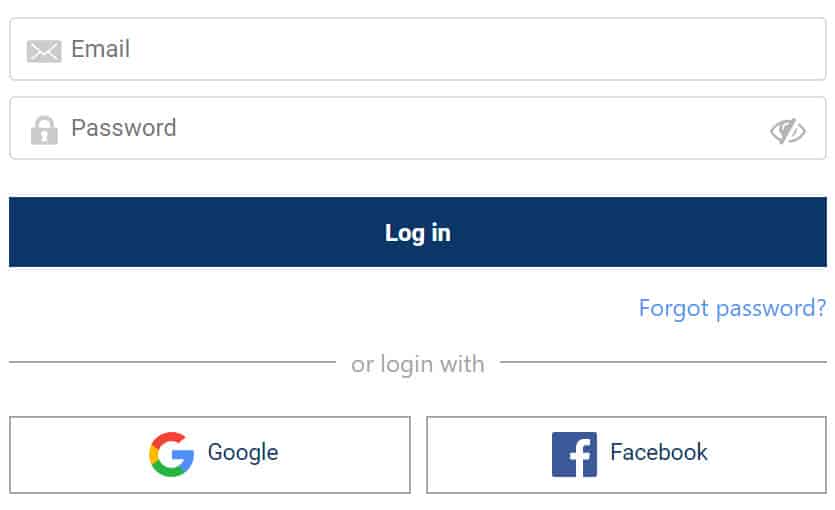 A big pro of Plus500 is the fact you can use their free demo of €40.000. This demo allows every new customer to extensively try out all possibilities and functionalities. The Plus500 software is extremely user-friendly. This makes it possible for people with little PC knowledge or skills to open and close trading positions.
Our trade platform experience
To publish a decent and useful review we have extensively tried out all investment actions and possibilities at Plus500. A big pro of the Plus500 trade platform is the fact it is extremely user-friendly. Little technical knowledge is no obstacle to start trading securities and every customer will be able to make a flying start.
Looking for a specific security? In that case the search or list functionality is the place to go. Finding your security utilizing these functionalities is peanuts. When you are ready to open a position, you can choose to buy (speculating on a price increase) or to sell (speculating on a price fall).
On the left side you will always be able to consult the menu. The menu contains the following options:
Menu: consult the complete overview of options.
Trade: the place to go when you want to immediately open a new position.
Open positions: an overview of your active trades.
Orders: an overview of all your open orders at Plus500.
Closed positions: an overview of all your closed positions.
Real money: this button can be used to switch to trading with real money.
At the top of the screen you will find an overview of the financial situation of your account. It will show you how much money is still at your disposal. It will also tell you if you can open additional positions. Keep a close eye on your financial balance. A negative account balance might result in the loss of all your investments.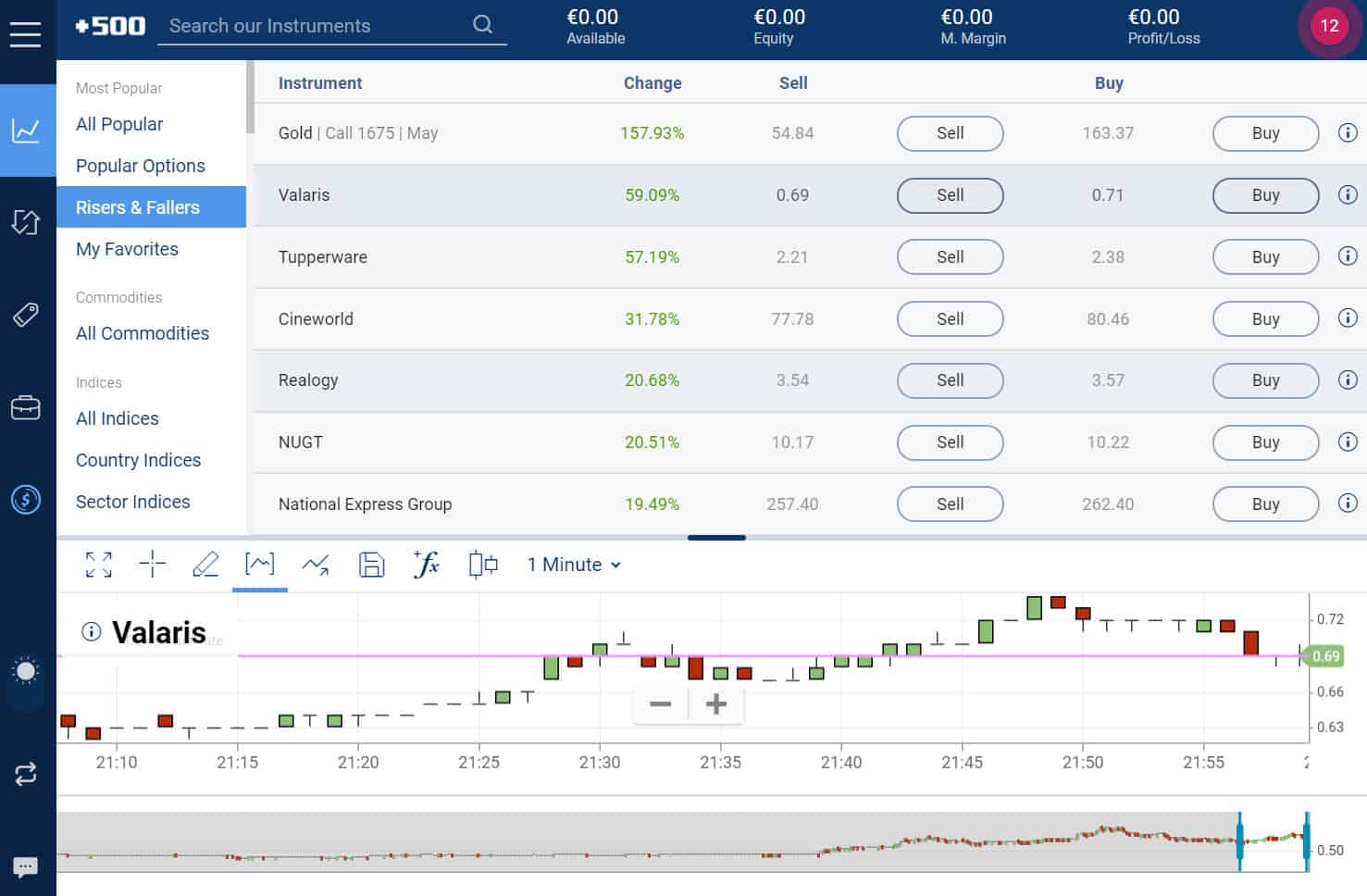 The Plus500 software, you can easily switch to real money. Illustrative prices.
Using orders
Within the Plus500 software, you can also make use of orders. With orders, you can automatically open a position when a certain price is reached. Don't forget to use a stop loss. Using a stop loss is not mandatory but strongly advisable. By using a stop you can automatically close your position when reaching a certain loss.

Opening a position at Plus500. Illustrative prices
Upon opening a position, it can be managed via the open positions menu. The open positions menu has a real-time view of your profits or losses on the investment.
Analytical features Plus500
Within the Plus500 software you can also make use of the different analytical features and tools. These features can be used to support and justify your decisions. Our review did nevertheless determine these features and functionalities to be rather basic. Other more advanced programs and tools often offer you a more detailed and stronger view. Are you aiming to become a professional daytrader? In that case, a program like MetaTrader might be a handy tool to execute more complex analyses.
Within the Plus500 platform you can display various technical indicators on the graph. Technical indicators can help you to determine the right buy and sell moments.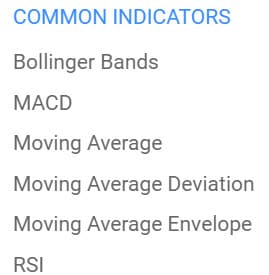 A useful feature of the Plus500 software is the possibility to draw your own lines and analyses on the graph. It will allow you to for example draw horizontal levels on which the price often takes a rise or fall. Making and executing analyses on multiple graphs within the software will nevertheless not add to the overall clarity. This is the case because it is rather difficult to properly save your analyses.
Finally, at Plus500 you see the sentiment of other traders. This feature shows you what other Plus500 users are up to. This can guide you in making your investment decisions.
Demo account quality
In this review the demo account is a strong pro of the Plus500 platform. I was pleased with the demo account. You can try out all possibilities with fictitious money. The results of the demo are completely aligned with the results from a real account. Therefore, the demo account is perfect to learn all the ins and outs of all features, functionalities and possibilities of Plus500. As soon as you have mastered all these possibilities, it only takes the click of a mouse to switch to a real money account.
Mobile investing at Plus500
Plus500 has developed an application which allows investing any place, anywhere and anytime. Obviously, the mobile application is a limited version of the desktop software. The mobile application has for example no technical analysis feature.
The Plus500 mobile application is therefore ideal to keep track of your current positions. Besides, a mobile counterpart also allows you to quickly respond to unique market situations and the latest development. The mobile application is a handy add-on to quickly access your account, and it comes for free when you decide to start investing at Plus500.

The mobile application gets good reviews
Trading options & guidance
The trading options and conditions are and important part of this Plus500 review. We look at the different investment options at Plus500. Besides, we also review whether there is sufficient guidance. And to end, we tell you how to deposit and withdraw money at Plus500.
What are the investment options at Plus500?
A strength of the Plus500 broker are for sure the extended trading options. This broker offers a wide variety of trading possibilities: from CFD's in stocks, commodities and indexes to options and Forex. The number of available stocks to invest in is huge. All well-known United Kingdom, American & Australian stocks can be traded as CFD's at Plus500. It is as simple as that.
But don't start to invest randomly, pay attention to the conditions associated with the security you want to invest in. The CFD conditions can be consulted by clicking on the information icon. An overview will among other things tell you if the CFD expires. When a CFD expires the position will automatically close after a certain time. Besides, you can also consult the fee which you need to pay for keeping your positions open.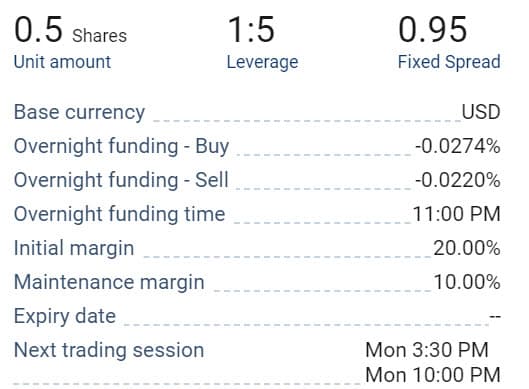 Always consult the conditions of the securities which you trade. Illustrative prices
Guidance and education
The Plus500 guidance is rather limited. You can use the economic calendar which indicates which events might affect the price. Moreover, you can use the technical analysis by adding indicators to the graph. However, that's all Plus500 has to offer regarding the guidance part. Plus500 does not provide any educational information about trading in general. This is clearly one of the weaker points within this review.
Depositing money at Plus500
A crucial part of each review is undoubtedly user-friendliness. Many of you will therefore be happy to hear depositing money is a piece of cake. Deposing money  can be done in the blink of an eye by using the Plus500 software. The first time you are switching to a real money account you will need to submit some additional data. One of the things you will need to complete is a list of questions to determine whether you have sufficient investment knowledge. You will also have to upload a copy of your ID.
Why do you have to complete these additional steps? Plus500 is obliged to complete these additional steps. This control phase has been put in place to prevent unreliable people to start investing at Plus500. It is a legal requirement for every financial institution to confirm your identity. Is your broker not requesting this information? Then be cautious! There is a big chance you are dealing with an unreliable party.
Upon completing the identification part, depositing money is easy. Money can be deposited on your account via iDEAL, a credit card and PayPal. Plus500 accepts investments starting at $100. Bank transfer is another approved payment method for depositing money. Do take into account that depositing money via a bank transfer might take a few days. Depositing money at Plus500 is easy-peasy and therefore this part of the Plus500 review gets a high score.

Depositing money to your Plus500 account can be done via all known payment methods.
Withdrawing money at Plus500
Investing goes of course hand in glove with the aim to achieve profit! But what about withdrawing money at Plus500? At Plus500 a payment request can be made starting at $100 for bank transfers. If you prefer to withdraw money via PayPal or Skrill the minimum amount starts at $50. Minimum amounts which are fair and square to my opinion. In case your account balance is too low, but you would still like to withdraw money, there is a simple trick to make your plan come together. Just deposit some extra money and next withdraw the entire amount from your Plus500 account.

Withdrawing money at Plus500 is completely free of charge. Obviously, a big pro in my review. Some brokers dare to charge high transaction costs for withdrawing money. Besides, withdraw requests are handled quickly. In my particular situation, the withdrawal request took about 3 days to process and one day later the money was deposited on my bank account. The least I can say, withdrawing money at Plus500 is handled slick as a whistle!
Costs investing at Plus500
Plus500 does not charge fixed commissions. This means that you can also trade with smaller amounts.
There are also other costs involved when trading with Plus500, check https://www.plus500.com/en-CY/Help/FeesCharges for an overview.
Tip: when you are planning to buy stocks for the long term, DEGIRO is the better choice. Remember that you can only actively trade by using CFD's at Plus500.
The spread at Plus500
The first way Plus500 makes money is by calculating a spread. When buying or selling a security, there is always a difference between the bid and the ask price. These are the transaction costs you pay at Plus500. Because these costs are always relative costs, it is possible to achieve fair and favourable results by only making a small investment.
The spread is the difference between the bid and the ask price. Illustrative prices
Let's look at these transaction costs at Plus500; The EUR/USD spread is dynamic. This means the spread can increase or decrease depending on the market volume. At the time of writing, the EUR/USD spread is only 0,6 pips which equates to 0,00006 cents. This is way cheaper compared to one of its major competitors, namely eToro. At the moment of writing, investors at eToro pay a spread of 3 pips or 0.0003 cents.
Finally, let's look at the Germany30 spread. Plus500 applies a dynamic spread which during writing is 3.24 euros. The eToro rate is much higher as they charge a spread of almost 7 euros.
The overnight financing charge or financing costs
The second way Plus500 is making money, is by charging the so-called overnight financing charge. When trading CFD's, the broker will temporarily lend you the money for your investment. The overnight financing charge per day is always clearly indicated when choosing a CFD to trade in. These charges have to be paid daily. Closing your position before the end of the day means not having to pay financing costs or an overnight financing charge.
Let's once again compare the costs at Plus500 with the costs at eToro. The EUR/USD overnight financing charge which has to be paid to hold your position overnight is 0,0087% at Plus500. eToro on its turn charges 0,009%.

The EUR/USD financing interest at plus500. Exemplary prices.
At the moment of writing the overnight financing charge on the Dutch Philips stock is 0.0232%. For the same stock at eToro you pay a financing interest of 0.0165%. The Google overnight financing charge equals 0.0288% at Plus500 and 0.0215% at eToro.
Talking about overnight financing charges, overall, these costs seem to be lower at eToro compared to Plus500. Would you like to keep your positions open for the long term? In that case, eToro is the most favourable option. Are you rather aiming to speculate in the short term? In that case, the lower transaction costs make Plus500 your best investment match.
When you take a short position, you speculate on the price of a stock to drop. Occasionally you receive a premium on your short positions. When this is the case, this will be indicated by a positive number at overnight financing charge – sell.
What is the minimum investment price?
At Plus500 the minimum deposit is $100. Of course, this doesn't automatically mean you can invest in all possible investment options. Every effect within the Plus500 software has a minimal investment price set. The Plus500 software refers to this price as the so-called unity amount. Let's take Bitcoin as an example. At the moment of writing the Bitcoin unity amount equates to 0,02 contract which means 1/50 of the value of one Bitcoin. On another example, the ING stock, it currently equates to 50 stocks.
Currently, 50 ING stocks cost you about 250 euros. However, you could use a 1-to-5 leverage. This means you need a minimum of $50 to open a CFD investment on the ING stock.
Reliability & support
In the last part of this review, we discuss the reliability of this broker. Plus500 is a reliable broker that has been operating for many years. First we will discuss and justify why there are so many negative online reviews about Plus500.  Next, we will tell you all about how to use a leverage and when to use it, and we will also deep-dive into the Plus500 licenses. Finally, we will also check whether your money is safe, and we will review the Plus500 customer service.
Negative reviews
Many investors who have used Plus500 posted negative reviews on the Internet. The main reason behind this negativity is the fact many people don't really understand what investing in CFD's is all about. Find below a clear example of a customer review posted by a client who lost money using Plus500: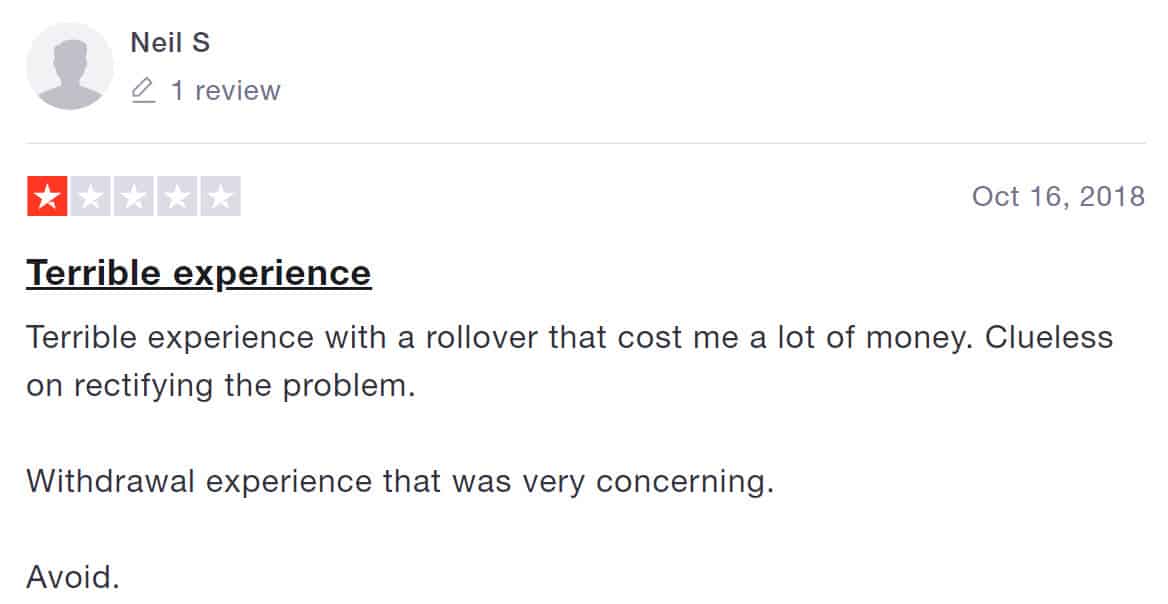 An investment can make you lose your money… no tricks, no lies, no false promises… just bare reality. People who start to invest without experience or without proper preparation have a big chance on losing part of their investment. It is therefore of crucial importance to practice in order to understand all the ins and outs of CFD investments. Practice is the key to success and can be easily done by using the Plus500 software.
Understand the ins and outs of a leverage
Many investors fail to make a profit at Plus500 because they don't understand the ins and outs of a leverage. A leverage can be used on your investments. An advantage of using a leverage on your investment is the fact you only need a small amount of money to take a larger position. When you deposit $1.000 and you use a 1-to-10 leverage, you can trade $10.000 euros in CFD stocks. By doing so, both your profit and loss move faster:
A $1 investment means a $10 profit when there is a price increase.
A $1 investment means a $10 loss when there is a price decrease.
A 1-to-10 leverage will make you lose your entire investment if there is a 10% price decrease. When your account has run out of money, it is referred to as a margin call. In that case, your position will automatically be closed. Obviously, achieving a bad result isn't the broker's fault. Fortunately, we can help you to avoid this kind of situations as much as possible. Use the following tips to achieve better investment results at Plus500:
First practice with a demo until you get a full understanding of the ins and outs of investing.
Practice by reading about investing and make sure you understand how CFD's exactly work.
Be careful when using a leverage.
Always use a stop loss and if required a take profit.
Always think twice before opening a position.
Plus500 Licence
Reliable brokers always have the required licences. Plus500 also has a licence. The licence is a proof the broker complies with all important rules and regulations.
Plus500UK is regulated by the British Financial Conduct Authority. It is one of the strictest supervisors. The FCA's primary role is to protect customers from unreliable financial companies.
Plus500 is an internationally operating company. Therefore, multiple parties ensure that Plus500 is always adhering to the rules. Find below an overview of all supervisors which keep a close eye on the Plus500 reliability:
Plus500UK Ltd authorized & regulated by the FCA (#509909).
Plus500CY Ltd authorized & regulated by the CySEC (#250/14).
Plus500SG Pte Ltd, license by MAS (#CMS100648-1) and IE Singapore (#PLUS/CBL/2018).
Plus500AU Pty Ltd (ACN 153301681), license by: ASIC in Australia, AFSL #417927, FMA in New Zealand, FSP #486026; authorized financial in South Africa, FSP #47546
Plus500 is also a public company. Plus500 is listed on the English stock exchange. Another indicator that proves Plus500 to be a reliable broker. Would you like to know more about the reliability of Plus500? Please read this article!
Is your money safe at Plus500?
Safety and reliability are two critical aspects in the financial world. Our review clearly shows Plus500 feels strongly about these two aspects. Reliability and safety are two core principles because Plus500 needs to comply with the strict rules and regulations of the supervisors.
When you make a deposit at Plus500, the money will be placed on separate accounts. Plus500 will never speculate with customers' money. If Plus500 went bankrupt, you will therefore never lose the money in your account.

Customer service at Plus500
The Plus500 support is one of the moderate review points. When you have an issue, it will always be solved… that's the good part. Unfortunately, Plus500 only offers mail or live chat support. Talking to someone in person by phone would be nice sometimes. When it comes to accessibility, Plus500 could therefore still improve.
Obviously, we have verified whether our questions were answered by the customer support. The live chat is really fast. It only takes a matter of seconds before someone answers your question. Sending an email is less effective. It can sometimes take a few days before you get an answer. It goes without saying that in this case patience is clearly a virtue.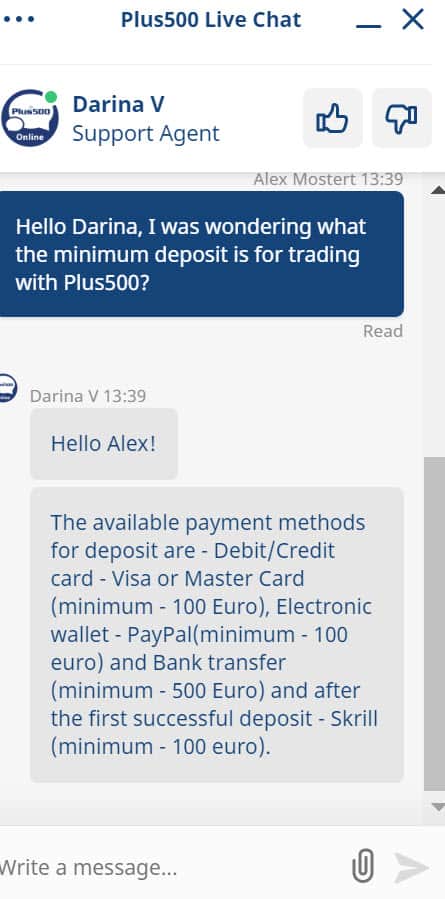 The Plus500 live chat is fast to reply
Conclusion review Plus500
Plus500 is a solid broker to actively trade for example stocks. Especially when the market is very volatile, Plus500 can be a good choice. What are the strengths of this broker?
Plus500 offers a user-friendly platform.
Plus500 is strictly supervised by the FCA.
Customer money is saved on separate accounts.
Plus500 trade is commission-free.
More than 2000 different stocks can be traded.
The company has millions of customers and transactions since it was founded.
We therefore recommend Plus500 in this review. Would you like to try all possibilities 100% risk-free with a demo? Use the below button and open an account:
Risk warning: 86% of retail investor accounts lose money when trading CFDs with this provider. You should consider whether you can afford to take the high risk of losing your money.
Author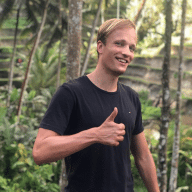 About
When I was 16, I secretly bought my first stock. Since that 'proud moment' I have been managing trading.info for over 10 years. It is my goal to educate people about financial freedom. After my studies business administration and psychology, I decided to put all my time in developing this website. Since I love to travel, I work from all over the world. Click here to read more about trading.info! Don't hesitate to leave a comment under this article.