Buying Ark: How to invest in Ark?
At the moment, there are thousands of different cryptocurrencies you can invest in. Most people are familiar with Ripple or Bitcoin, but there are plenty of other projects that show promising results. One of these projects is Ark. Are you curious about what to expect from the Ark project and whether it is a coin you should invest in? Then read on, we will discuss this cryptocurrency in more detail in this article.
How can you actively trade in Ark?
Do you want to actively invest in Ark? This is possible with an online broker! At an online broker, you can use CFDs to bet on both falling and rising Ark prices. At eToro you can try CFD trading completely free and risk-free with a demo. Use the button below to open an account with eToro right away:
How to buy Ark?
Ark is a blockchain platform that makes it possible to connect different blockchains using the SmartBridge protocol. This allows systems built on Bitcoin and Ethereum to be connected and work with each other. Ark's platform is user-friendly, which may increase the acceptance of cryptocurrency in the future. This may make it attractive to buy Ark.
Do you want to buy the Ark cryptocurrency? You can do it quickly online! At Binance, you can buy Ark at very low rates: you never pay more than 0.1% in transaction fees when buying cryptocurrencies at Binance. You also pay no transaction fee on the first €1000. Use the button below to open an account with Binance right away:
What is Ark – goal of the project
First, let's look at what kind of project Ark is.  One of the main goals of Ark's project is to bring blockchain technology to the public. They plan to do this by providing simple services that can also be used by non-crypto experts. One way ARK is doing this, is by creating an ecosystem that will allow any individual or company to create their blockchain in minutes. They have focused on as many types of blockchains as possible to ensure that any company can use the project.

Main components of ARK ecosystem
Ark's goal is to make blockchains truly accessible to other companies. Now, of course, the question arises of what exactly Ark's ecosystem looks like. There are several features built into ARK's ecosystem that will ensure that its goals are met. We have listed these functions below:
Smart Bridge – The Smart Bridge concept will be used by ARK to create "bridges" between different blockchains. This makes ARK a kind of intermediary between the blockchains. This ensures that communication between disparate chains is no longer possible. Although other projects are working on a similar function, Ark is the only one that has managed to make it actually work.
Different programming languages – as you probably know, there are many languages in the field of programming. The ARK developers were clear in their intention to allow development in as many coding languages as possible. They did this mainly to involve as many software developers as possible in the project. This is the reason why basically all languages known today are supported on the platform. The ARK team promises that they will also include new, lesser known, coding languages.
Push Button Deployable Blockchains – this seems like a bit of a difficult term, but it is not. As you can conclude from the name, this feature allows you to easily set up your blockchain at the push of a button. This will allow anyone to easily use the ARK blockchain and create their blockchain project. This is similar to Ethereum's platform in many ways, except that Ark does not charge for building.
ARK really takes a different approach and encourages blockchain development. This project gives everyone an instant blockchain-in-a-box that goes beyond the blockchain-as-a-service concept offered by marketplaces like Amazon Web Services and Microsoft Azure. In effect, this means you can actually create your blockchain and you are no longer dependent on other parties. If you choose a service such as Amazon Web Services, you will never actually own your blockchain. With Ark, on the other hand, you can and you will always retain control.
The creation of the project
The ARK blockchain has not existed for very long. In fact, this project was only launched in 2017 by a group of 27 members spread around the world. This means that it is a decentralized team, there is no one who is really in charge. However, it is true that the well-known Thoorens is the most important person on the team. He first worked for Lisk before working on the ARK project.
ARK is in many ways similar to Bitshares, Lisk and Crypti, three older projects that also use the Delegated Proof of Stake (dPoS) consensus algorithm. This is a variant of the traditional Proof-of-Stake (PoS) consensus algorithms. This algorithm is important for verifying blocks on the blockchain. All you need to know about it is that Delegated Proof of Stake is faster and better than the standard algorithms.
Invest in Ark through an exchange
If you choose to invest in Ark, it is necessary to create an account at an exchange. An exchange, also called a crypto exchange, is the place where you can buy your crypto coins. By choosing a good exchange like Plus500 or Bitvavo it's possible to invest in Ark easily and quickly. If you like it, it is possible to transfer the coins to your wallet, although it is of course also possible to leave your coins on the exchange itself.
Conclusion – to invest in Ark or not?
As you could have read in this article, Ark is one of the projects that could become big in the total crypto market. Should this project actually be used on a large scale, it is possible that the price of Ark will go through the roof. However, the question is whether all the objectives will actually be achieved. Whether you should invest in Ark depends entirely on your personal conviction and vision for the crypto market.
Author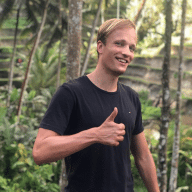 About
When I was 16, I secretly bought my first stock. Since that 'proud moment' I have been managing trading.info for over 10 years. It is my goal to educate people about financial freedom. After my studies business administration and psychology, I decided to put all my time in developing this website. Since I love to travel, I work from all over the world. Click here to read more about trading.info! Don't hesitate to leave a comment under this article.