Buying Augur – how can you invest in Augur or REP?
You may have heard about the cryptocurrency Augur or the REP token from someone at work, in your family or friends circle or at school. But what is Augur exactly? Everyone can tell great stories, but how does it work, how can you buy it, and can you really make as much profit with it as they tell you? In this article, we will explain everything about Augur, or the REP token. What it is exactly used for and how you can buy this cryptocurrency.
Trading markets usually require a central intermediary to match supply and demand and finalize orders placed. In return, the intermediary (exchange or broker) charges a transaction fee, which can lead to high prices for closing trades. Because of these fees, transactions are often only concluded at specific events and only by established agencies, which also means that many matches are not considered in detail.
The Augur blockchain platform is designed to solve exactly this problem. With a global, open, decentralized prediction market platform, anyone can create a prediction market for any event and offer shares in it. High brokerage fees are eliminated. Blockchain technology and "the Wisdom of the Crowd" eliminate the need to trust a central broker.
Where can you actively invest in Augur?
Like other cryptocurrencies, the price of the Augur cryptocurrency is very volatile. It may therefore be smart to actively play into this with CFDs. At Plus500 you can try trading cryptocurrencies such as the Augur for free with a demo. Use the button below to immediately open an account with this broker:
How to buy Augur?
You can buy the cryptocurrency Augur at a reliable provider like Binance. At this cryptocurrency broker, you will never pay more than 0.1% in transaction fees. Use the button below to immediately open an account with Binance:
What is Augur?
First of all, what exactly is Augur? Augur is designed to function as a betting platform but actually more of a prediction market. Augur is designed to use the "Wisdom of the Crowd" to consistently outperform expert predictions on everything from market movements to sports betting.
It costs REP to make a bet. Correct predictions reward gamblers with more REP than they wager, whereas incorrect predictions are logically not rewarded at all.
The end result is a decentralized prediction market. You ask it a question, the question is posed to the crowd and the wisdom of the crowd pumps out an answer that is more statistically accurate than any expert's answer. In short, Augur is a peer-to-peer, decentralized exchange where one can universally and transparently make predictions on virtually anything that can be predicted for.
Augur basically runs on Ethereum, which means that pay-outs are automatic and not under the control of any person or organization, including Augur itself. You can trade with Augur through their trading app which you can find and download on Augur.net.

What is the prediction market?
Augur allows participants to buy and sell shares based on the outcome of future events, where the price is determined by the probability of its occurrence. Research shows that prediction markets can be more reliable than professional institutions.
Prediction markets are nothing new as records of prediction markets for political betting date back to 1503. They use the so-called "wisdom of the crowd" to make accurate estimates of events. The Cambridge Analytica scandal is a recent example of how well these prediction markets work and how they can change the outcome of an event.
The underlying assumption is that if the sample size is sufficient, the answers are usually as accurate or even more reliable than the suggestions you would get from a single expert or group of experts.
Is there a market for this?
The "wisdom of the crowd" can lead to amazingly accurate predictions and will ultimately enable markets to operate more efficiently. Both Google and Ford Motor Company have been using predictive markets internally for more than a decade.
Although these were mainly used to measure the effectiveness of internal processes, they could also be used in the financial sector. An exciting application of predictive markets is insurance in developing countries, where citizens have no other option to insure themselves against political, economic or even climatic risks.
With a prediction market, a person living in such a country can insure himself against civil wars, droughts, floods or currency devaluation by buying a prediction contract that pays off when an unfortunate event occurs.
The Augur Team and its history
Augur was one of the first platforms founded in October 2014 by a team of 13 people led by Jack Peterson and Joey Krug. Before Augur, the two gained experience with Blockchain technology when they developed Sidecoin, a fork of Bitcoin. In addition to Augur's experienced team, Vitalik Buterin, the creator of Ethereum, is the project's advisor.
The first public alpha version of Augur was released in June 2015, and this year Coinbase named Augur as one of the most interesting blockchain projects of the year. The beta version of Augur was released in March 2016.
Augur's biggest competitor is Gnosis (GNO), which is also based on the Ethereum network and is very similar to the Augur project. The main difference between the two projects is the use of economic models. While Augur uses a fee model based on trading volume, Gnosis charges fees based on the number of shares outstanding.
Do you want to know more about Gnosis? Use the button below and read more about this cryptocurrency:
The cryptocurrency REP was created through Augur's Initial Coin Offering (ICO), in which 8.8 million of the total 11 million REP tokens were sold to investors. The remaining 2.2 million tokens were distributed to consultants, the development team and to the Forecast Foundation, which is responsible for the maintenance and further development of the Augur platform.
Crowdsales led to the collection of 19053.92 BTC and 1176816.43 ETH, bringing the total money raised with the ICO at that time to $5,318,331.63. According to the company's white paper, the majority of these funds were used to further develop the platform after its initial release.
What is the problem that REP is trying to solve and what does it need?
On the one hand, the creation of such a market is complex and cost-intensive, which is why it is usually only made possible by large gambling companies. On the other hand, due to the centralized nature of today's gambling market, there may be manipulation or distortions of the results, as well as on the reporting of events and their outcomes. Results have so far always been reported only by the central betting office.
Another problem is the fact that the deposits usually have to be deposited with the central intermediary, who then has access to the funds. This logically entails risks and trust issues.
The Augur platform promises to provide an innovative, decentralized, global and open solution to all these problems. In addition, the decentralized blockchain structure of the Augur platform means that no middleman has to be paid excessive fees. All profits are distributed to market makers and "market reporters".
All in all, this leads to a drastic reduction in costs, allowing anyone to create prediction markets. The third-party trust issue can also be eliminated because with Augur, no third party will ever have easy access to or control over a party's funds, as all transactions are directly peer-to-peer.
Another consequence of these features is that, because of the low costs, markets can now be created for events in which only a few people participate and where it would not have been profitable before.
Augur is designed to be so open and broad that it can be used for a wide range of applications and does not expressly favour it. As stated on the company's website, Augur can be used to create prediction markets for events in politics, sports, finance, culture and the crypto market. Incidentally, there are many more user cases to consider.
The process of creating your prediction market and implementing it works as follows:
In the first step, you can use the Augur platform to create an event. It is a possible event that may or may not occur.
The next step is to buy or sell shares of users who speculate on whether the event will happen.
After purchase, these can be sold or more can be bought until the outcome of the scenario becomes clear. If you have bet on the correct outcome and own one (or more) corresponding shares, your profit will be sent directly to your Ethereum wallet once the outcome is known.
How does Augur or REP mining work?
There is no direct mining of the cryptocurrency REP possible, so as an external user you cannot earn REP tokens by mining.
The Augur Blockchain is the platform with which anyone can open a prediction market for an individual event, e.g. in politics, sports, culture or the like.
The Augur platform can be operated via a desktop client and allows for the creation and execution of a prediction market in 3 simple steps. Since many reporters are required in addition to market producers for the decentralized determination of event outcomes, the cryptocurrency Reputation (REP) was invented.
The REP (or Reputation) token is what drives the decentralized Oracle system of Augur. You can think of it as the tool for trading on the Augur platform. Holders of REP tokens can use them as stakes to bet on the outcome of events listed on the market.
Augur has limited the number of REP tokens to 11 million, of which, as mentioned above, 80 per cent were sold in their ICO. Holders of REP tokens are considered "reporters" and must report on the outcome of random events listed on the Augur marketplace.
The benefits of owning REP tokens
Owning REP or Reputation gives you the right to be a reporter and report on market events. The more REP tokens you own and the more accurate your reporting, the more shares from fees you will earn.
Who uses the Augur network?
There are three central actors in the Augur Blockchain ecosystem: market makers, reporters and traders. However, it should be noted that only reporters need REP tokens, the other actors can do without them to pursue their goals.
Market makers are those agents who create a prediction market via the Augur platform and thus form the basis for all transactions in the Augur network. They receive a part of the transaction costs incurred to predict the occurrence or non-occurrence of their event and can thus be rewarded for their work.
Reporter: Every time a market closes, as a REP holder, you have to report the exact event on that market. You also use a certain amount of REP to secure your claim. If you see that the event has not yet occurred, you can mark it as "invalid" because you cannot report it. The Augur platform requires the market maker to instruct a specific reporter, who then has three days to report on the event. If you want, as a reporter, you can challenge the result in another 3 days. If no one challenges the designated reporter, the market simply moves on to the next round.
The last group of users are, of course, traders or dealers who buy shares on the prediction markets that have been created and may or may not enter them. Apart from the entertainment factor of such an investment, they can earn a reasonable return if they bet on the right result.
Traders also benefit in several ways from the Augur platform's permission less protocol. They can buy as many shares in a particular event as they want. Of course, they also benefit from lower trading costs compared to other markets. Thanks to the blockchain, the market is open 24 hours a day, 7 days a week, so traders can liquidate their positions at any time, provided a counterparty can be found for their transaction.
How does the REP Wallet work?
The original REP token of the Augur blockchain is an ERC-20 token, and therefore it can be used with all ERC-20 compatible wallets. While this also applies to online and desktop wallets, I recommend using secure hardware wallets, also known as "cold storage", for longer-term storage as they are not connected to the internet.
Buying Augur directly?
You cannot buy Augur directly on most exchanges. You need to buy Bitcoin or Ethereum first and then trade them for Augur. Fortunately, on Bitvavo you can buy Bitcoin and/or Ethereum with iDEAL for only 0.25% fee and then exchange them for Augur.
Investing in Augur – Conclusion
Hopefully, you now know all about the cryptocurrency Augur and the REP token. You know what the coin and token do, who the founders are and how the Augur platform works. If you still have questions about Augur or the REP token, you can always ask them using the comment function below.
Author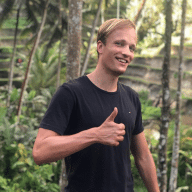 About
When I was 16, I secretly bought my first stock. Since that 'proud moment' I have been managing trading.info for over 10 years. It is my goal to educate people about financial freedom. After my studies business administration and psychology, I decided to put all my time in developing this website. Since I love to travel, I work from all over the world. Click here to read more about trading.info! Don't hesitate to leave a comment under this article.