How to buy Bank of America shares?
Founded in 1928, Bank of America is the largest financial bank in the United States. It is one of the biggest corporations in the world. This leading financial institution provides services to individual consumers and to small, medium, and large companies. The bank has a wide range of banking, investment, and asset management. Do you also want to invest in this huge bank? Then read how to buy Bank of America shares!
Do you want to buy Bank of America shares? You can directly trade in Bank of America stocks with one of these reliable brokers:

| Brokers | Benefits | Register |
| --- | --- | --- |
How can you actively invest in Bank of America?
The price of a bank share like Bank of America can fluctuate sharply. As a smart investor, you can respond well to this. You have the option to open a short position. With a short you earn money when the price of a stock falls. This allows you to achieve good results even during a crisis.
Are you thinking about actively investing in stocks? Then Plus500 is a good choice! At Plus500, CFDs in all known US stocks can be traded free of commissions. The great thing about this provider is that you can try the possibilities completely free of charge and without risk. Use the button below to open a free demo at Plus500 immediately:
What is Bank of America's stock price?
Do you want to know how Bank of America is performing? Take a look at the chart below. Here you can immediately see the CFD price of Bank of America shares. You can also use the buttons to open an investment in the stock immediately.
Before you can buy a Bank of America stock, you will need to go through a few steps. First you have to come up with a good strategy. In any case, a strategy must contain the following components:
Entry strategy: when do you step in and buy the share?
Exit strategy: when do you step out again and sell the share?
Many novice investors choose these moments fairly randomly. However, this is not advisable! Research has shown that investors who think carefully about why they trade achieve better results. It is therefore wise to carry out an analysis first. You can choose from two well-known strategies:
After you have established a good strategy, you will need to open another account with a broker. A broker is a company that allows individuals to buy and sell shares. Most importantly, pay close attention to the costs and reliability of the broker you want to open an account with. We have made a list of good and reliable parties where you can buy Bank of America shares:
Finally, I would like to give you the tip to step in staggered. It is difficult to determine whether a share will rise further or whether it will fall sharply first. When you put in a fixed amount each month, you make sure you get more stable results with your investments.

Opportunities and innovations
Bank of America seems to be moving in a good, strategic direction. After several acquisitions, they are now focusing on stable growth. In doing so, they can embrace modern techniques. A good example of this is the digital assistant Erica which has been existing since 2017. Customers can request advice and pay bills by using their voice.
Nowadays, it is important that a bank knows how to deal with new techniques. Bank of America seems to be doing a good job in this area. This can be a good reason to buy the shares.
Crisis-proof
Another good argument for an investment in Bank of America is the crisis resilience of the bank. The bank survived the 2008 financial crisis. Also, the Corona pandemic does not seem to be a problem for the bank. The company lend substantially more money during this period. The company's digital presence still allows the bank to provide its normal services. Even in these bad times, the company still pays dividends. All in all, an investment in Bank of America can consequently work out well.
A huge bank
The figures show that Bank of America is a big bank. For example, the bank has 4400 Financial Retail centres. They serve 47 million consumers and small business relationships. More than 46 million people actively use internet banking. Bank of America has about 16,000 ATMs.
Many products and services are online. By using innovative, simple and online services and products, more than 3 million small business owners are supported. There are also customers outside the U.S. The company operates in 35 countries.

Acquisition La Salle Corporation
In 2007, Bank of America received permission from the Central Bank of the United States of America to acquire La Salle Corporation from ABN-AMRO. A Dutch judge failed to block the deal. Bank of America paid $21 billion for the acquisition. Due to this deal, Bank of America became more present in Illinois, Michigan, and Indiana. The deal brought in 411 branches, 17,000 commercial customers, 1.4 million private customers, and 1,500 ATMs. In addition, the deal with 117 branches made the company the largest bank in Chicago.
Acquisition of Merrill Lynch
In 2008, Bank of America acquired Merrill Lynch. The acquisition is paid in shares. The amount to be paid is approximately $50 billion. This prevented the collapse of this investment bank. The investment bank should have written off more than $40 billion on risky mortgage products.
Do you think these acquisitions will contribute to Bank of America's results? Then it may be attractive to buy Bank of America shares.
The bank's eight industries
Bank of America targets everyone. The bank does this by working with eight business classes. For individuals, the bank works with retail, preferred and small business, U.S. trust and Merrill Lynch wealth management. For companies there are the business classes of business banking, worldwide commercial banking and global corporate & investment banking. For institutional investors, the bank works with the global markets industry.
Author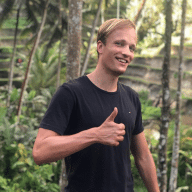 About
When I was 16, I secretly bought my first stock. Since that 'proud moment' I have been managing trading.info for over 10 years. It is my goal to educate people about financial freedom. After my studies business administration and psychology, I decided to put all my time in developing this website. Since I love to travel, I work from all over the world. Click here to read more about trading.info! Don't hesitate to leave a comment under this article.