How to buy Boskalis shares?
Koninklijke Boskalis Westminster N.V., or Boskalis for short, is the largest dredging company in the world. The head office is located in Papendrecht, near Dordrecht. Are you considering investing in Boskalis stocks? On this page you will discover where to buy Boskalis shares. You can also find the current stock price here.
Where can you buy Boskalis stocks?
Do you want to buy Boskalis shares? You can directly trade in Boskalis stocks with one of these reliable brokers:

| Brokers | Benefits | Register |
| --- | --- | --- |
| | Buy Boskalis without commissions. Your capital is at risk. Other fees may apply. | |
| | Speculate with CFD's on increasing & decreasing prices of Boskalis! 82% of retail CFD accounts lose money. | |
| | Benefit from low fees, an innovative platform & high security! | |
| | Speculate on price increases and decreases of Boskalis with a free demo! | |
What is the current stock price of Boskalis?
Are you curious how the Boskalis stock is performing? Below you can request the current price of the CFD stock Boskalis. You can then also invest in Boskalis directly by buying or selling a CFD stock using the buttons.
How can you invest in Boskalis stocks?
Before you can invest in Boskalis shares, you will have to go through a few steps. To be able to invest in Boskalis shares, you will in any case need an account with a broker. A broker is a company that enables consumers to buy and sell shares. It is important to pay close attention to the transaction costs when you open an account with a broker, because these can vary strongly with different parties. Do you want to know what the best brokers are for buying Boskalis and other Dutch stocks? Click here to compare the different brokers.
After you have opened an account, all you have to do is find and select the Boskalis stock. You can then place a buy order on the stock, after which the shares will be added to your portfolio. Don't do this without thinking: especially if you want to invest in stocks for the long term, it is important to carefully examine the figures. Take a look at the company's financial performance and examine whether Boskalis is managing to stay ahead of the competition. If this is the case, it may be smart to buy Boskalis shares.
Main activities of Boskalis
The main activities of Boskalis are land reclamation, the construction and maintenance of ports and waterways and the protection of coasts and shores. They also focus on projects related to energy, ports and other forms of infrastructure. The main clients for Boskalis are oil companies, port operators, insurers, shipping companies, mining companies, international project developers and governments.
In total Boskalis employs over 14,000 people. The work of these employees is spread over more than 75 countries in 6 continents. Their versatile fleet therefore consists of the not inconsiderable number of over 1,100 vessels and tools.
Should you invest in Boskalis?
Before investing in a stock, it is always important to conduct sufficient research. It is wise to check the news for example. Research whether the company has performed well in recent years. Also look at its plans for the future. A company without a clear vision is like a ship without a captain.
When you start trading actively, you may also consider performing technical analysis on the share. You will then be looking for recurring patterns. If you anticipate these patterns well, you could make a profit with your investment in Boskalis. We would like to give you a few more important tips before you start trading the Boskalis stock:
Always go with the trend, that way you have the greatest chance of success!
Only invest with money you can afford to lose in the long run.
Be patient: when investing, one of the most important things is patience.
Make a plan and follow it through!
History of Boskalis
In 1910, the Fa. Kraaijeveld en Van Noordenne was founded by 3 dredging companies from Sliedrecht. In the thirties this company was transformed from a VOF into an NV, after which the name was changed into NV Baggermaatschappij Bos & Kalis. In the years that followed, the company experienced rapid growth. In the 1980s, bankruptcy was narrowly averted. Bankruptcy threatened because no payment was received for major work carried out in Argentina.
In 1978 Boskalis was granted the designation 'Royal'. In 2004, the largest stockholders were HAL Investments NV with 31% and Delta Lloyd with 5%. In 2007, the share rose sharply in value due to various projects in the United States.
Author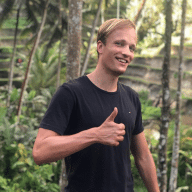 About
When I was 16, I secretly bought my first stock. Since that 'proud moment' I have been managing trading.info for over 10 years. It is my goal to educate people about financial freedom. After my studies business administration and psychology, I decided to put all my time in developing this website. Since I love to travel, I work from all over the world. Click here to read more about trading.info! Don't hesitate to leave a comment under this article.