How to buy Canopy Growth shares?
Canopy Growth is one of the best-known companies in the weed industry. The company mainly focuses on the production of cannabis, but recently also started producing other products with weed in them. Are you looking for an interesting cannabis share to buy? Then investing in Canopy Growth can be interesting! On this page you can read everything you need to know before making an investment in the company. You can also consult the current stock price of Canopy Growth on this page.
Where can you buy Canopy Growth stocks?
Do you want to buy Canopy Growth shares? You can directly trade in Canopy Growth stocks with one of these reliable brokers:

| Brokers | Benefits | Register |
| --- | --- | --- |
| | Buy Canopy Growth without commissions. Your capital is at risk. Other fees may apply. | |
| | Speculate with CFD's on increasing & decreasing prices of Canopy Growth! 82% of retail CFD accounts lose money. | |
| | Benefit from low fees, an innovative platform & high security! | |
| | Speculate on price increases and decreases of Canopy Growth with a free demo! | |
How can you actively invest in Canopy Growth?
A weed stock like Canopy Growth can be very volatile. This is because it is still a fairly new market, and we have no idea exactly how it will develop. The stock is certainly interesting: after all, there are many people around the world who regularly use weed. When Constellation Brand invested in the stock, it immediately jumped up 38%. As an active trader, you can benefit from this kind of strong fluctuations. But how do you do it?
A good party to actively trade in a share like Canopy Growth is Plus500. Plus500 allows you to actively take positions in the market with CFDs. With a CFD, you are betting on the price difference of the CFD stock. This means that you can take positions on both a falling and rising prices. Would you like to start trading CFD Canopy Growth stocks actively? Use the button below to open a free demo account straight away:
What is the current stock price of Canopy Growth?
Are you curious about the current price of Canopy Growth shares? In the table below you can consult the CFD price of Canopy Growth directly. You can also start trading the share directly with the buttons.
Is it wise to invest in Canopy Growth?
At the time of writing, cannabis is not only more topical, it is also trendier than ever. More and more studies are revealing the incredible medical benefits that regular use of cannabis can bring. Although Canopy Growth is one of the largest companies and stocks in the cannabis market, competition is growing steadily. This is especially the case in the company's main market, namely Canada and the United States.
Although it seems that there is still an enormous potential hidden in Canopy Growth, everything depends of course on the extent to which the use of cannabis will or will not be (fully) legalized. Do you think the legalization will continue worldwide? In that case, Canopy Growth's market will only increase, which will be good for the company's profitability and automatically also for the company's share prices.
A good reason to buy Canopy Growth stocks is the favourable developments the company is going through. For example, the company is in the process of setting up a good sales structure for the US market: in this way, the company's profitability can, of course, continue to increase.
However, it is important to monitor the company's profitability. The substantial investments that the company has made to build up a stronger position have ensured that the company is still loss-making. As the cannabis market is new, it is still very uncertain whether the company will be able to build a stronger position in the future. An investment in Canopy Growth is therefore certainly not without risk.
How to buy Canopy Growth stocks?
For new investors it can sometimes be difficult to understand how to buy Canopy Growth shares. Since Canopy Growth is a Canadian company, you can often easily trade the shares with an online broker. However, it is important to take two things into account:
The exchange rate of the Canadian dollar against the currency you invest in yourself
Transaction costs for buying and selling Canadian shares
If you do not invest in Canadian dollars yourself, fluctuations in the exchange rate can strongly influence your investment results. When your currency becomes worth less, you can even lose money with a rising Canopy Growth stock price.
You also have to be careful with the transaction costs on Canadian stocks. Many brokers charge higher transaction costs when you invest abroad. Would you like to know at which brokers you can invest most advantageously in Canadian stocks? Then take a look at our article about investing in Canadian stocks:
Opening an investment position on Canopy Growth stocks actually works the same for every broker. You first have to select the share within the software. After you have found the share, you can buy the stocks directly with a market order. Of course you can also choose to use a limit order: with a limit order you only open the investment when a certain price is reached.
About Canopy Growth
The Canadian Canopy Growth Corporation is mainly engaged in the production of cannabis. It is mainly because of this activity that the Canopy Growth share has become so well known. Thanks to the investment of Constellation Brands, the company will also become involved in the competition for "cannabis infused drinks".
The capital that the company has received from Constellation Brands has ensured that the company has built up a solid financial position. Would you like to discover how you too can invest in the Canopy Growth stock? Then it's wise to investigate the company's plans for the future!

One of the leading cannabis producers
Canopy Growth has dared to manifest itself within an often contested market. Up to the time of writing, the legalization of cannabis is still in its infancy despite its many medical benefits. Canopy Growth's home market is Canada, a country which is clearly opening up more and more to the legalization of cannabis.
Canopy Growth's activities mainly consist of the production and distribution of cannabis. However, that is not all: the considerable capital it has been able to raise from Constellation Brands' investment has in fact opened up a new target market. Thus, in the years to come, the company would also like to become increasingly involved in the fight to produce 'cannabis infused drinks'. If this is successful, it could add value to the market position of the Canopy Growth Corporation.
Do you think these drinks can contribute to the future growth of Canopy Growth? Then buying Canopy Growth shares is definitely advisable!
History of the Canopy Growth Corporation
The Canopy Growth Corporation was initially founded in the year 2013 as 'Tweed Marijuana Inc.' by Bruce Linton and Chuck Rifici. It obtained its current name in the year 2015 after a merger with Bedrocan Canada. This merger also put Mark Zekulin at the helm of the company.
The company reached an important milestone in August of the year 2018. It was then that Constellation Brands, a US producer of beer, wine and spirits, announced that they would make an investment in Canopy Growth worth 5 billion Canadian dollars. As a result, the investor became 38 percent owner of the Canadian company.
The additional financial resources obtained from the above agreement will enable Canopy Growth to pursue its international expansion. Particularly in the United States, the company intends to significantly increase its market share. The (future) production of potable cannabis products should also provide additional income for the Canadian cannabis producer over time.
Do you think Canopy Growth will be able to sell more products abroad in the future? In that case, it might be interesting to invest in Canopy Growth shares.
Extra accessible products with cannabis
Canopy Growth's main aim is to create accessible products based on cannabis. This was already apparent from the agreement with Constellation Brands, of course, but there is more. In November 2019, the company announced that it would be marketing not only soft drinks, but also chocolate injected with THC and CBD. In this way, (medicinal) cannabis should reach a large target group in an accessible way in one fell swoop.
Do you think these new products will give the company a stronger market position? In that case, investing in Canopy Growth could certainly be interesting!

Future
Canopy Growth is developing an international strategy. The company would like to expand into new regions in which local legislation naturally plays a more important role. Now that weed is becoming more and more legalized, there are unprecedented opportunities. Buying cannabis shares can therefore prove to be a very interesting investment.
Author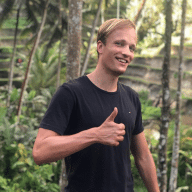 About
When I was 16, I secretly bought my first stock. Since that 'proud moment' I have been managing trading.info for over 10 years. It is my goal to educate people about financial freedom. After my studies business administration and psychology, I decided to put all my time in developing this website. Since I love to travel, I work from all over the world. Click here to read more about trading.info! Don't hesitate to leave a comment under this article.