How to buy Chesapeake Energy Corporation shares?
The company Chesapeake Energy Corporation is engaged in the exploration of hydrocarbons. The head office of this American company is located in Oklahoma City, Oklahoma. How did the company get its name? The founder chose this name to express his love for the Chesapeake Bay region. Would you like to invest in this company yourself? You can do this by buying shares! In this article you can read how to invest in the Chesapeake Energy Corporation.
| Brokers | Benefits | Register |
| --- | --- | --- |
| | Buy Chesapeake Energy without commissions. Your capital is at risk. Other fees may apply. | |
| | Speculate with CFD's on increasing & decreasing prices of Chesapeake Energy! 82% of retail CFD accounts lose money. | |
| | Benefit from low fees, an innovative platform & high security! | |
| | Speculate on price increases and decreases of Chesapeake Energy with a free demo! | |
How can you actively invest in Chesapeake Energy Corporation?
By actively trading in shares, you can always respond to the latest developments. A scandal, for example, can then be a good time to open a position.
A good party where you can actively speculate on the price development of Chesapeake Energy Corporation is Plus500. At this broker, you invest in CFDs. With the button below you can immediately open a free demo at the company:
From incorporation to listed company
The founders of Chesapeake Energy are Aubrey McClendon and Tom L. Ward. They started the company in 1989. Together they invested $50,000. Ward left the company in 2016. He founded the company SandRidge Energy.
After an initial public offering, Chesapeake Energy became a listed company in 2003. At this flotation the company was valued at $25 million.
The activities of Chesapeake Energy
The company focused on a strategy for drilling horizontal natural gas wells. These horizontal natural gas wells were drilled into unconventional reservoirs. In this way, the company built up a significant position in the Giddingsveld in South-East Texas and in the Golden-Trend and Sholem Alechem fields of South-Central Oklahoma.
In the first years of the twenty-first century, natural gas prices rose. This made the activities on which the company focused at that time economically feasible. From 2000 onwards, the company focused on unconventional drilling in carbonates, tight sandstone and shale. This was particularly done in the geological formations Barnett Shale, Fayetville Shale and the Marcellus Formation.
The company celebrated its twentieth anniversary by joining forces with Orange County Chopper in 2009. They did this to create the first compressed natural gas-powered chopper.
The Aubrey McClendon scandal
In 2013, Aubrey McClendon, CEO and co-founder of the company, was forced to resign. He was forced to resign because he had taken a personal interest in Chesapeake Wells. Aubrey McClendon borrowed $1.1 billion to finance his 2.5% personal stake in the company's wells without telling investors.
He also managed a personal hedge fund of USD 200 million. This hedge fund traded in goods that were also sold by Chesapeake. In addition, he borrowed money from a member of the board of Chesapeake Energy. On 2 March 2016, one day after a jury had indicted him for violating antitrust laws, he died in a unilateral car accident. He was the sole occupant.
Events like this can be a good time to actively trade in Chesapeake Energy shares. By taking a trading position during bad & good news you can generate a good return.
Author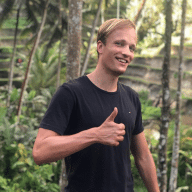 About
When I was 16, I secretly bought my first stock. Since that 'proud moment' I have been managing trading.info for over 10 years. It is my goal to educate people about financial freedom. After my studies business administration and psychology, I decided to put all my time in developing this website. Since I love to travel, I work from all over the world. Click here to read more about trading.info! Don't hesitate to leave a comment under this article.