How to buy Cloudfare shares ?
Cloudservices are used more and more. Because of globalisation people visit more and more international websites. A company like Cloudfare can capitalise on this, which makes it a potentially interesting investment. But what is the best way to invest in Cloudfare shares and what is the latest stock price? You can read all about it on this page.
Do you want to buy Cloudfare shares? You can directly trade in Cloudfare stocks with one of these reliable brokers:

| Brokers | Benefits | Register |
| --- | --- | --- |
How can you actively invest in Cloudfare?
The share price of Cloudfare has mainly increased in recent years, which can be explained by the increased interest in cloud services. Nevertheless, the price of the Cloudfare share does not only increase over time. Active investors are therefore better able to respond to the constantly changing situation. However, this way of investing requires more skills and concentration than simply buying Cloudfare shares.
A good company where you can actively trade CFD Cloudfare shares is Plus500. Plus500 allows you to speculate on both rising and falling share prices. Use the button below to instantly open a free demo account with Plus500:
Are you curious how Cloudfare's CFD share price has developed? The chart below shows the price at which you can buy and sell CFD shares.
About the company Cloudfare
The American company Cloudflare provides services that make websites faster and more secure. Examples of the services provided by DNS are Domain Name System (DNS) and a Content Delivery Network (CDN). Currently, Cloudflare is used by more than 26 million websites. More than 1 billion IP addresses are handled every day. Cloudfare is therefore very popular.

The history of Cloudflare
Cloudflare was founded in 2009 by the trio Lee Holloway, Matthew Prince and Michelle Zatlyn. Their mission is to make a better internet. In order to achieve this goal, several services are offered that are available for free or for a fee. The trio is doing well: in 2019 the company had a turnover of 287 million dollars.
The solution devised by Cloudflare
Suppose you visit a website, what could go wrong? When you visit a website, the website makes a request to the server to retrieve content and show it to you. If many requests arrive at the server at the same time, the server can become overloaded. The website then becomes slow or stop working.
Of course, the owner of the website you visit does not want that. That's why Cloudflare came up with the following solution: between the web server and the website, Cloudflare placed its service. This service takes the form of a huge worldwide network. Are you visiting the website? Then you no longer have contact with the server, but with the Cloudflare network. This network has already stored all the information once, so it loads per location.
A huge network all over the world
Cloudflare offers a huge network of servers all over the world. A request for content no longer has to travel a great distance between the website and the server. If you want to visit a website from Germany in America, you no longer need to connect to the server in Germany. After all, you can connect to the nearest Cloudfare server in America. This greatly reduces the loading time of the website for international visitors.
A major DDoS attack
Cloudflare also focuses on countering DDoS attacks. In February 2014, the company itself had to deal with a major DDoS attack. More than 400 Gigabits per second were stopped on the company's network.
In November 2014, there was an attack on several websites in Hong Kong. It was a DDoS attack of 500 Gigabits which was the largest DDoS attack ever measured. Cloudflare then decided to launch the Galileo Project. Certain groups, such as journalists, artists and activists, could protect their websites against such attacks free of charge.
Cloudflare comes into disrepute
The company was discredited because it refused to stop providing technical support to websites such as LulzSec, The Daily Stormer and 8chan. In 2017, the partnership with The Daily Stormer will be discontinued. 8chan's website was taken off the air in 2019 due to three shootings.
A company's reputation is important for its performance on the stock exchange. That's why you should keep a close eye on how Cloudfare gets in the news before you buy the shares!
Cloudflare goes to the stock market
In August 2019, internet security firm Cloudflare announced its IPO. The company is now listed on the New York Stock Exchange (NYSE). The company hoped to raise around $3.5 billion from the IPO. In both 2018 and 2017, the company made millions in losses. The IPO was therefore a welcome financial injection. Since its introduction on September the first 2019, the share price has mainly shown an upward trend.
Author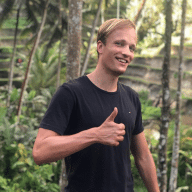 About
When I was 16, I secretly bought my first stock. Since that 'proud moment' I have been managing trading.info for over 10 years. It is my goal to educate people about financial freedom. After my studies business administration and psychology, I decided to put all my time in developing this website. Since I love to travel, I work from all over the world. Click here to read more about trading.info! Don't hesitate to leave a comment under this article.