Buying Enjin: how to invest in Enjin?
Chances are you would also like to invest in cryptocurrency, after all, there is a reason why our article caught your attention. If you are interested in altcoins, it is wise to include Enjin in your crypto portfolio. Not everyone knows what Enjin is and what you can actually do with it. It is time to change this. In this article, we'll show you everything you need to know about investing in Enjin. If you read it carefully, there will be no more surprises when you start investing in Enjin.
How to buy Enjin?
Gaming is booming and the cryptocurrency Enjin is cleverly capitalizing on this. With Enjin, gamers can buy in-game products and really own them. It is then possible to use these items in other games. A game like Fortnite shows that a lot of money can be earned by selling in game items. An investment in Enjin could therefore turn out well.
Do you want to buy the Enjin cryptocurrency? You can do this with a reliable crypto exchange:
| Brokers | Information | Register |
| --- | --- | --- |
| | Trade in popular cryptos with a free demo & start today. Cryptoasset are highly volatile and unregulated in the UK. No consumer protection. Tax on profits may apply. | |
| | Speculate on increasing & decreasing crypto prices with the CFD provider Plus500 using a demo account. 82% of retail CFD accounts lose money. | |
What is Enjin? – goal of the project
First, let's take a look at what Enjin actually is. Enjin can be classified as a blockchain gaming platform. This platform focuses on collecting in-game items that are truly owned by the user. The platform offers numerous methods of creating digital assets for use in multiple video games. One example is the collection of a trophy in the game itself.
Blockchain gaming allows gamers to actually own the in-game items. They can then trade them for money or for something else. The Enjin Platform thus makes very clever use of Blockchain technology. This brings with it the following benefits:
Ownership of the in-game items – the main advantage is that the users really get ownership of the items that are bought or earned in the games. This is done completely with transactions that cannot be censored based on the Ethereum blockchain.
Convenient exchange of value – digital items can be traded or sold directly by users. This is of course ideal for the gaming world, since it makes selling in game items a lot easier. The Enjin Wallet gives users access to decentralized exchanges such as Kyber Network and Changelly. Here they can sell the tokens for money or for other types of cryptocurrencies.
One wallet for all items – Enjin Wallet users can store their digital assets in a single location. This eliminates the need for users to create all kinds of separate wallets. With this project, it is possible to easily keep track of everything in one place.
The importance of blockchain gaming
One of the unique advantages of Blockchain gaming is the ability to create items that can be used in different games from different developers. This means that players can take their items between games as if it were a single world (also known as the Multiverse).
Multiverse items are possible because assets are stored on a decentralized blockchain – so independent developers all have access to the item. To encourage the development of cross game items, Enjin announced its newest asset the Stormwall. It is an example of what we can expect with its gaming assets.
Stormwall is a shield that moves across Enjin's Multiverse of games. In the video below, we see Stormwall as a playable item in 32 different games, including 9Lives Arena, Age of Rust, Cats in Mechs and more. With the increasing popularity of gaming, it can certainly be interesting to invest in Enjin.
Using the ENJ token
The Enjin project makes use of the special Enjin token, also known as the ENJ. The value of this token is important for storing your coins in your wallet. The tokens are locked up when items are created and released when items are destroyed. Items store a certain amount of ENJ. The ENJ from in-game items can only be extracted by destroying the item.
This creates a situation where more and more ENJ is locked up. As a result, the total stock decreases as more games are used. This therefore causes the coin to become more valuable due to scarcity. You can think of it as a form of "digital gold", just like Bitcoin for example. The increasing scarcity can be a good reason to invest in Enjin.
Collaborations with Enjin
Enjin is partnering with other projects and companies. For example, Enjin has partnered with the president of the Blockchain Gaming community. They also have a partnership with the well-known provider Unity. Moreover, they have partnered with smartphone manufacturer Samsung Electronics as a technology provider. Enjin Wallet therefore runs entirely on Samsung's own Keystore blockchain. Samsung plans to support the Enjin tokens, which is good news for the future of the cryptocurrency.

Invest in Enjin through an exchange
People who want to invest in Enjin should look for a good exchange. As you probably know, the exchange is the place where you can buy all kinds of cryptocurrencies. It's important to choose a reliable provider if you want to trade and store your coins safely. Well-known providers like eToro or Binance make it possible for you as a beginner to buy the coins easily. By trading CFD products, you don't even need to transfer your coins to a special wallet any more.
Conclusion – should you invest in Enjin?
The information in this article should have made it possible for you to learn a bit more about the advantages of investing in a project like Enjin. Whether you should invest in it yourself, however, entirely depends on your personal attitude concerning the future of the digital currency. If you think that Enjin will do well, it is logically wise to invest in the project. If you think another project will take home the profit, then there are many other coins to choose from.
Author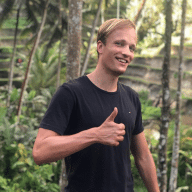 About
When I was 16, I secretly bought my first stock. Since that 'proud moment' I have been managing trading.info for over 10 years. It is my goal to educate people about financial freedom. After my studies business administration and psychology, I decided to put all my time in developing this website. Since I love to travel, I work from all over the world. Click here to read more about trading.info! Don't hesitate to leave a comment under this article.