How to buy Samsung shares (2023)? – invest in Samsung stocks
Are you considering investing in Samsung stocks? In this article, you can discover how to buy Samsung shares & examine the latest stock price.
Do you have confidence in the future of Samsung? Do you think they can continue to innovate in a market with strong competition? You can add Samsung shares to your portfolio with an online broker:
| Brokers | Benefits | Register |
| --- | --- | --- |
| | Buy Samsung without commissions. Your capital is at risk. Other fees may apply. | |
| | Speculate with CFD's on increasing & decreasing prices of Samsung! 82% of retail CFD accounts lose money. | |
| | Benefit from low fees, an innovative platform & high security! | |
| | Speculate on price increases and decreases of Samsung with a free demo! | |
Diverse products: Samsung produces an extensive range of products, which makes an investment in the company less risky.
Strong brand: Samsung is a strong brand name recognized by many consumers worldwide.
Innovation: Samsung is known for its reputation for its TVs, semiconductors, and smartphones. This allows Samsung to differentiate itself from the competition.
Market leader: Samsung is the market leader in smartphones, televisions, and semiconductors.
Financial performance: Samsung has delivered strong results over the past few years, which could make it an interesting investment.
What are the risks of investing in Samsung stocks?
Intense competition: Samsung faces strong competition from other companies that also have large marketing budgets.
Dependence on key markets: Samsung earns a large portion of its revenue from Asia.
Patent disputes: Samsung had multiple clashes with Apple over the use of certain patents.
Dependency on suppliers: Samsung is heavily reliant on a few suppliers who provide certain semiconductors.
Who are Samsung's biggest competitors?
Apple: This large American company is probably Samsung's biggest competitor in the smartphone division.
LG: another South Korean company that is also active in the production of televisions.
Intel: Intel is a strong competitor of Samsung in the production of semiconductors.
Sony: this Japanese company competes with Samsung in the smartphone and television markets.
Xiaomi: this smartphone producer competes mainly with Samsung in emerging markets.
What is Samsung's current stock price?
Are you curious about the current stock price of Samsung? In the chart below, you can see at what price you can buy and sell Samsung shares:
Analysis of Samsung stocks
Before you decide whether to buy or sell Samsung shares, it's important to analyze the stock first. In the overview below, you can see how Samsung has performed over the last period:
Stock prices of Samsung for the last 5 days
In the table below, you can see the stock prices of Samsung for the last 5 days:
What will Samsung's stock price do in 2023?
Are you curious about what analysts think Samsung will do in 2023 and the following years? We have combined the forecasts of analysts using data from Alpha Vantage. Remember that this figure is only a prediction of Samsung's stock performance, and this prediction may not come true.
Step 1: first, open an account with a reliable stockbroker.
Step 2: activate your account by uploading a copy of your passport & address.
Step 3: deposit money from your bank account into your stock account.
Step 4: select the Samsung stock and enter the amount you want to invest.
Step 5: click "buy" to send the order to the stock exchange.
What does Samsung do?
Samsung Electronics is one of the largest electronics companies in the world. You probably know that this company produces smartphones, refrigerators, and tablets. Besides this, Samsung Heavy Industries, produces ships, excavators, and even tanks.


Three stars
In Korean, the word Samsung means "three stars". The founder of the company chose this name for a reason. The name Samsung refers to his ambition. The company would become as big as the universe and the stars.
A successful company that can still grow
Due to its growth potential, Samsung is a potentially attractive investment. The main source of revenue is still electronics and semiconductors. Besides this, Samsung also has the potential to dominate the smartphone market.
Therefore, before investing in Samsung stocks, it is advisable to keep a close eye on the performance of Samsung in these segments. If Samsung performs better and the products become popular, it may be smart to buy Samsung shares.
Short history of Samsung
In the 1970s and 1980s, the company grew into a global multinational with operations spread all over the world. Samsung also established two new research and development institutions. At the end of the 1980s, Samsung Electronics and Samsung Semiconductor, which were then operating separately, merged.
In the 1990s and beyond, Samsung benefited greatly from the new digital era. New advanced technologies and innovations made it possible for Samsung to develop new products and tap into new markets. Samsung is therefore well known worldwide: the brand name is among the top 10 most recognizable brands.
Today, the company operates in more than 60 countries, and over 450,000 people work for the large conglomerate. Investing in Samsung means investing in one of the most powerful and largest companies in the world!
There is no one objective answer to whether or not you should invest in Samsung shares. It can be interesting to invest in Samsung stocks due to the wide range of products the company sells. Additionally, because the company is internationally active, investing in Samsung shares allows you to spread your risks across different regions.
However, it is important to keep a close eye on Samsung's financial situation. When the company does not perform well, stock prices can decline. The general economic situation can also influence the company's stock price.
By not investing all your money in Samsung shares, you reduce the risk of your portfolio. It is wise to always invest in multiple stocks. If Samsung performs poorly, you will not lose the entire amount of your investment at once.
Author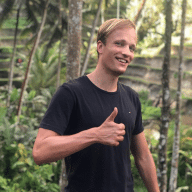 About
When I was 16, I secretly bought my first stock. Since that 'proud moment' I have been managing trading.info for over 10 years. It is my goal to educate people about financial freedom. After my studies business administration and psychology, I decided to put all my time in developing this website. Since I love to travel, I work from all over the world. Click here to read more about trading.info! Don't hesitate to leave a comment under this article.