How to buy Xiaomi shares (2023)? – invest in Xiaomi
Xiaomi is a major player globally and sells the most smartphones after Apple, Samsung, Huawei, and Oppo. But how can you invest in Xiaomi stocks and is it wise to buy Xiaomi shares?
How to invest in Xiaomi?

To invest in the phone company Xiaomi, you need an account with a broker. A broker makes it easy to buy and sell Xiaomi shares.
Do you have confidence in the future of this well-known telecommunications company? Then it may be interesting to buy Xiaomi shares for the long term. You can save significantly on transaction fees by buying shares from a broker that charges low commissions:
| Brokers | Benefits | Register |
| --- | --- | --- |
| | Buy Xiaomi without commissions. Your capital is at risk. Other fees may apply. | |
| | Speculate with CFD's on increasing & decreasing prices of Xiaomi! 82% of retail CFD accounts lose money. | |
| | Benefit from low fees, an innovative platform & high security! | |
| | Speculate on price increases and decreases of Xiaomi with a free demo! | |
What does Xiaomi do?
The company was founded in 2010, which makes it a relatively new player. In 2011, they launched the M1, their first phone. After it proved to be a success, Xiaomi expanded its activities by developing more smartphones. The company now collaborates with many other companies and produces various products, such as action cameras and smart lamps.
Wat is the stock price of Xiaomi?
Company data for Xiaomi
Below you can see the most important company data for Xiaomi.
Analysis of Xiaomi
Before deciding whether to buy or sell Xiaomi shares, it's essential to analyse the stock thoroughly. In the overview below, you can see how Xiaomi has developed over the past period.
Stock prices for the last 5 days
In the table below, you can see the stock prices for Xiaomi for the last 5 days:
What is the performance of Xiaomi's stock in 2023?
Are you curious about what analysts think Xiaomi will do in 2023 and the years ahead? We have combined analyst forecasts using data from Alpha Vantage. Remember that this figure is just a prediction about Xiaomi's stock performance and that this prediction may not come true.
What are Xiaomi's strengths?
Rapid growth: One advantage of investing in Xiaomi is the company's tremendous growth. For example, Xiaomi quickly gained market share in India.
Affordable prices: Xiaomi can produce affordable but high-quality smartphones.
Diversification: Xiaomi competes in new markets by releasing smart home devices and other consumer electronics.
Strong brand: Xiaomi has built a strong brand, which gives it an advantage over other Chinese brands.
Innovation: Xiaomi regularly introduces innovative and interesting technologies, which enables the company to remain competitive.
What are the risks of investing in Xiaomi?
Dependence on China: Xiaomi is dependent on China, so political and economic conditions can strongly influence its stock price.
Intellectual property problems: Xiaomi has been accused of theft regularly, which can be bad for the brand's reputation.
Not very well-known: Xiaomi is not very well-known outside of China and will have to work hard to build its brand's reputation.
Competition: There is intense competition in the smartphone market. It may be challenging for Xiaomi to stay ahead of the competition.
What are Xiaomi's top 5 competitors?
Apple: This is perhaps the most well-known smartphone brand in the world.
Samsung: This South Korean brand dominates the global smartphone market.
Huawei: In China, Huawei is Xiaomi's biggest competitor.
Oppo: This Chinese company produces phones with advanced cameras.
Vivo: Another Chinese company that is quickly gaining market share in the smartphone market.
About the company Xiaomi
Xiaomi is a Chinese technology company that develops various electronic products. The company was founded in 2010 by entrepreneur Lei Jun and is now one of the largest smartphone manufacturers.
However, Xiaomi is involved in various products and services:
Smartphones: Xiaomi is known for its high-quality but relatively affordable smartphones.
Internet of Things: Xiaomi offers an increasing number of IoT products, such as smart televisions and security systems.
Laptops and computers: Xiaomi produces high-quality laptops and desktops.
Consumer electronics: Xiaomi produces earbuds and fitness trackers, among other things.
Mobile services: The company offers cloud storage, music streaming, and online video, among other services.
E-commerce: With the Mi.com platform, Xiaomi directly sells its products.
AI: The company is also busy with developments in the field of AI so that language processing can become more natural.
As you can see, Xiaomi is diversifying its products and services. This can make the company a more interesting investment, as losses in one division can be offset by profits in another.
The future of Xiaomi
When the company was first founded, most of its revenue came from the sale of smartphones. This seems to be changing: recently, the percentage of revenue from smartphones has been decreasing, while the relative share of revenue from other product categories has increased.
This is a good opportunity for the company, as it spreads its risks across multiple product categories. If Xiaomi continues to expand into other product categories, this could be an attractive opportunity for investors.


Initially, the focus was primarily on the Chinese market. There is also a clear trend here. While a significant portion of revenue still comes from China, Xiaomi also manages to sell more products outside of China.
For example, Xiaomi has now established a strong base for the sale of its products in India.


It appears that Xiaomi is successful in expanding its position. They do this by focusing on other product categories and by conquering new markets. There is clearly an upward trend in the company's results. If you have confidence in this upward trend as an investor, it can be attractive to buy Xiaomi shares.
How did the IPO go?
The company's IPO was quite disappointing. Originally, Xiaomi hoped to raise $10 billion with the issuance of shares on the Hong Kong Stock Exchange. Unfortunately, this did not go as planned: the total revenue was about $6 billion, which valued the company at around $50 billion upon introduction.
The money from the IPO was used to further expand the company. A large part of the funds raised went to Research & Development. Another large part of the money is used to develop Internet of Things lifestyle products. The last part is mainly used to further expand Xiaomi's activities.
How to invest in Xiaomi?
Step 1: First, open an account with a reliable stockbroker where you can invest on the Hong Kong Stock Exchange.
Step 2: Activate your account by verifying your identity and then deposit enough funds.
Step 3: Select the Xiaomi share and enter the amount you want to invest. Then press buy to send the order to the stock exchange.
Some investment tips for Xiaomi
Diversify your risks: do not invest all your money in Xiaomi shares.
Use a stop loss to cover your losses.
Follow the developments in the smartphone market closely.
In the final part of this analysis, I will discuss whether you should buy Xiaomi shares. There is no objective answer to this question, as everyone has a different starting position.
Xiaomi is clearly a successful company that innovates in many areas and brings various new products to the market. The Chinese market is also interesting because many people live there.
On the other hand, the Chinese government is unpredictable, and the company also faces strong competition. Therefore, conduct your own analysis of the Xiaomi stock before you invest.
Author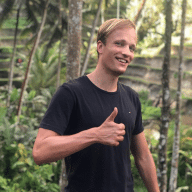 About
When I was 16, I secretly bought my first stock. Since that 'proud moment' I have been managing trading.info for over 10 years. It is my goal to educate people about financial freedom. After my studies business administration and psychology, I decided to put all my time in developing this website. Since I love to travel, I work from all over the world. Click here to read more about trading.info! Don't hesitate to leave a comment under this article.