Buying EOS: how to invest in EOS?
Cryptocurrencies are very volatile, so you can achieve a high return with an investment. It is therefore true that there are only a few stocks that are doing as well as the crypto projects. The enormous growth has led to many new coins being introduced. One of the coins that will probably sound familiar is EOS. Since this project is a good option to invest in, it is useful to take a closer look at it. By reading this article you too will get an answer to the question whether buying EOS is smart or not.
How to buy EOS?
The EOS cryptocurrency is similar to Ethereum in many ways. A major advantage of EOS is that the developers do not have to pay for its use. The high volatility of EOS makes it interesting to invest in the cryptocurrency.
Do you want to buy the EOS cryptocurrency? You can do this at a reliable cypto exchange:
| Brokers | Information | Register |
| --- | --- | --- |
| | Trade in popular cryptos with a free demo & start today. Cryptoasset are highly volatile and unregulated in the UK. No consumer protection. Tax on profits may apply. | |
| | Speculate on increasing & decreasing crypto prices with the CFD provider Plus500 using a demo account. 82% of retail CFD accounts lose money. | |
What is EOS?
The cryptocurrency EOS is best compared to Ethereum. EOS can also be used for so-called 'smart contracts'. Smart contracts make it possible to record certain agreements securely via the blockchain. In addition to smart contracts, the cryptocurrency also aims to offer decentralized application hosting.
If you have an EOS token, you can make partial use of the bandwidth and storage on the blockchain. You also have the opportunity to vote on future developments of EOS.
How can you invest in EOS?
You can actively invest in EOS through an online broker. This involves the use of so-called derivatives. A derivative makes it possible to trade in the price of an underlying security.
Speculating on price rises and falls requires an account with an online broker. You can trade EOS at eToro using CFDs. eToro is a reliable CFD cryptocurrency broker where you can trade on the price of EOS for as little as $100.
Use the button below to open a (demo) account with eToro right away:
What is EOS – goal of the project
Time to look at what EOS actually is. EOS is one of the newest blockchains currently available on the entire cryptocurrency market. EOS can be described as a decentralized platform designed to support decentralized applications (DApps). In many ways, it can be compared to the Ethereum blockchain. EOS is a blockchain that aims to build a platform that has the ability to process a thousand transactions per second without any kind of transaction fees.
How EOS works – benefits
Now that you know a bit more about what EOS is, it is useful to look at how the platform actually works. In an EOS blockchain, blocks are produced by Block Producers. They are similar to miners in an Ethereum blockchain. When they produce blocks, they are paid by the EOS blockchain. This means that no fees are charged to users of the EOS platform.
In EOS, two blocks are produced every second. Smart contracts can be built on an EOS platform. The EOS blockchain is powered by the EOS tokens. The EOS blockchain brings a number of advantages:
EOS is built for both public and private users and developers
EOS is designed for the real world as it is suitable for all businesses
EOS offers secure application processing at the best possible speed
Easy to scale – EOS scalability
The most common blockchains such as Bitcoin and Ethereum use consensus over status. This means that all computers on the network can verify the current status of the entire blockchain at any time. This makes it possible to prevent fraud and confirm transactions easily. Whenever a new block is added to the blockchain, the Nodes on the network take over every transaction in the block and update the state of every address associated with those transactions.
EOS does this slightly differently. They use consensus for scalability. When using consensus on events, the focus is on the transactions rather than the state. Instead of verifying the state of the network at any given time, Nodes verify the sequence of events that have occurred so far to keep track of the state of the network. This makes it possible to complete transactions much faster. Simply put, the network can instantly process a million transactions per second on a single machine.
Using the EOS token
The EOS blockchain can also be recognized by the use of the EOS token. This is also the currency used within the technology. You can compare this with Ether for the Ethereum platform. EOS is a utility token. A utility token is a token that helps to gain access to goods and services offered by a project. This special token is used to support large-scale applications. There are no transaction costs associated with sending or receiving EOS.
This makes it a special token compared to Ether, which does charge a transaction fee for conducting transactions on the platform. In fact, the EOS platform replaces inflation for transaction fees by rewarding the people who periodically manage the network with new EOS. The EOS token is used to maintain the site. It enables developers and users to generate the resources they need to run applications on EOS.
Investing in EOS through an exchange
If you would like to invest in EOS, you are certainly not alone. This is still one of the most popular projects you can find. The easiest way to buy your EOS tokens is through an exchange. This is a place you can compare with a regular stock exchange, only here you trade in cryptocurrencies.
There are many exchanges to be found at the moment. Well-known options such as Plus500 and Bitvavo make it possible to always safely dispose of your coins. An advantage of investing in EOS through an exchange is that you do not necessarily have to deposit your coins in your wallet. You can always leave them on the exchange itself.
What do you need to look out for?
Investing in cryptocurrencies always involves risks. In the past, the prices of Bitcoin and Ethereum dropped by tens of percent in one day. It is therefore important not to put all your money into EOS, since this involves the necessary risks.
It is also wise to make use of the option to short sell. When the price of the EOS currency is going down, you can achieve a positive result by short selling. By doing so, you can actively anticipate the price decreases and price increases of EOS.
You can also choose to trade using leverage. With a leverage, it is possible to open a larger position with a smaller amount of money. With $1000, for example, you can then trade $10.000 or more of EOS at once. This allows you to achieve bigger results.
Finally, it is wise to make use of orders. For instance, you can choose to close your position on EOS automatically at a certain price. This way you avoid losing all your money at once in case of an extreme drop.
Successful with EOS
If you want to be successful with EOS, it is important to follow the latest developments closely. Cryptocurrencies are very sensitive to news developments. Therefore, always try to think from the masses' point of view and estimate whether the price is going to drop or rise after a certain news item.
If you apply this correctly, you can make successful investments in EOS. However, remember that you can also lose a considerable amount of money!
Conclusion – should you invest in EOS or not?
If you see a future in the technology of EOS, then this is definitely a project you can invest in. Due to its method of execution for smart contracts, it is a unique coin compared to Ethereum. On top of that, EOS does not charge any fees to the users, something that is obviously music to the ears of many developers. However, whether you should buy EOS depends entirely on your vision of the future market. We hope that this information will give you a better understanding of what EOS is and how it works.
Author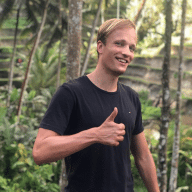 About
When I was 16, I secretly bought my first stock. Since that 'proud moment' I have been managing trading.info for over 10 years. It is my goal to educate people about financial freedom. After my studies business administration and psychology, I decided to put all my time in developing this website. Since I love to travel, I work from all over the world. Click here to read more about trading.info! Don't hesitate to leave a comment under this article.