How to buy HelloFresh shares?
More and more people find it important to eat healthy. Therefore, you see that HelloFresh is popular among investors. In this article, we discuss how you can best invest in HelloFresh.
How can you invest in HelloFresh?
Eating well has always been very popular, but nowadays, everything has to be healthy and responsible as well. That is why more and more people are paying attention to eating high quality food. Because of this, the world of meal boxes, where you don't get ready-made meals but a package of composed fresh ingredients, is getting bigger and bigger, with HelloFresh as market leader. The deliverers of the green boxes are increasingly seen on the street and this rise in popularity is also noticeable on the stock market.
You can buy HelloFresh shares at DEGIRO, a reliable stockbroker. If you want to invest in HelloFresh directly, use the button below to open an account with DEGIRO:
About HelloFresh
HelloFresh is a meal delivery company that focuses on offering extensive packages of recipes for different family compositions. These packages are suitable for families of two to four people and depending on which recipes you want to have, there can be up to five different recipes in the meal box. When ordering, you can decide for yourself what is included in the meal box. For example, if you do not like mushrooms or do not eat meat, then there are plenty of options that you can choose from.
The boxes from HelloFresh are ordered through a subscription service. It is determined in advance how long someone wants to use the service of HelloFresh, and it is also paid for in advance. There are possibilities to take a break or postpone and of course you can also stop in between.
Because people sign up for HelloFresh as a membership, the company can generate recurring revenue. This can make it interesting to invest in HelloFresh shares.
For those who want to get more out of their cooking
The packages from HelloFresh are suitable for every kind of cook. Whether you're an amateur chef or just want to be done with cooking as quickly as possible. This is because the different recipes from HelloFresh are not only based on the ingredients, but also on how well you can cook. There are different levels available, so the recipe really suits the qualities of the recipient.
The recipes in the meal boxes are always slightly different from what you would usually make yourself. For example, you can vary a lot with (gluten-free) pasta, vegetables and many foreign dishes. It is also possible to play with ingredients that you usually don't use or don't know. This could be meat, vegetables or fruit that you don't see on the shelves or in the fresh food section of most supermarkets. Expanding your culinary horizons is thus straightforward.

A bright future for HelloFresh
HelloFresh is already available in 12 different countries and offers its services in the Netherlands since 2012. Since then, the value of the brand has increased enormously. On the stock market, the value of the stocks has been rising nicely for a while now, and it doesn't look like this increase will stop any time soon. This is partly due to the new healthier lifestyle that more and more people are adopting, with a preference for fresh and quality.
Now that more and more people work from home and during the corona crisis it is strongly emphasized, HelloFresh is even more popular. As a result, the value of HelloFresh itself is rising as well and the shares are becoming more valuable. This value will probably continue to fluctuate at the same level as now, which will allow you to slowly but surely invest well in these stocks.
Do you think that HelloFresh can create much more value in the future by gaining stronger positions on new markets? In that case, it might be interesting to invest in HelloFresh shares! Keep a close eye on whether HelloFresh remains 'hip'. If customers suddenly massively switch to another party, then it could put a lot of pressure on the HelloFresh stock price.
HelloFresh is clearly a company with a lot of potential: the expansion of Factor 75 is a recent example of this. With the acquisition of Factor 75, HelloFresh can also conquer the American market. With over 200 million consumers and a high level of affluence, this is obviously a promising market.
With fairly new, growing stocks, it is often wise to enter staggered. By not investing all your money at once, you avoid investing in HelloFresh at the wrong moment. This way, you optimize your results.
Author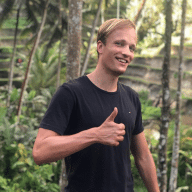 About
When I was 16, I secretly bought my first stock. Since that 'proud moment' I have been managing trading.info for over 10 years. It is my goal to educate people about financial freedom. After my studies business administration and psychology, I decided to put all my time in developing this website. Since I love to travel, I work from all over the world. Click here to read more about trading.info! Don't hesitate to leave a comment under this article.