Buying Holo: how can you invest in Holo?
Holo is a further development on the growing trend of blockchain and crypto. Blockchain has shown that it has a lot of potential, but the scalability is still lacking. The HoloChain has found an innovative solution for this. This could possibly become a new trend within Big Data and the Internet of Things.
In this article we will take a closer look at Holo and its development, functions, performance and purchase of Holo and the HoloToken (HOT). At the end, we will weigh everything up and see if it is attractive to invest in Holo.
Do you want to actively trade in Holo?
Would you prefer to actively trade CFD cryptocurrencies such as Holo? In that case, you can open an account at Plus500. Plus500 is a broker that is ideal for the investor who wants to actively respond to the latest market developments. For example, you can open short positions (besides buying), allowing you to speculate on decreasing stock prices. Use the button below to open an account at Plus500 immediately:
How to buy Holo?
It can certainly be interesting to buy the Holo crypto currency. Holo has found a solution to the scalability problem. They solve this problem by reinventing the blockchain where consensus does not need to be updated on every computer. This allows for much faster transactions so the crypto currency can be used much more widely.
Do you want to invest in Holo by adding the crypto currency to your portfolio? This is possible at a reliable crypto exchange:
| Brokers | Information | Register |
| --- | --- | --- |
| | Speculate on increasing & decreasing crypto prices with the CFD provider Plus500 using a demo account. 82% of retail CFD accounts lose money. | |
What is Holo?
Holo is an alternative to the current blockchain system. The crucial difference with the blockchain is the way consensus is given. Consensus means that everyone in the blockchain agrees with the transaction to be carried out. Currently, the situation is that everyone in the blockchain has access to the log that is updated globally after every transaction. This makes it easy to oversee all transactions. On the other hand, it limits scalability.
The bigger the blockchain is, the more data and the slower the whole system becomes. Holo has found a solution for this by finding a different way to reach consensus, without compromising the reliability of the current consensus system. Besides this technology, Holo also has a cryptocurrency, namely the HoloToken (HOT). This token is traded on all major exchanges.
How did Holo come about?
Holo was created as a result of the search for solutions to the limitations of blockchain and Bitcoin. As mentioned, the scalability of a blockchain system is limited by data restrictions. The more participants in the blockchain, the more data is stored worldwide. This is at the expense of the speed of the entire system. For example, every user has access to the entire log, which must be kept worldwide.
After realizing this limiting factor, Holo was developed. It is an alternative to current blockchain systems and is intended to improve on them. Each agent, or someone who is part of the transaction, provides consensus for their transaction. In this way, a personal log is kept that does not need to be stored globally.
What are the goals of Holo?
Holo's functions focus on the decentralized transmission of data. This can be in the form of a payment, for example, but it can also be a piece of data. Think of a document, print screen or other type of file. These functions are also offered by the blockchain. But current blockchain technology is limited by its scalability.
Holo has solved this problem by setting up the consensus in such a way that a user only has to keep his or her logbook. This way, not everyone can see the global log and only what is important for that person.
This reduces data usage, as there is no longer a need for global consensus. As a result, the decentralized system is not overloaded and can carry out infinite numbers of transactions. And that, too, in a split second. The system can currently carry out more than 56,000 transactions per second. This is more than a multinational company such as Visa can currently perform.
What are the disadvantages of Holo?
Holo also has some drawbacks. For one, it is not the only technological development that claims to solve the scale problem of blockchain. Many other systems also make this claim. Who becomes the best at this will become clear in the future. A
With many blockchain systems, there is also a crypto coin for the Holo system. This token is called the HoloToken (HOT). Recently, it has become apparent that the values of such currencies are extremely volatile. Consequently, investing in this technology involves risks.
In the short term, you should take this into account. Whoever invests in cryptocurrencies, should have a strong stomach. Hard declines alternate with sharp rises, and these fluctuations are not for everyone. On the other hand, if the growth potential is fulfilled, this can make this investment even more interesting.
Buying Holo
You can easily buy the HoloToken (HOT) through an online broker. The token is kept in a crypto wallet. This is a kind of bank account for online currencies which you buy through an exchange. For HOT this can be either a hardware or a software wallet. It is a token which is built on the ERC20 Ethereum protocol, so it can easily be held in these wallets.
In January 2021, the value of a HoloToken (HOT) stood at $0.000658 per HOT. This represents a market value of over $106 million. In July 2019, the HOT was still at $0.0024 per coin, which equated to a market value of over $450 million. So, this could possibly be a good entry point. We do not make any claims about the future value of financial products or similar technologies.
What should you pay attention to when investing in Holo?
When investing in Holo, the future potential must be considered above all. Is Holo the new version of blockchain technology, and does it live up to this potential? If so, the value of Holo and the underlying HoloToken (HOT) will increase enormously. It could form a new ecosystem for carrying out transactions without intermediaries. On the other hand, it is also possible that a better alternative will emerge in the coming years. Until then, it remains a very volatile investment. Therefore, pay close attention to this. Do your research on Holo and the HoloToken (HOT) before investing in it.
To invest in Holo or not?
Holo represents an innovative advance on existing blockchain systems. It has managed to solve the scalability problem of blockchain. But in addition to Holo, many other technologies have also come up with a possible solution. Holo seems advanced and has a technology that can be widely applied.
In the next few years, it can show what it is going to do with that potential. Which transactions will run through the HoloChain in the future? If this becomes the new standard of transactions, there may be a lot of value in the HoloToken (HOT). This will also increase the price per HOT tremendously, as more users will see the added value of applying the HoloChain to their lives.
Author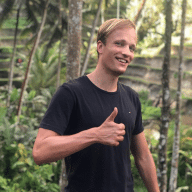 About
When I was 16, I secretly bought my first stock. Since that 'proud moment' I have been managing trading.info for over 10 years. It is my goal to educate people about financial freedom. After my studies business administration and psychology, I decided to put all my time in developing this website. Since I love to travel, I work from all over the world. Click here to read more about trading.info! Don't hesitate to leave a comment under this article.