How to buy HSBC shares?
HSBC is a large financial services provider that mainly provides services to private individuals. HSBC is the largest financial services company in Europe and the sixth largest bank in the world. Are you considering investing in HSBC? In this article you can see where you can buy HSBC shares against low fees. You can also request to view HSBC's current stock price here.
Where to buy HSBC stocks?
Do you want to buy HSBC shares? You can directly trade in HSBC stocks with one of these reliable brokers:

| Brokers | Benefits | Register |
| --- | --- | --- |
How to actively invest in HSBC?
Bank stocks can be very volatile. This is especially the case when there is uncertainty within the economic landscape. As an investor, you can respond smartly to this by actively trading in HSBC shares. You can do this through derivatives. An example of a derivative with which you can trade HSBC is the CFD.
By using a CFD you can actively place orders on both rising and falling prices. This allows you to actively respond to scandals and other problems. Do you want to try out active trading in HSBC with a free demo? Click the button below and open an account with Plus500:
What is HSBC's current stock price?
Do you want to know the current stock price of HSBC? In the graph below you can immediately see how the CFD share price has developed over the past period. Using the buttons, you can also place an active order directly on the CFD share HSBC.
About HSBC
HSBC is a giant in the banking world. They operate in more than 65 countries worldwide and enjoy a healthy growth rate. HSBC helps businesses and consumers to thrive and helps them fulfil their hopes and ambitions.
They are active in retail banking (private individuals), business banking and also in the field of global banking. The company's focus is on the Far East. The balance sheet total in 2018 was no less than US$2500 billion. The company employs 235,000 people. The company is listed on the London Stock Exchange, New York Stock Exchange, the Hong Kong Stock Exchange, and the Euronext Paris alongside the Bermuda Stock Exchange.
It is a company that anyone can buy shares in. It is possible to make money from buying and selling HSBC shares.

What to look for when investing in HSBC?
Many investors are getting enthused about HSBC because of the high dividend payments. However, you also must pay attention to the potential risks when investing in a bank like HSBC.
One risk of HSBC is the fact that the main market is in Asia. The motto 'the local bank of the world' does not fully apply here. A third of the turnover comes from this region.
Shares in banks are very cyclical. Growth in China and Hong Kong specifically seems to be slowing down. This could simply reduce HSBC's profitability. It is therefore particularly important when investing in HSBC to keep an eye on the economic situation.
It is also important to mention that the bank's mortgages firm in England and investment firm worldwide is currently not very successful. This makes the bank particularly vulnerable to fluctuations in the economy.
Before investing in HSBC shares, it is therefore important to keep a close eye on how the sector is performing. It is also wise to analyse the competition carefully. That way you can determine whether it is wise to buy HSBC shares.
A storied history
HSBC has been in existence since 1865 as The Hong Kong Shanghai Banking Corporation. It was started by a Scot with the goal to finance trade with the Far East. A year after its founding, the company opened a branch in Japan. Later, branches followed in India, the Philippines and Vietnam. From the very beginning, the company experienced a healthy growth rate.
HSBC is conservative
The company takes a consistent approach to risk. HSBC helps to protect people by lending them responsibly.
The company's values are openness, reliability, and connection. The employees must be honest and act courageously. It is nice to know that the company is acting conservatively: this makes it easier to buy its shares.
What does HSBC do?
HSBC's clients range from individual savers and investors to the world's largest multinationals. Governments and international organizations are also clients of HSBC.
HSBC's core mission is to connect their customers with opportunities. For each group of customers, they have developed their products. Their products range from mortgages and savings accounts to asset management products.
They also offer loans for companies to grow. It is possible to finance international trade with the services of HSBC. You can also use cross-border activities at HSBC. The international activities ensure that the company is well-informed about the developments of the world economy. They know how to make smart decisions based on that.
Because HSBC offers various financial services, there is some risk diversification. This may be a good reason to buy HSBC stocks.
Buying innocence?
HSBC, like several other banks, has been in the news for money laundering and possible fraud. Like other banks, they have chosen to make changes so that it does not reoccur. Of course, they do this to avoid damage to their reputation.
HSBC as bank for the cartels
A while ago I watched the episode about HSBC of Dirty Money on Netflix. It emerged that HSBC funded drug cartels for years. They did this knowingly and did not take their compliance department seriously. In the end they managed to avoid repercussions; they only had to pay a marginal fine. When you care about ethical investing, you might not want to buy HSBC shares.
Author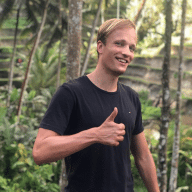 About
When I was 16, I secretly bought my first stock. Since that 'proud moment' I have been managing trading.info for over 10 years. It is my goal to educate people about financial freedom. After my studies business administration and psychology, I decided to put all my time in developing this website. Since I love to travel, I work from all over the world. Click here to read more about trading.info! Don't hesitate to leave a comment under this article.