How to buy HSBC shares (2023)? – invest in HSBC stocks
Are you considering investing in HSBC shares? In this article, you can see where you can buy HSBC stocks. You can also check the current HSBC stock price here.
How to buy HSBC stocks?
Do you have confidence in the future of this large bank? Then you can buy HSBC shares. Transaction fees for investments in Hong Kong may be higher. Therefore, it is wise to compare the transaction fees of different brokers when you want to invest in HSBC shares.
In the table below, you can immediately see at what rates you can buy & sell HSBC stocks . Use the buttons below to open an account directly:
| Brokers | Benefits | Register |
| --- | --- | --- |
| | Buy HSBC without commissions. Your capital is at risk. Other fees may apply. | |
| | Speculate with CFD's on increasing & decreasing prices of HSBC! 82% of retail CFD accounts lose money. | |
| | Benefit from low fees, an innovative platform & high security! | |
| | Speculate on price increases and decreases of HSBC with a free demo! | |
What is the current HSBC stock price?
Do you want to know the current HSBC stock price? In the graph below, you can immediately see how the stock price has developed over the past period. You can also buy HSBC shares by pressing the buttons:
Company information for HSBC
Below, you can see the most important company information for HSBC.
Stock prices for the last 5 days
In the table below, you can see HSBC stock prices for the last 5 days:
What will the HSBC stock price do in 2023?
Are you curious about what analysts think HSBC will do in 2023 and the years thereafter? With the help of Alpha Vantage data, we have combined analysts' forecasts. Please keep in mind that this figure is only a prediction about the HSBC stock price movement, and this prediction does not have to come true.
Why can it be interesting to buy HSBC stocks?
Global presence: HSBC operates in more than 65 countries, which lowers the risk of an investment.
Strong brand: HSBC has built a strong reputation, which makes it easier to attract new customers.
Efficient: HSBC has reduced its costs, which allows the company's profit margin to rise.
Diversification: HSBC operates in different areas of banking, allowing the company to achieve good results.
Many investors get excited about HSBC because of its high dividend payments. However, when investing in a bank like HSBC, it is also important to pay attention to potential risks.
Asia as a market
One risk with investments in HSBC is that its primary market is in Asia. The motto "the local bank of the world" does not fully apply here. One-third of its revenue comes from this region.
Cyclical stock
Stocks in banks are highly cyclical. Growth in China and Hong Kong specifically seems to be slowing down. This could potentially lower the profitability of HSBC. It is therefore especially critical to keep an eye on the economic situation when investing in HSBC stocks.
Not successful everywhere
It is also important to note that the bank is currently not very successful with its mortgage business in England and its investment business worldwide. This makes the bank more vulnerable to fluctuations in the economy.
Therefore, before investing in HSBC stocks, it is critical to closely monitor the sector and analyse the competition. This way, you can determine whether it is wise to buy HSBC stocks.
What are HSBC's biggest competitors?
JPMorgan Chase
Wells Fargo
Standard Chartered
How to invest in HSBC stocks?
First, open a brokerage account with a trusted broker.
Next, go through the necessary steps to activate your brokerage account.
You can then deposit money directly into your brokerage account.
Select the HSBC stock to open the order screen.
Within the order screen, enter the amount you want to invest.
Press "buy" to immediately send the order to the stock exchange.
Regularly schedule a moment to evaluate your investment in HSBC.
About HSBC
HSBC is a giant in the banking world, and operates in over 65 countries globally. The company is active in retail banking (individuals), corporate banking, and global banking. HSBC is listed on the London Stock Exchange, New York Stock Exchange, Hong Kong Stock Exchange, and Euronext Paris.
Due to the variety of financial services HSBC offers, there is some risk diversification, which can be a good reason to consider buying HSBC shares.


HSBC History
HSBC has been in existence since 1865 as The HongKong Shanghai Banking Corporation. The bank was established by a Scotsman to finance trade with the Far East. A year after its establishment, the company opened a branch in Japan. Later, it quickly expanded to India, the Philippines, and Vietnam.
Conservative Approach of HSBC
The company adopts a consistent approach to risk. HSBC helps to protect people by lending responsibly and offers sustainable growth in economies where the company operates.
This attitude is also reflected in the bank's crypto policy. HSBC is anti-crypto and makes it difficult for customers to invest in Bitcoins.
Can You Buy Innocence?
Like several other banks, HSBC has been in the news regarding money laundering and possible fraud. Like other banks, they have chosen to settle the matter to prevent further proceedings.
HSBC as a Bank for the Drug World
Some time ago, I watched an episode of Dirty Money on Netflix. It revealed that HSBC had been financing drug cartels for years. They did this knowingly and did not take the compliance department seriously. Eventually, they only received a marginal fine. If you consider ethical investing important, it may be better not to buy HSBC shares.
Investing in bank stocks can be complicated, as it is difficult to fully comprehend the balance sheet. Investing in HSBC shares is not recommended for novice investors.
However, HSBC can still be an interesting investment. The HSBC brand is well-known, and the bank operates in many regions, which lowers the risks. Always take time to consider if HSBC stocks fit within your investment strategy.
Author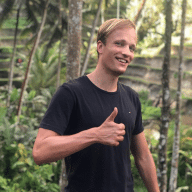 About
When I was 16, I secretly bought my first stock. Since that 'proud moment' I have been managing trading.info for over 10 years. It is my goal to educate people about financial freedom. After my studies business administration and psychology, I decided to put all my time in developing this website. Since I love to travel, I work from all over the world. Click here to read more about trading.info! Don't hesitate to leave a comment under this article.