How to invest in Bitcoin without actually owning the coins?
It is not necessary to buy Bitcoins to invest in the Bitcoin's price movements. In this article, we'll discuss 4 methods you can use to invest in Bitcoin without actually owning the coins.
There are various companies that are directly or indirectly involved in cryptocurrencies such as Bitcoin. The stock prices of these companies often move in sync with that of Bitcoin. Examples of such companies are cryptocurrency exchanges (Coinbase) or hardware companies that provide equipment for mining Bitcoins (NVIDIA).
Are you looking for a reliable stockbroker to invest in crypto stocks? Have a look at this overview with reliable stockbrokers:
| Brokers | Benefits | Register |
| --- | --- | --- |
| | Buy crypto stocks without commissions. Your capital is at risk. Other fees may apply. | |
| | Speculate with CFD's on increasing & decreasing prices of crypto stocks! 82% of retail CFD accounts lose money. | |
| | Benefit from low fees, an innovative platform & high security! | |
| | Speculate on price increases and decreases of crypto stocks with a free demo! | |
It is important to note that the price of Bitcoin and that of crypto shares do not necessarily correlate. Even with a rising crypto price, a share can decrease in value. Do you want to learn more about trading Bitcoin shares? Read this article.
Method 2: actively speculating on price movements
It is also possible to actively speculate on the price movements of Bitcoin by using derivatives. A popular derivative that allows you to speculate on both price increases and decreases of Bitcoin is the CFD.
A CFD is a derivative product: when you buy a Bitcoin CFD, you never actually own the underlying Bitcoin. Trading in Bitcoins using CFDs has several advantages:
Thanks to leverage, you can take a large position with a small amount of money
You can speculate on falling prices with a short position
This method of trading is very suitable for the short term
Want to try out the possibilities of crypto trading with CFDs for free? Open a demo account now and discover the options risk-free:
Tip:
Want to learn more about investing in CFDs? In our
CFD special
, you'll learn everything you need to know!
Method 3: investing in a Bitcoin index
You can also choose to invest in the price movements of Bitcoin by buying an index. Well-known examples of such indexes are the S&P Bitcoin Index, S&P Ethereum Index and the S&P Crupto Mega Cap Index. With these indexes, you directly follow the price movements of a cryptocurrency.
You can also decide to invest in a cryptocurrency stock index. A cryptocurrency stock index invests your money in a basket of companies that deal with Bitcoin. It is advisable to research which companies are included in the index.


Method 4: Bitcoin futures
You can also speculate on the price movement of Bitcoin with futures. Futures are more complicated than many other investment instruments. Additionally, some providers allow you to use very high leverage: up to 100X. This can be interesting if you know what you are doing.
Why would you invest in crypto without buying Bitcoin?
Investing in cryptocurrencies without buying them yourself is quite popular, but why? One advantage is that you can apply diversification . Especially in the case of ETFs, you can invest in a selection of cryptocurrencies or crypto stocks all at once.
Another advantage is that it's simply less of a hassle. When you buy Bitcoins yourself, you have to secure your account and select good buying opportunities. By investing in stocks or ETFs, you don't have to open a Bitcoin investment account yourself.
However, if you're still interested in buying Bitcoins yourself, you can use one of these reliable crypto exchanges:
| Brokers | Information | Register |
| --- | --- | --- |
| | Trade in popular cryptos with a free demo & start today. Cryptoasset are highly volatile and unregulated in the UK. No consumer protection. Tax on profits may apply. | |
| | Speculate on increasing & decreasing crypto prices with the CFD provider Plus500 using a demo account. 82% of retail CFD accounts lose money. | |
Conclusion: Can you invest in Bitcoin without owning them?
You definitely can! As you've read in this article, there are enough alternatives for a direct investment in Bitcoin. Just like with all other investment products, it is important to research the investment products well before investing your money. This prevents you from losing a large amount of money.
Author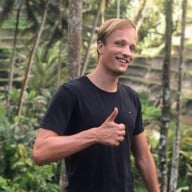 About
When I was 16, I secretly bought my first stock. Since that 'proud moment' I have been managing trading.info for over 10 years. It is my goal to educate people about financial freedom. After my studies business administration and psychology, I decided to put all my time in developing this website. Since I love to travel, I work from all over the world. Click <a href="/about-us/">here</a> to read more about trading.info! Don't hesitate to leave a comment under this article.