Investing on a small budget
Many people mistakenly think that investing is only suitable for people with large amounts of money. However, this is by no means the case: even on a small budget you can achieve a good investment result. By investing regularly with a small deposit, you are slowly working towards a bigger sum of money. For example, with an investment of $ 85 per month, after 20 years you already own $ 38,730 at a return of 6%, while you have only invested € 20,400. In this article we will discuss how you can best invest with a small budget.
How can you invest with a small deposit?
Nowadays, there are different ways to invest with a small budget. For example, you can choose to actively speculate. You can also trade stocks against low transaction costs or buy ETFs. In this section of the article we will discuss the best way to invest on a small budget.
Would you rather invest for the long term? In that case, you can choose to buy one or more shares. Nowadays, you can also buy shares with a small deposit. This was not attractive in the past: you paid a minimum amount of transaction costs, which meant that you could not actually make a profit with a small investment.
If you always have to pay at least $2 in costs on your stock transaction, this is already more than 2% on an investment of $100. At an average annual return of 6% this is of course not a very attractive option. If you are going to invest on a small budget, it is therefore even more important to choose an inexpensive broker.
An example of an inexpensive broker is eToro. With eToro, you do not pay any fixed commissions, which means that it does not matter whether you buy $100, $1000 or $10,000 worth of shares. This makes it possible to invest in shares with any budget. Use the button below to open an account with eToro:
Option 2: speculating on the stock market
You can choose to actively speculate on the stock market using CFDs. With CFDs, you can trade the price of stocks in the short term. You can trade as little as $100 in CFDs: by using leverage, you can also take a large position with a small deposit. A good party where you can actively speculate on the stock market with a small budget is Plus500. Use the button below to instantly open a free demo account with Plus500:
Example speculating with small budget
Let us put forward a calculation example. When you deposit $100 into a broker account of a broker like Plus500 then you can use a leverage of 1 to 5.
You are watching TV and on the new you hear that Philips has a sales success thanks to the launch of a new television. On the basis of this news item, you expect Philips' stock price to rise, but there is only $100 in your account.
The stock price in this example is $20, so with $100 you would normally only be able to buy 5 shares. However, thanks to the presence of a leverage ratio of one to five, you can buy CFD shares for $500, which means you can buy a total of 25 shares.
Investing with a small deposit is therefore certainly possible. However, it is important to emphasize that with a leverage, your results move faster. When the price falls by 10 cents, you immediately lose 25 times 10 cents. Fortunately, you can never lose more than you deposited into your account.
Option 3: Investing in ETFs with a small margin
A final attractive investment option is to buy ETFs. An ETF is a fund that is traded on the stock exchange. Normally, an ETF follows a basket of investment products; these can be, for example, shares in a particular index. With an investment in an ETF, you can therefore easily track entire markets.
Investing in ETFs is ideal for investors who have little time and would still like to see their assets grow. You will not make a huge profit quickly, but in the long term your assets can grow well. This is certainly the case if you invest in ETFs on a staggered basis: in this way you avoid losing all your money by investing at the top of the market.
With a small budget, it is of course even more important to invest at low costs: DEGIRO is the ideal option for this. With DEGIRO, you don't pay any buying and selling costs when you buy ETF funds from the core selection. Use the button below to directly open an account with DEGIRO:
What should you pay attention to when investing with a small budget?
When investing with a small budget, it is especially important to stay sharp. By taking the wrong decision, you can lose a large amount of money quickly. In this part of the article we look at what to pay attention to when investing with a small budget.
Pay attention to the costs
Every investor should pay attention to costs. However, investors with a small budget should pay EXTRA attention to costs. If you can choose between a broker where you pay $2 or $6 in transaction costs, your budget plays an important role:
When you invest $100 you pay 2 or 6 percent in transaction costs.
When you invest $10,000, you pay 0.02 or 0.06 percent in transaction costs.
The average return on investments in shares is about 6 percent. This means that you have to be extra careful with a small investment, otherwise you only sponsor your broker and not yourself.

Risk diversification is always important
Some investors invest all their money directly in one specific investment product. Many people did this during the Bitcoin hype of 2018 by investing all their money in bitcoins. This is very risky: when the price of the bitcoin subsequently crashes you lose your entire investment. This is something you want to avoid as an investor, especially when you are on a small budget.
It is therefore wise to spread your money across different investment products. When you spread your money over multiple investment products, you decrease the volatility of your investments, which makes your results fluctuate less. You can spread your investments over:
Different investment products such as shares & bonds
Different regions such as America and Africa
Different sectors such as retail and banking
Time: investing your money at different times
You can spread your investments by investing in different companies. When you invest with a cheap broker, you can also open several small investment positions. It is also attractive for many people to invest in an index fund by using an ETF. With an ETF, you can immediately invest in a larger selection of shares.
Patience & discipline
Patience and discipline are perhaps even more important for the investor with a small budget. When you invest millions of pounds, there is a lot of action: even an increase of one percent brings in large profits. Of course, this is not the case when you invest with a small deposit of $100. Even a 100% return only results in a profit of $100.
It is therefore important to keep a long-term vision in mind. By investing with a small amount of money, you can build up a large capital in the long term. Many small investments can grow into a big one.
For most investors it is therefore advisable not to log in too often to look at your trading positions. Try to ignore your emotions as much as possible and draw up a plan. By waiting patiently and by investing with discipline with a small budget, you will achieve the best results in the long term.
Beware of debts
Not investing is a problem: after all, by not investing, you can be sure that your assets are slowly dwindling. Nevertheless, it is also important not to get too excited about investing. Some people start investing while they still have substantial debts outstanding. If you have debts with a high-interest rate, it is better to pay them off first.
It is also important to set aside enough money. Only invest with money that you can spare in the long term. Investing is not a certainty: it is therefore important to always put enough money aside.
Can you get rich from investing with a small budget?
It is certainly worth investing with a small budget! To accomplish this, you need to understand the difference between being rich and becoming rich. You are probably not rich yet, otherwise you would not have ended up on this page. However, this does not mean that you cannot become rich in the future. The best way to get rich is to set aside an amount periodically.
When you draw up a realistic plan, you know what to expect. Remember that you will receive return on your return as well, which will certainly allow your money to grow exponentially in the long term. If you set aside $10 per month for 40 years at a return of 7%, this amount will grow to $24,855. If you do this with a small deposit of $75, then you even own $178,421. Investing with small amounts is therefore definitely worthwhile!

Does it make sense to work with small investors?
Absolutely! The number one factor that determines whether you are successful with investing is your time horizon. The stock market is unpredictable and can certainly move downwards for longer periods of time. As a result, you can lose a lot on your investments in the short term. However, if you periodically invest a small part of your investment budget, you increase the chance of achieving favourable results in the long term.
Getting started with a demo for free
Would you like to try investing in CFDs yourself with a small deposit? Well, you can! At most brokers you can quickly and easily open a demo account where you can trade with virtual money under real market conditions. As soon as you're ready, you can start trading with a small deposit of $100 or more.
Use the button below to directly open a free demo at a broker:
Author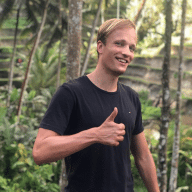 About
When I was 16, I secretly bought my first stock. Since that 'proud moment' I have been managing trading.info for over 10 years. It is my goal to educate people about financial freedom. After my studies business administration and psychology, I decided to put all my time in developing this website. Since I love to travel, I work from all over the world. Click here to read more about trading.info! Don't hesitate to leave a comment under this article.