How to buy KFC shares?
KFC is a hugely popular fast food brand with more than 20,000 branches. However, it is not directly possible to invest in KFC: KFC is part of the Yum! Brands which also include the chains Pizza Hut and Taco Bell. Would you like to invest in KFC by buying Yum! Brands shares? In this article you can read everything you need to know about buying KFC shares. You can also find the latest stock price of KFC here.
Shares seldom move up and down in a straight line. Under the influence of news and fluctuating results, the price of a stock can rise as well as fall in a period of time. You can respond to this by actively speculating on the price development of a company. You can do this by placing orders on the bottoms and tops of the price range. With for example technical analysis you can determine what can be a good time to buy.
Do you want to actively invest in KFC stocks yourself by speculating on Yum! Brands shares? Open an account with the CFD broker Plus500 to try out the different possibilities for yourself.  Thanks to the free demo you run no risk, open an account immediately:
As we mentioned earlier, you cannot invest directly in KFC shares. However, you can buy Yum! Brands shares with which you also become a direct co-owner of Pizza Hut and Taco Bell. It is therefore advisable to investigate all these chains before buying the stocks. This will give you a good idea of how the company does business.
Buying Yum! Brands shares can turn out well. The fast food chain works just like Macdonald's according to the franchise concept. Because of this, the risks for the company are limited while a rapid expansion is possible. The company receives monthly payments from all franchisees. A good place where you can invest in KFC by Yum! Brands shares is eToro. You don't pay commissions when you buy stocks. Use the button to buy shares directly:
What is the stock price of KFC or !Yum Brands?
Are you curious how KFC performs? Then take a look at the CFD stock price of !Yum Brands! You can use the buttons to open an investment whenever you want.
About the company KFC
The fast food chain KFC Corporation (Kentucky Fried Chicken) sells chicken products. The founder of this franchise chain is Harland David Sanders. He founded the chain in its current form in 1952. As early as 1940, Sanders had developed a new recipe for preparing chicken. Thanks to this new recipe, the chicken could be prepared in a short period of time, which contributed to the enormous success of the company. The company has branches in more than 100 countries, but its head office is still in Kentucky.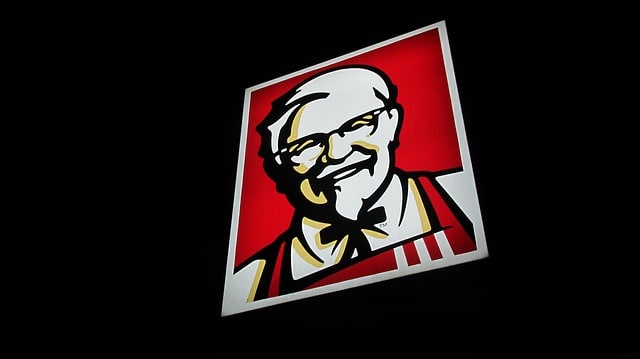 The products sold by KFC
The chicken products sold by KFC are prepared according to a certain business recipe. Deep-frying takes place under high pressure which drastically reduces the preparation time. The most important product is chicken with a crispy crust. However, other dishes are also served: examples of other dishes include chicken burgers, wraps, chips and desserts.
Recognizable restaurants
KFC, like most other fast food restaurants, has a recognizable interior. The colours white and red predominate. Visitors can place their order at a counter with a row of cash registers. Usually, they get their order within a few minutes. There is a brightly lit dining area with various TV screens. On the televisions the company shows video clips, songs and information about the company KFC.
Criticism of animal rights organization PETA
Animal rights organization PETA claims that chickens are treated in an animal-unfriendly manner by the suppliers of KFC. The chickens are kept in spaces that are too small, they are treated unhygienically and dying chickens are kept alive with antibiotics. Chickens are also cooked alive.
Videos made by the PETA with images of chicken farms are the evidence. Initially, KFC denied the charges. In 2003, the company adopted a proposal from PETA to improve the living conditions of chickens. According to PETA, despite that commitment, nothing has changed.
People find it increasingly important that companies operate in a socially responsible manner. KFC is no exception: it is therefore wise to be extra careful with investments in KFC. When investors turn their backs on the company because of its animal-unfriendly practices, the share price can fall sharply.
Criticism from other organizations
According to Greenpeace America, KFC destroyed pieces of the Amazon rainforest for their restaurants.
According to Wakker Dier, KFC is one of the fast-food restaurants that use broiler chickens. They are trying to persuade the company to stop using broiler chickens with a video that says "Explode the KFC-bucket".
Hundreds of people sick after visiting a branch of KFC
In February 2019, hundreds of Mongolians fell ill after visiting a branch of KFC in the capital Ulaanbatar. Among other things, they suffered from stomach problems and diarrhea. More than forty people had to be hospitalized. According to the health service, water and soft drinks contaminated with bacteria were the cause of these health problems. Their investigation shows that the KFC site had seriously violated the hygiene rules for which the site was held liable.
Test with vegan chicken nuggets
On 27 August 2019, a test with vegan chicken nuggets took place at one of KFC's sites in the United States. During this test, customers received their order and a free portion of vegan chicken nuggets. The test may later be extended to more branches or even to a nationwide trial.
Do you think this development will help to build a greener image for KFC? In that case, it might be interesting to buy KFC shares.
Author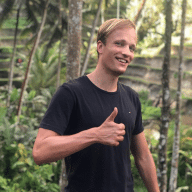 About
When I was 16, I secretly bought my first stock. Since that 'proud moment' I have been managing trading.info for over 10 years. It is my goal to educate people about financial freedom. After my studies business administration and psychology, I decided to put all my time in developing this website. Since I love to travel, I work from all over the world. Click here to read more about trading.info! Don't hesitate to leave a comment under this article.