How to buy McDonald's shares (2023)? – invest in McDonald's
McDonald's : hated by many, but still successful. Investing in this large fast food chain can pay off. Discover how to buy McDonald's shares, and examine the current stock price.
How to buy McDonald's stocks?
The concept of McDonald's is quite brilliant. They earn money by selling hamburgers, and receive rent from franchisees who pay rent for the land. This allows the company to maintain control over the quality of the products.
Investing in McDonald's shares can therefore be a good idea. You can buy McDonald's stocks with a reliable broker:
| Brokers | Benefits | Register |
| --- | --- | --- |
| | Buy McDonald's without commissions. Your capital is at risk. Other fees may apply. | |
| | Speculate with CFD's on increasing & decreasing prices of McDonald's! 82% of retail CFD accounts lose money. | |
| | Benefit from low fees, an innovative platform & high security! | |
| | Speculate on price increases and decreases of McDonald's with a free demo! | |
Why can it be smart to buy McDonald's stocks?
Strong brand: McDonald's is a strong brand that is recognized internationally. Since it is globally active, the company is less susceptible to negative economic results in one sector.
Cheap: McDonald's food is cheap, which means the stock can perform well even during economically weak times.
Innovation: McDonald's tries to keep up with the times by offering healthier products.
Strong position: Despite strong competition, McDonald's manages to maintain its market share and achieve strong financial results.
Stable income: McDonald's has a predictable and stable income stream due to the franchise fee & rent.
Franchise: McDonald's business model relies on franchises, which makes it challenging to maintain product quality.
Sustainability: McDonald's is under fire for sustainability issues, which can damage their brand reputation.
Health: in an increasing number of countries, people focus on their health. When customers avoid McDonald's, it can affect profitability.
Concentration: A large part of the company's profits come from a few key markets.
Who are McDonald's biggest competitors?
Restaurant Brands International
Wendy's Company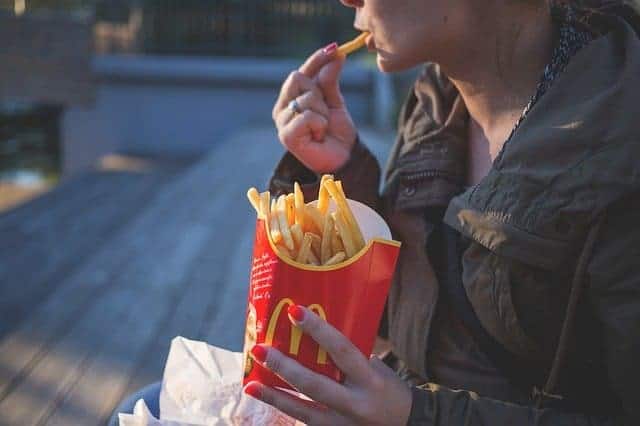 Investing in McDonald's stocks is straightforward! With these four steps, you can own one or more McDonald's shares within an hour.
Step 1: Before you can buy McDonald's shares, you need an account with a broker. A broker is a company where you can trade in shares. Click here to compare the best companies.
Step 2: After opening an investment account and depositing money, you can find the share within the trading platform. Then you need to decide how many McDonald's shares you want to buy.
Step 3: You can buy the shares directly with a market order at the current price. It is also possible to buy the McDonald's shares with a limit order when a certain price is reached.
Step 4: Evaluate your investment regularly and see if the company performs well compared to its competitors.
Stock price of McDonald's
Company data of McDonald's
Below you can find  the most important company data of McDonald's.
Analysis of McDonald's stock
Before deciding whether to buy or sell McDonald's shares, it is essential to analyse the stock thoroughly. In the overview below, you can see how McDonald's hperformed over the past period.
Stock prices of McDnald's over the last 5 days
In the table below, you can see the stock prices of McDonald's of the last 5 days:
What will McDonald's stock do in 2023?
Are you curious about what analysts think McDonald's will do in 2023 and the years to come? Using the data from Alpha Vantage, we have combined the predictions of analysts. Keep in mind that this figure is just a prediction about the price development of McDonald's.
About McDonald's
The American company McDonald's Corporation was founded in 1940 by Richard and Maurice McDonald. The company excelled in efficiency, and processed orders quickly. As McDonald's became a franchise, the company was able to grow rapidly.
In 1953, McDonald's Golden Archer logo was introduced. Businessman Ray Kroc became the franchise agent of the company in 1953. He decided to buy the burger joints from the two brothers. The company's headquarters were initially located in Oak Brook, Illinois. In 2018, McDonald's global headquarters were moved to Chicago.
Are you interested in the history of McDonald's? Then I can recommend the movie The Founder, where you can see how Ray Kroc cunningly took over the company from the two brothers.
World's largest restaurant chain
McDonald's is a big company: when we look at revenue, it's even the world's largest restaurant chain. The company has more than 40,000 sales points located in 100 different countries. The company serves over 70 million customers daily.
Customers at McDonald's can buy not only the well-known hamburgers, cheeseburgers, and fries, but also breakfast items, chicken products, milkshakes, wraps, desserts, and soft drinks. To meet the demand for healthy food, smoothies, fish, salads, and fruit have been added to the menu.
With these new options, the company hopes to attract a new customer segment. Do you think this will work? It can then be interesting to buy McDonald shares.
McDonald's revenue
The company has two sources of revenue. Obviously, sales in the restaurants managed by McDonald's Corporation generate revenue. Another important source of income is the rent, royalties, and fees paid by the franchisees. Due to the many franchisees, McDonald's is one of the largest private employers in the world.
McDonald's business model
The land on which the restaurants are located is owned by McDonald's. The value of this land is estimated at 6 to 8 billion dollars. A significant part of its revenue is, as mentioned earlier, the rent payments from the franchisees. This makes McDonald's a real estate company.
In the United Kingdom and Ireland, the company operates differently. In those countries, fewer than 30% of the restaurants have a franchisee. Most of the restaurants here are owned by the company.
How the company deals with its unhealthy image
The documentary Super Size Me showed that eating only Big Macs, cheeseburgers, and French fries for a month is not healthy. McDonald's took measures following the documentary. For example, meal salads were added to their product range.
Do you think these healthy products will have a positive effect on McDonald's financial results? Then it may be interesting to buy McDonald's stocks.
Is it wise to invest in McDonald's stocks?
McDonald's has a brilliant concept. Almost everyone thinks that the company makes money with hamburgers, while a large part of the income comes from rental income. Real estate is valuable and often rises with inflation. This makes it possible for McDonald's to do well in the future.
To remain successful, the brand must remain attractive. They try to achieve this by introducing products that can attract new groups of visitors. McDonald's's has introduced various breakfast options so that the locations can make a profit in the morning. They also introduce various vegetarian and healthy options to attract more health-conscious customers.
Before investing in McDonald's stocks, it is important to compare the company's performance with the performance of other fast food chains. Burger King and KFC, for example, are well-known competitors of the chain. Research whether it might be more attractive to invest in one of these alternatives.
Author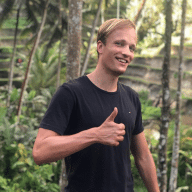 About
When I was 16, I secretly bought my first stock. Since that 'proud moment' I have been managing trading.info for over 10 years. It is my goal to educate people about financial freedom. After my studies business administration and psychology, I decided to put all my time in developing this website. Since I love to travel, I work from all over the world. Click here to read more about trading.info! Don't hesitate to leave a comment under this article.