How to buy Lyft stocks (2023)? – invest in Lyft shares
Lyft is a competitor of Uber and mainly operates in the United States, where the company holds a considerable market share. However, the company still faces significant losses. How can you buy and sell Lyft stocks yourself? And what should you consider before investing in Lyft? Here you can find everything you need to know about the company!
How to buy and sell Lyft stocks?
You can choose to buy Lyft stocks physically, which is advisable if you have a strong belief in the future price movement of Lyft. When you buy stocks, you may receive dividends if the company decides to pay them out. Additionally, you can benefit from the long-term price movement of the company.
Do you want to buy Lyft shares? Below you can see an overview of reliable brokers where you can buy Lyft stocks:
| Brokers | Benefits | Register |
| --- | --- | --- |
| | Buy Lyft without commissions. Your capital is at risk. Other fees may apply. | |
| | Speculate with CFD's on increasing & decreasing prices of Lyft! 82% of retail CFD accounts lose money. | |
| | Benefit from low fees, an innovative platform & high security! | |
| | Speculate on price increases and decreases of Lyft with a free demo! | |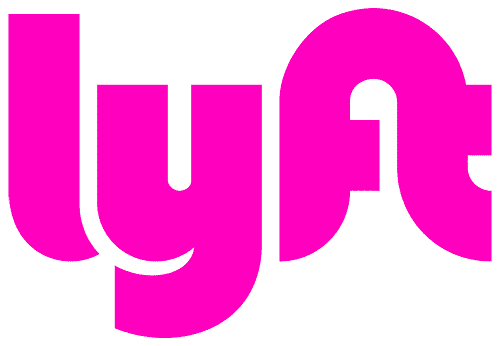 What is the current stock price of Lyft?
Are you curious about the development of the stock price of Lyft? In the graph below, you can see at what price you can buy and sell Lyft stocks:
Company details of Lyft
Below are the key company details of Lyft:
Analysis of Lyft stocks
Before deciding whether to buy or sell Lyft stocks, it is important to analyze the stock thoroughly. In the overview below, you can see how Lyft has developed over the past period:
Stock prices of Lyft of the last 5 days
In the table below, you can see the stock prices of Lyft from the last 5 days:
What does the stock price of Lyft do in 2023?
Are you curious about what analysts think Lyft will do in 2023 and the following years? We have combined the predictions of analysts using data from Alpha Vantage. Keep in mind that this figure is only a prediction of the price movement of Lyft and that this prediction may not come true.
Why might it be smart to buy Lyft stocks?
Growing market: the taxi market is growing rapidly, and Lyft has built a strong position.
Large customer base: Lyft has a large base of drivers and users.
Innovation: Lyft invests in the development of autonomous vehicles. In the future, robot taxis can drop people off at their destination at low costs.
Diversification: Lyft is also active in the shared vehicle market. For example, you can rent a scooter with Lyft.
Collaborations: Lyft collaborates with major companies such as Waymo and General Motors for the development of autonomous vehicles.
Market dependency: Lyft is highly dependent on North America for its revenue. When the US economy performs poorly, profitability can come under pressure.
Competition: Lyft faces strong competition and must therefore fight for its market share.
Dependency on drivers: if drivers demand higher payments or switch to another platform, Lyft may no longer be profitable.
Dependency on users: users can easily switch to another platform, which can put profitability under pressure.
What are the competitors of Lyft?
How to invest in Lyft stocks?
To invest in Lyft stocks, you need an account with a stockbroker. A stockbroker enables you to buy and sell American stocks. It is wise to pay attention to transaction and currency costs when investing in Lyft.
Next, follow the steps to activate your investment account. You activate your account by uploading a copy of your passport and address.
After your investment account is fully activated, you can immediately select the Lyft stock. You can then choose between a market order and a limit order. With a market order, you open the investment position directly at the prevailing price, and with a limit order, you set a price that you are willing to pay.
What are the activities of Lyft?
In Europe, everyone knows Uber, but Lyft is not very well-known here. This is because the company does not have a strong presence in Europe yet. Lyft has recently opened its first office in Europe. Currently, the company is only active in America and Canada. The main activity of Lyft is similar to that of Uber: you can easily book taxi rides with Lyft.
The business model is simple. Lyft takes a commission of 20 to 25 percent on every ride. Lyft is quite popular in America. This is partly because the taxi rides you book through Lyft are much cheaper than the taxi rides you book through, for example, the central taxi service. In addition, the use of the application is very transparent, as you can immediately see where the driver is located. The quality of the rides is monitored through reviews, and Lyft has set quality standards for its drivers.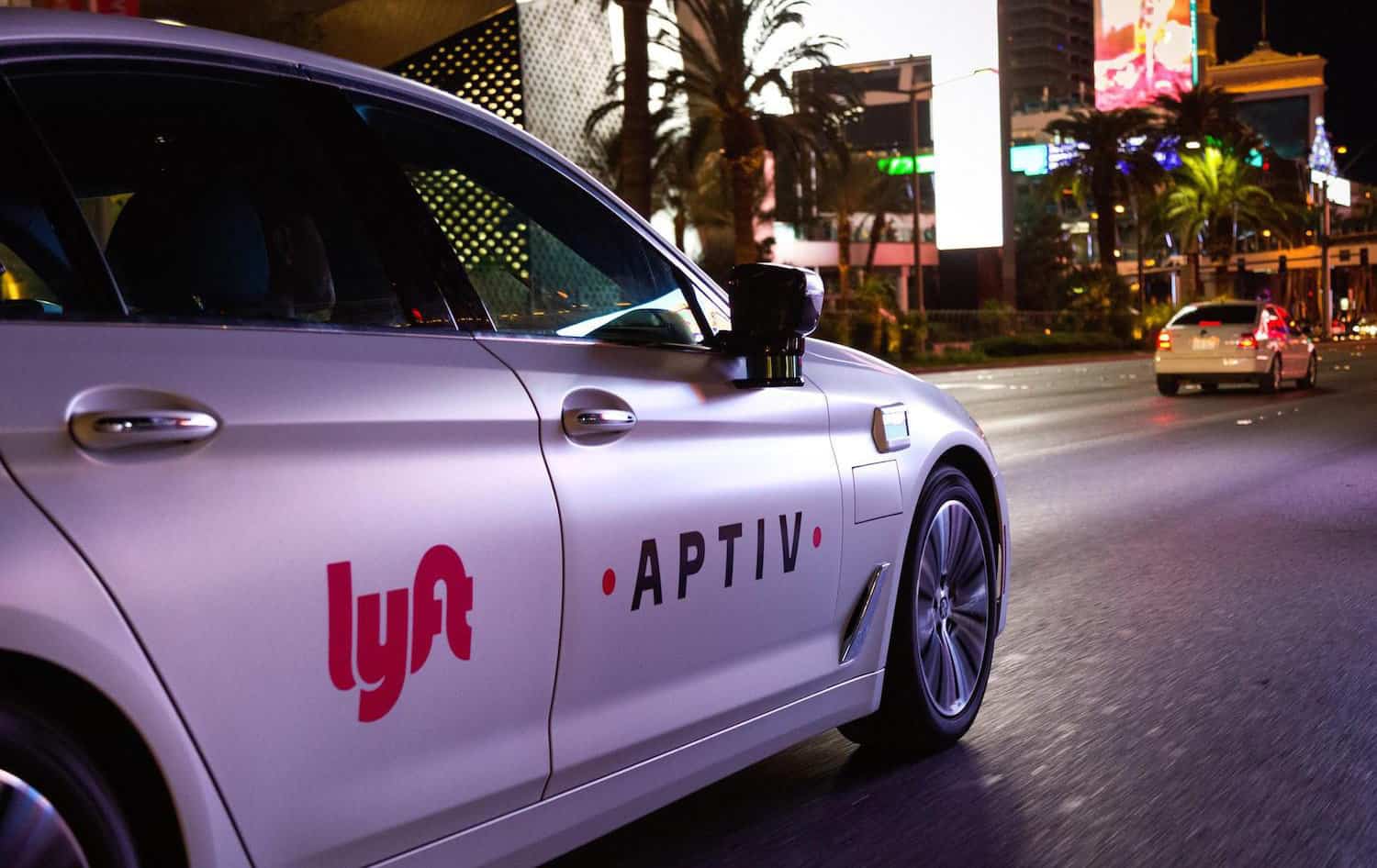 What are Lyft's future plans?
When deciding whether to buy Lyft stocks, it is important to know Lyft's future plans. A logical step for Lyft is to expand into other markets. This can be quite challenging because Uber already has a dominant position in many European countries. The Asian market may be even more difficult because many local companies already dominate the market. Therefore, Lyft will have to apply a strong marketing strategy to break through in a new market.
Furthermore, Lyft places strong emphasis on autonomous cars. In Las Vegas, they have already completed over 5000 rides using self-driving cars. In the distant future, self-driving cars may become significantly more popular than cars driven by human drivers. The ride can then proceed much more smoothly, and there are fewer risks of unwanted attention. For now, it is still unclear whether Lyft has sufficient resources to further develop autonomous cars. However, they have entered into several partnerships with companies in the industry, which certainly increases their chances.
Do you think Lyft can successfully expand into new regions? Then it may be attractive to buy Lyft stocks.
However, investing in Lyft is certainly not without risk. The company is currently experiencing massive losses. Since its launch, Lyft has not yet been able to achieve a positive result. So far, it also seems that Lyft's losses will continue to increase. Yet, its revenue is still growing much stronger. In 2017, it grew by 200%, and in 2018, by over 100%. It is this enormous growth that makes Lyft attractive to investors.
However, the future is still uncertain. For example, it is questionable whether Lyft would survive a new recession. Buying Lyft stocks in the long term is therefore quite risky.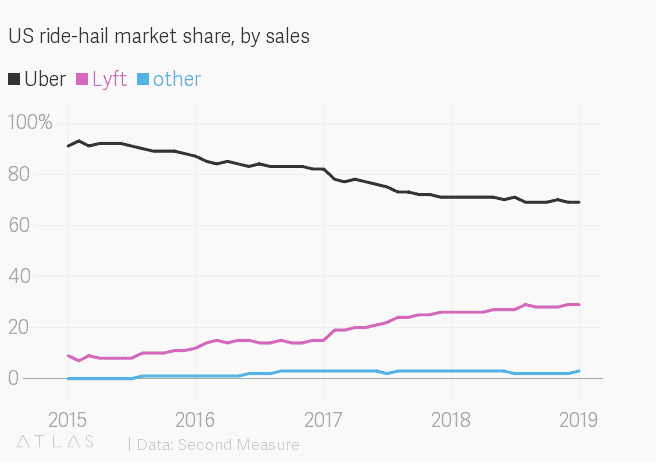 Uber loses market share to Lyft
Lyft IPO
Lyft's name recognition has increased due to its IPO. This makes it easier for Lyft to conquer the American market. At least, Lyft has managed to stay away from unpleasant scandals, which is of course good for the stability of the company. Buying Lyft stocks for the long term may only be suitable for investors who like to take big risks.
Is it wise to invest in Lyft stocks?
An investment in Lyft shares is certainly not without risk. Lyft is a typical growth stock, which means that the company emphasizes obtaining higher revenue rather than achieving profit. If Lyft can continue to grow, then the stock price will likely continue to rise. Larger companies such as Google and General Motors also own a large portion of the stocks, which can be seen as a vote of confidence.
Moreover, Lyft is working on some interesting developments. For example, they design self-driving cars and are also involved in the rental of electric bikes and scooters. Another service they are working on is a driver centre where Lyft drivers can have their cars serviced. These new innovations can contribute to the success of Lyft and may be a good reason to buy the stocks.
Author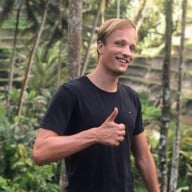 About
When I was 16, I secretly bought my first stock. Since that 'proud moment' I have been managing trading.info for over 10 years. It is my goal to educate people about financial freedom. After my studies business administration and psychology, I decided to put all my time in developing this website. Since I love to travel, I work from all over the world. Click <a href="/about-us/">here</a> to read more about trading.info! Don't hesitate to leave a comment under this article.