How to buy Uber stocks (2023) – invest in Uber
Are you looking for an exciting ride? Then it may be interesting to invest in Uber shares by buying its stocks! The company has a significant share in the taxi market in the United States and Europe. Despite being a market leader in these markets, Uber is yet to make a profit. Do you still want to take a chance and invest in this giant?
How to buy Uber stocks?
If you have confidence in Uber's long-term strategy, you can choose to buy Uber stocks for the long term. You never know, Uber might become the next Google or Facebook and reach unprecedented heights. An Uber stock may become worth many times more in the future.
Do you want to know which broker is the best option to trade Uber stocks? Take a look at the overview of the best brokers below & invest in Uber shares today:
| Brokers | Benefits | Register |
| --- | --- | --- |
| | Buy Uber without commissions. Your capital is at risk. Other fees may apply. | |
| | Speculate with CFD's on increasing & decreasing prices of Uber! 82% of retail CFD accounts lose money. | |
| | Benefit from low fees, an innovative platform & high security! | |
| | Speculate on price increases and decreases of Uber with a free demo! | |
What is the current stock price of Uber?
Do you want to know the current price of the Uber stock? In the graph below, you can see the price at which you can buy and sell the CFD Uber stocks:
Company details of Uber
Below you can see the key company details of Uber:
Analysis of Uber
Before you decide whether to buy or sell Uber shares, it is important to analyse the stock thoroughly. In the overview below, you can see how Uber has developed over the past period.
Stock prices of the last 5 days
In the table below, you can see the stock prices of Uber for the last 5 days:
What will the Uber stock price do in 2023?
Are you curious about what analysts think Uber will do in 2023 and the following years? We have combined the forecasts of analysts using data from Alpha Vantage. Remember that this figure is just a prediction about the future price of Uber, and this prediction may not come true.
Why can it be smart to buy Uber stocks?
Solid brand: Uber is recognized worldwide, so many people open the application as soon as they arrive in a new country.
Strong growth: the number of users is still increasing. In addition, an increasing number of people decide to work as a driver for Uber.
Diversification: Uber operates in the taxi service, food delivery, and package delivery, which lowers the risk for you as an investor.
Innovation: Uber regularly introduces new features to maintain its strong market position.
Global activity: since the company is globally active, profitability in one region can compensate for problems in another market.
Dependency on drivers: Uber heavily relies on millions of freelancers. Payment disputes could put the company's results under pressure.
Regulation: an increasing number of governments implement strict rules for Uber.
Intense competition: Uber often competes with local taxi applications that are better known in a specific region.
Concentration risk: a large portion of Uber's income comes from a few regions, which makes the company vulnerable.
Unprofitable: Uber has yet to turn a profit, which is important for investors.
Reputation: Uber is frequently under fire for, for example, unfriendly remarks towards women. If people consciously start boycotting the company, its growth may decrease.
What are Uber's biggest competitors?
Lyft: this American taxi competitor of Uber is fighting for more market share.
DoorDash: this American company is competing for market share in the food delivery market.
Grubhub: another company that is involved in delivering food.
Didi Chuxing: this Chinese multinational has built up a large market share, particularly in Asia.
How to invest in Uber stocks?
Open an account with a broker: first, compare the different brokers that allow you to buy and sell Uber shares.
Deposit funds: determine the amount you want to invest in Uber and deposit money into your investment account.
Place an order: press buy within the trading software and enter the amount you would like to invest.
Additional orders: with a limit order, you set a maximum price you are willing to pay for Uber shares. With a take profit and stop-loss order, you can automatically close the position at a certain result.
Evaluate: don't forget to evaluate your investment in Uber regularly. If Uber shares no longer suit you, you can sell the Uber stocks and transfer the money back to your bank account.
The activities of Uber
Uber is a very innovative company. Several countries have had to dig through laws due to the new activities launched by Uber. For example, UberPop caused countless headaches for various governments. This service allowed anyone to drive for Uber without a licence. Uber had to stop offering this version in many countries.
Uber Eats
However, this did not stop Uber from continuing to innovate. The creativity and innovation of Uber can be a good reason to buy Uber stocks. Since its launch, the company has launched numerous new services, the most successful of which is Uber Eats, which allows you to order food through the app. Uber naturally takes a commission on this as well.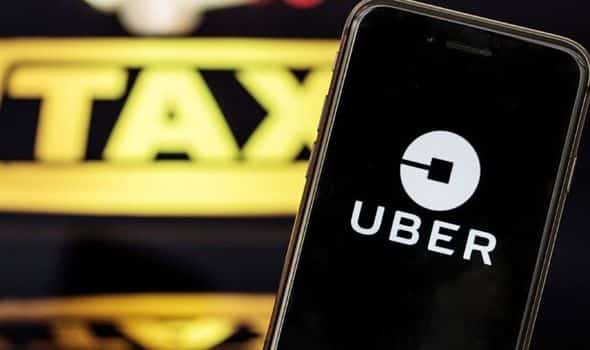 Autonomous cars
Uber is also working on the development of autonomous cars. Self-driving cars can automatically take customers from point A to point B.
The development of autonomous cars could also be a threat to Uber's future. When cars can drive themselves, it may become attractive for people to buy a car. These technologies are still far away, but they could later be good reasons to buy or sell Uber shares.
Flying cars
Together with NASA, Uber is working on the design of flying vehicles. This can, of course, be very attractive with the increase in traffic jams and congestion.
Be careful of the financial results
A big disadvantage of investing in Uber shares, is the fact that the company is not profitable. The revenue is still growing, but so is the loss the company generates. In the future, it remains to be seen whether Uber can become profitable. However, as an investor, you can also benefit from a loss-making company. As long as the stock price continues to rise, it remains attractive to buy the shares.
Another risk to Uber's growth is competition. It is easy for other companies to enter the market. This has already happened with Didi Chuxing in China and Grab in Singapore.
Uber withdrew from these markets and received a stake of 20% in Didi Chuxing and 27.5% in Grab in return. However, competition is also increasing in the US, where Lyft is capturing an increasingly large market share. If Uber loses its position in the future, this could be a good reason to sell the shares.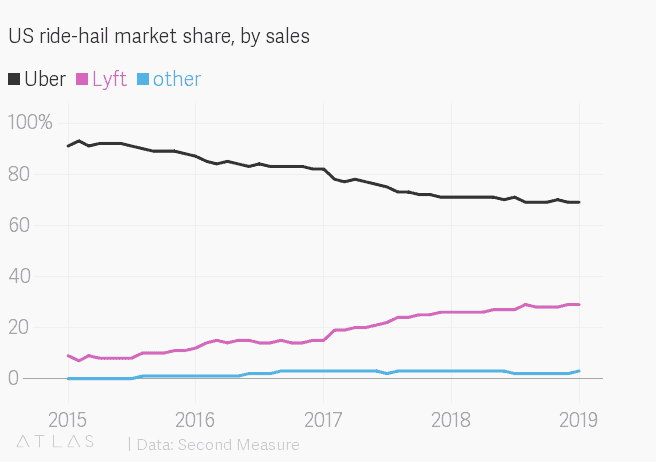 Uber is no longer the sole ruler
When investing in Uber stocks, you need to pay close attention to the various scandals:
In many countries, taxi drivers protest against UberPop, since it could be seen as unfair competition.
The autonomous cars of Uber caused people to die.
Drivers of Uber do not always behave well towards women.
Such scandals will likely affect the stock price in the future and may make it interesting to sell Uber shares.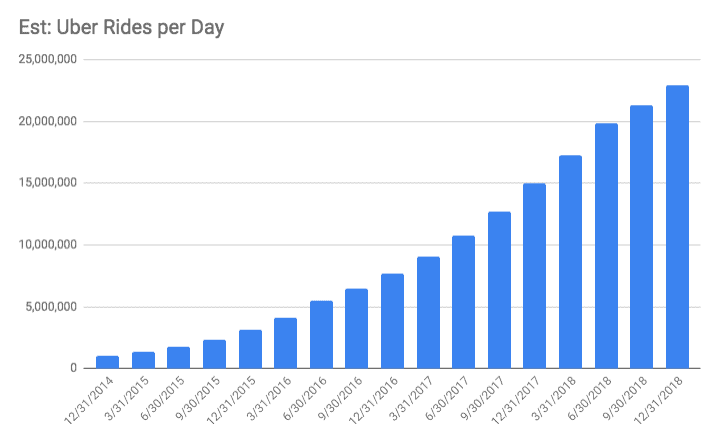 How did Uber start?
Uber was founded in 2009 in San Francisco. Interestingly, the founders Travis Kalanick and Garrett Camp started with a limousine service. Only later, the normal, more accessible taxis were added to the platform. In 2012, the founders brought the service to London and Amsterdam.
Since 2018, Uber has also been active in Russia with the company Yandex. In 2019, Uber went public, with the stock listed on the New York Stock Exchange. The introduction price was $45 per share, which made the company worth $80 billion at its IPO. Do you think the stock price of Uber will rise in the future? Then it may be wise to invest in Uber shares.
The scandals of Uber
Low payments
Many drivers complain that they are not paid enough. Several city governments have also sued the platform because the service is often seen as unfair competition compared to regular taxi drivers.
Hacks
Uber has also suffered from numerous hacks. As early as 2014, a computer was hacked, and the data of over 50,000 drivers was exposed. In 2017, an even larger hack followed, with the data of no less than 57 million customers and drivers being stolen. Uber then paid a large sum of money to prevent the data from being exposed.
Poor management
Even the founder, Travis Kalanick, did not always come across well in the media. In 2017, he stepped down, according to the company, due to a boating accident in which his mother died. In practice, there were also many doubts about the quality of his leadership. Women were intimidated within the company, for example, and local governments were deceived with secret software programs.
Do you think that despite all these controversies and scandals, Uber has a winning formula? Then it may be attractive to buy Uber shares!
Uber is still a strong brand: in addition to offering cheap taxi rides, Uber also delivers food & packages. Uber is still growing and is also acquiring other companies in various markets, which allows it to compete with other, similar applications.
However, it is advisable to keep a close eye on the scandals at Uber. The company has been sued regularly, including for sexual harassment and a large-scale data breach. If users decide to switch to another taxi service, the company's position can quickly deteriorate. Furthermore, Uber is still losing money, so as an investor, you need to be extra cautious.
Before investing in Uber shares, it is always wise to carefully consider your personal situation. Uber is a growth stock, which means that the stock price can be very volatile. Especially in times of economic uncertainty, the price can come under pressure. Investing in Uber is therefore only interesting for investors with a high risk tolerance.
Author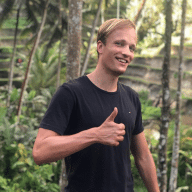 About
When I was 16, I secretly bought my first stock. Since that 'proud moment' I have been managing trading.info for over 10 years. It is my goal to educate people about financial freedom. After my studies business administration and psychology, I decided to put all my time in developing this website. Since I love to travel, I work from all over the world. Click here to read more about trading.info! Don't hesitate to leave a comment under this article.