How to buy Uber shares?
Are you looking for a wild ride? If that is the case, it could be interesting to invest in Uber by buying some shares! The company has an enormous share in the taxi market in the US and Europe. Despite Uber being the market leader in these markets, they have not been able to make a profit yet. Do you want to test your luck and invest in this taxi giant?
How can I invest in Uber?
It could be very lucrative to invest in Uber. Uber is a big company with a lot of media-attention nowadays. For this reason, many people who invest in Uber aren't professionals. Positive and negative news items can influence the stock prices of the share strongly. You can profit from these changes by buying and selling Uber shares at the right moment.
How to buy Uber stocks?
Do you want to buy Uber shares? You can directly trade in Uber stocks with one of these reliable brokers:

| Brokers | Benefits | Register |
| --- | --- | --- |
By using the CFD service of Plus500 you can speculate on price increases and decreases of Uber. You could open a long position or a short position and speculate on falling share prices. Would you like to trade in Uber by trying out some CFDs for free? Then, you should click the following button: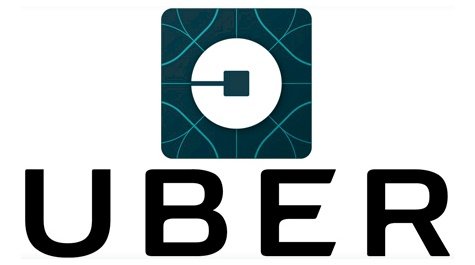 What does Uber do?
Almost everybody knows the answer to this question. Uber mainly focuses on offering cab rides. This isn't done the old-fashioned way. At Uber, you order rides via an app: the GPS does the rest. The chauffeurs earn some money and Uber gets 25% commission.
The future of Uber
Uber is an innovative company. Multiple countries had to look into their laws again and again, because of the many new activities Uber has launched. UberPop is an example of a product that causes a great headache for several governments. This service enables people to ride for Uber, without a taxi licence. Uber had to quit offering this version of their service in many countries.
But, this hasn't stopped Uber from developing and growing as a company. The creativity and innovation of Uber may be a great reason to buy the share. The company has launched several new services. The most successful service has to be Uber Eats, where you can order with. Also on this app, Uber gets their commission.
Another interesting sector Uber works in, are the autonomous cars. Together with NASA, Uber is working on a design for flying vehicles. This could be very appealing to avoid traffic and congestions. Besides that, Uber works on autonomous cars. These experiments are quite controversial since there have been multiple fatalities due to these autonomous cars. Future success of autonomous techniques would be a great reason to buy Uber shares.
The development of autonomous cars could very well be the downfall of Uber. If cars can ride without a chauffeur, it may become way more appealing for people to buy an autonomous car, than to order an Uber. The techniques are still very much under development, but they could turn out to be good reasons to buy or sell Uber shares.
Negative results
A big disadvantage of investing in Uber, is the fact that the company has been making loss after loss for quite a while now. The revenue is still growing, but so are the losses. In the future, Uber has to prove that they can make a profit. However, you can still profit from a loss-making company. As long as the stock prices are rising, it will be appealing to buy some shares. In that case, you do not need any dividend.
Another risk that blocks the growth of Uber, is the competition. It is relatively simple for other companies to enter the market. This already happened with Didi Chuxing in China and Grab in Singapore. Uber has pulled out of these markets and receives a 20% commissions of Didi Chuxing and a 27.5% commissions of Grab in return.
The competition is intensifying in the USA: Lyft conquers a large proportion of the market there. If Uber loses their position in the future, it would be recommended to sell your shares.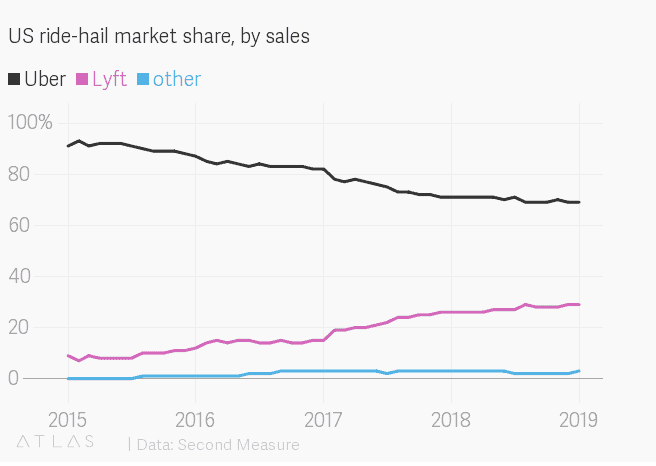 Uber is no longer an autocrat
When you're planning on investing in Uber, you should keep a close eye on the different scandals of Uber. Uber is known for being quite a "bad boy". Besides protest against UberPop, the company is responsible for a few deaths caused by the autonomous cars. Also, a couple of chauffeurs have been misbehaving when in the company of a female passenger. These kinds of scandals will most likely affect the stock prices in the future, which is why it could be interesting to sell your Uber shares.
Whether you want to buy shares, most likely depends on whether you are willing to take risks. Uber is growing a lot and has many customers nowadays. In the meanwhile, there is a lot of uncertainty surrounding Uber and the future of the company. One thing is certain: Investing in Uber will never be boring!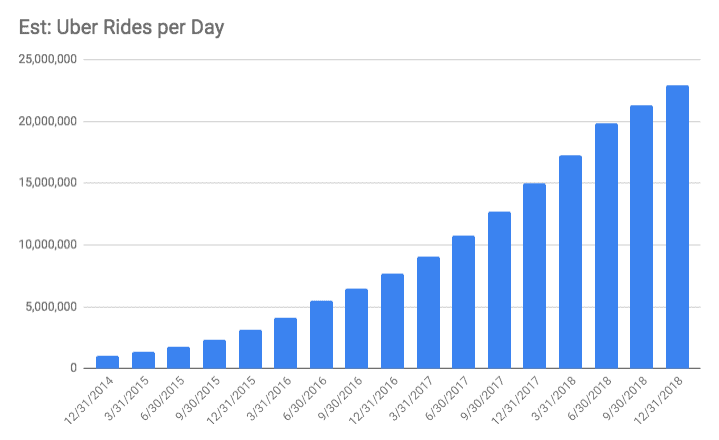 Uber is still growing
How did Uber start?
Uber was founded in 2009 in San Francisco (where else could it be). Fun fact: founders Travis Kalanick and Garrett Camp started with a limousine service. Later on, they added normal, more accessible cabs to the platform. In 2012, the founders brought the services to London and Amsterdam and after that to Rotterdam and The Hague.
Since 2018, Uber gained some users in Russia with the company Yandex. In 2019, Uber joined the stock market. The share is listed on the New York Stock Exchange. The introductory stock price was $45 per stock, which led to a valuation of $80 billion. Do you think that their stock prices may rise in the future? Then, it is advisable to invest in Uber.
A company full of controversies
Uber gets a lot of attention. However, this attention isn't always as positive as one might have hoped. Many chauffeurs complain about getting paid too little for example. Besides that, multiple city councils have sued the platform, because Uber is an unfair competitor to the average traditional taxi driver.
In addition, Uber is hacked quite often. Already in 2014, a computer of Uber was hacked and the information of about 50,000 chauffeurs was leaked. In 2017, an even bigger hack followed. This hack resulted in the leaking of information of up to 57 million customers and chauffeurs. Uber payed a large sum of money to prevent this information from being available to everyone.
Founder Travis Kalanick also gained a lot of negative PR. In 2017, he decided to quit. His resignation was probably connected to all the negative press that surrounded his name. The company told the press however that his resignation was because of a boat-accident, which resulted in the death of his mother. Many people already had their doubts about his competence and leadership. Women felt intimidated within the company and local administrations were deceived by secret software programs.
Do you think Uber has the formula to success, despite all these controversies and scandals? Then, it is recommended that you buy some Uber shares!
What is the current stock price of Uber?
Would you like to know what the current stock price of Uber is? In the graph you can see the CFD price of the Uber share:
Author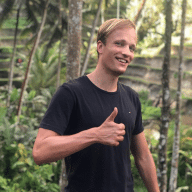 About
When I was 16, I secretly bought my first stock. Since that 'proud moment' I have been managing trading.info for over 10 years. It is my goal to educate people about financial freedom. After my studies business administration and psychology, I decided to put all my time in developing this website. Since I love to travel, I work from all over the world. Click here to read more about trading.info! Don't hesitate to leave a comment under this article.