How to buy Randstad shares?
Randstad Holding NV is a Dutch multinational company that focuses on temporary employment and HR services. The company employs more than 500,000 people daily. Are you thinking about investing in Randstad? On this page, you can read everything you need to know before you buy Randstad shares. You will also find the current price of Randstad stocks here.
Where can you buy Randstad stocks?
Do you want to buy Randstad shares? You can directly trade in Randstad stocks with one of these reliable brokers:

| Brokers | Benefits | Register |
| --- | --- | --- |
| | Buy Randstad without commissions. Your capital is at risk. Other fees may apply. | |
| | Speculate on price increases and decreases of Randstad with a free demo! | |
| | Benefit from low fees, an innovative platform & high security! | |
| | Speculate with CFD's on increasing & decreasing prices of Randstad! 86% of retail CFD accounts lose money. | |
How can you actively invest in Randstad?
The Randstad CFD share can be purchased through the broker Plus500. With Plus500 you can try trading for free with a demo of $40,000 or with a small deposit of $100 or more.
Thanks to the user-friendly software Plus500 is a good party to actively trade Dutch shares. Plus500 allows you to place orders on both falling and rising prices. This allows you to actively trade under all market conditions. Would you like to try the possibilities with a free demo? Click on the button below to open a free account:
What is Randstad's current stock price?
Are you curious about the latest price developments of Randstad shares? In the chart below you can see the Randstad CFD price. You can also use the buttons to place a buy or sell order directly.
Is it wise to invest in Randstad?
Before you can decide whether it is smart to buy Randstad shares, it is wise to analyse the economic situation. Since Randstad is a very cyclical stock, you can often predict the future price based on general economic developments.
Randstad has mainly built up a strong position in Europe but is also trying to gain a foothold in Asia, Australia, and Latin America. These are markets where the company can still achieve a lot of growth by strengthening its position. If Randstad succeeds in strengthening its position in these markets, this will benefit its profitability.
The company is also trying to grow by taking over several competitors. In 2016, for example, the American Monster.com was acquired for 429 million dollars. This type of takeover can contribute to the further growth of Randstad and can be a good reason to buy the shares.
You can buy Randstad shares at almost every broker. However, not every broker is the same: at some brokers, you don't pay commissions, while at others you pay high transaction fees over each transaction. So it certainly pays off to compare the various brokers with each other. In this article, you can immediately see an overview of the best brokers you can invest with.
After you have opened an account you can use the search function to easily find the Randstad share. You then have the choice between a market order and a limit order. For long-term investors, a market order is normally sufficient: you open the investment position directly at the current share price. With a limit order, you only open the investment as soon as the price has fallen to a certain value.
About Randstad
Randstad was founded by Frits Goldschmeding in the Netherlands in 1960 and is currently active in about 40 countries. Randstad has almost 90,000 employees and more than 600,000 people are employed by other companies through Randstad daily. Randstad has more than 4,500 branches and almost 1,200 in-house locations worldwide.
An in-house location is where Randstad works for a specific client in one location, often at the client's premises in the same building. Randstad is the second-largest HR service provider in the world, just behind Adecco from Switzerland.

What kind of investment is Randstad?
Randstad is the perfect example of a strongly cyclical share. Cyclical stocks are stocks that move strongly with the situation in the economy. When the labor market is doing well, Randstad is generally also doing well. This is not so strange when you consider that they make the most profit from staffing. In good economic times, the demand for personnel naturally increases.
The investment strategy for Randstad shares is therefore to buy the shares when you think the economy is going to pick up. After a recession it can be smart to buy Randstad shares. When the economy is growing again, the Randstad stock often performs better as well.
Conversely, you have to pay attention when things seem to be going worse. This may be a good time to sell Randstad shares.
Competitors
It is always wise to keep a close eye on the competitors. The biggest competitor is Swiss Adecco, which is the largest temping company in the world. Nevertheless, Randstad is certainly not doing badly with second place. Other well-known competitors are also Dutch USG People and American Manpower. Before buying shares, it's wise to look at how Randstad is doing compared to the competition. Does the competition perform better? Then it is better to buy the shares of these companies.
More than just flex workers
Randstad's services go beyond providing temporary labour. The company offers various HR services. Let's take a brief look at the most important services Randstad has to offer its clients.
Temporary workers
Randstad has so-called temporary workers. This is ideal for companies that do not yet know how many staff they will need later. Randstad is still the employer in this situation and is therefore responsible for the administration and the risks of illness.
Secondment
A secondment is also a form of temporary work. However, there are some important differences. With secondment, there is a little more security for the employer and the employee, as the contract duration is agreed in advance. Subsequently, the number of hours worked is paid out at a fixed rate.
Recruit and select
It is also possible to hire Randstad for mediation. They take the entire selection process off your hands and start looking for personnel that suits your company. Randstad of course charges a fee for this service.
Payroll
This is a service for employers who prefer not to carry too much responsibility for their staff. Once you have found a suitable staff member, you can outsource the administration and risks to Randstad. Naturally, the companies pay a fee for this as well.
HR options
Companies can also call on Randstad for various HR solutions. Think, for example, of coaching programs or strategic guidance with the placement of personnel. Randstad can also help companies set up a corporate social responsibility policy.
All in all, Randstad is a company that can take many parts of personnel policy out of the hands of another company. This makes Randstad a potentially interesting investment!
Takeover Temp-Team
Former competitor Tempo-Team did not get through the post-1980 recession well, so it was taken over by Randstad in 1982 for only 125,000 euros. Part of the deal was the obligation to repay the large debt. From that moment on Randstad operates under a 2 brand name in the same market.
Randstad Holding NV is listed as RAND in Amsterdam on the AEX of Euronext. Randstad's head office is in Diemen. The founder Frits Goldschmeding is still the largest shareholder.
History
In 1960, Frits Goldschmeding and Ger Daleboudt founded Randstad from a student room. At that time they were both students at the Free University of Amsterdam. Goldschmeding had just written a thesis on temporary labour, a phenomenon that hardly existed in the Netherlands in 1960. In the thesis, Goldschmeding discusses the fact that during peak periods companies can easily rent extra machines and buildings, but not temporary people.
As a result, companies employ too many people at less busy times or too few people during busy periods. In a flexible labor market, companies would be able to move with the economy much better and employees would be able to change jobs more easily and thus gain experience faster.
From thesis to company
Because of his thesis, Goldschmeding soon got the plan to start his temp agency from his attic room in his student residence in Amsterdam. At that time the agency was called Uitzendbureau Amstelveen. Due to the improving economy in the '60s, the temporary employment agency also grew steadily. After graduating in 1963 they moved into their first office. They also got offices in Leiden and Rotterdam and the name was changed to Randstad Uitzendbureau.
Author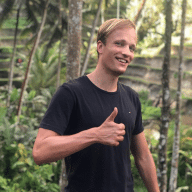 About
When I was 16, I secretly bought my first stock. Since that 'proud moment' I have been managing trading.info for over 10 years. It is my goal to educate people about financial freedom. After my studies business administration and psychology, I decided to put all my time in developing this website. Since I love to travel, I work from all over the world. Click here to read more about trading.info! Don't hesitate to leave a comment under this article.