Broker selection: how to choose a good broker?
When you start investing, it is important to choose a good broker. In this article, we will give you some tips that you can use in selecting the broker that suits you best.
What do you look for when choosing a broker?
Is the broker cheap? Check the transaction fees!
Is the software user-friendly? This helps you to get started quickly.
Is it possible to try everything for free with a demo?
Can you invest in all known stocks and commodities?
On Trading.info we have set up an extensive comparison, so you can immediately see what we think are the best brokers. Use the button below to directly compare brokers:
How actively do you want to invest?
An important question to answer for yourself is whether you want to trade very actively or whether you want to build a portfolio. If your goal is to achieve a fixed return, building a portfolio is the best choice. In that case, you can use a broker like DEGIRO or eToro.
If you want to trade actively, you should choose a broker where you can trade CFDs. CFDs are designed for short-term speculation. At an internet broker, you can actively trade at lower transaction costs. Thanks to the presence of a leverage, it is even possible to actively trade with lower amounts.
Pay attention to the broker's fees
The transaction costs on investments are essential for the final result. Many investors focus on returns, and forget about costs. Yet, a few percentage points can make a huge difference over a longer period. It is therefore worthwhile comparing different brokers in terms of costs.
When choosing a broker, it is also important to look at the other costs. Some brokers have low transaction costs, but then charge a lot of extra fees. This means that the costs at a 'cheaper broker' can suddenly be much higher. For example, some brokers charge extra for paying dividends or transferring securities. Therefore, pay close attention to the extra conditions of a broker.
There is also an increasing number of brokers who allow you to trade without commissions. Also, with 'free' brokers it is important to study whether the broker is beneficial. At brokers where you trade without commissions, the difference between the buy and sell price of a share is often greater. As a result, with small amounts it is often more beneficial to trade with a broker without fixed commissions, while with larger amounts, it may be better to trade with a broker with fixed commissions.
In the article Cheap Investing you can read where you can invest against low fees.

Costs can significantly reduce the final return.
Take a look at the broker's investment products
Not all brokers offer the same securities. Therefore, first think about what you mainly want to use the broker for. Make a list of the different securities you want to trade. Then you can compare the different brokers in this field. It may even be wise to compare the exact costs per broker. This way, you can determine whether the broker you have in mind is indeed the most advantageous for your investment plans.
Check reliability
When you place an order, it is naturally important that it is executed quickly. With most large brokers, this is indeed the case. Downtime can be quite a burden when you want to buy or sell a certain investment quickly. It may therefore be wise to investigate how reliable the broker's software is.
The financial institution to which the broker belongs can also be an indication of its reliability. UK brokers, for example, fall under the as a result of which they must comply with all kinds of strict requirements. Foreign brokers may fall under a different authority, which means that other rules may apply. Therefore, always check carefully whether the broker is reliable, especially with foreign brokers.
Also check whether customer assets are properly segregated. This will ensure that you do not lose your assets or investments if the broker goes bankrupt.
Support is important
When choosing a broker, support is also important. Most brokers offer at least email support. With the more expensive brokers, it is usually also possible to contact them by telephone. Brokers differ on the support languages that are available, but practically all of them offer support in English.
Research the software
When selecting a broker, it is also wise to take a look at the broker's software. The functionalities and the user-friendliness of the software of the various brokers sometimes differ. That is why you should first have a look at the broker's software before you actually deposit money. After all, it is important that you can place orders quickly and that you understand how to manage your investments.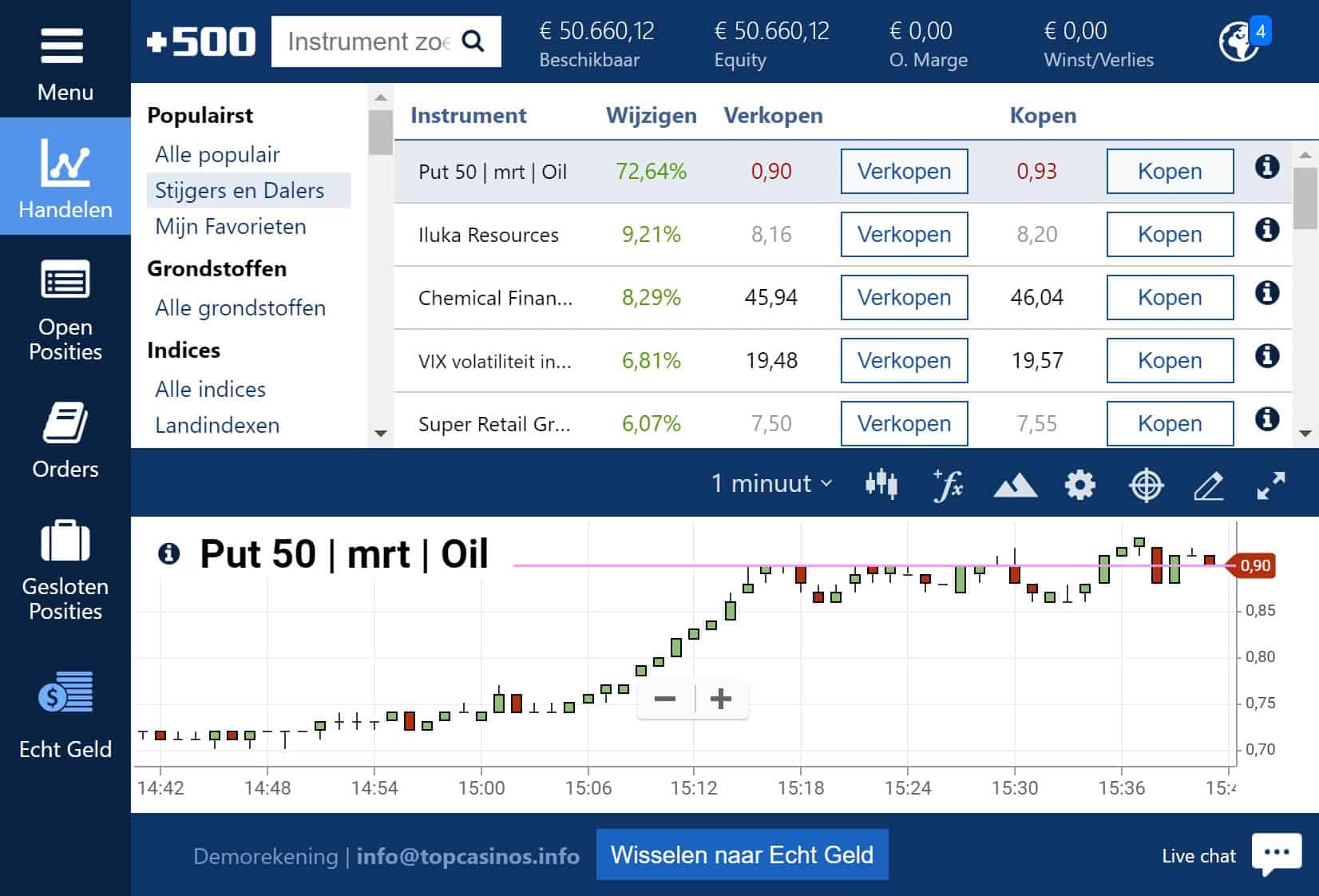 Plus500's software is very user-friendly. Illustrative prices.
Brokerage options
Finally, the specific capabilities of the broker are quite important. Brokers distinguish themselves more and more by offering special functionalities. At Plus500, for example, you trade through a user-friendly software system.
At Markets.com it is also possible to use the advanced MetaTrader for intensive technical analysis. At other brokers, you can trade automatically through the innovative ZuluTrade platform, so you don't have to make difficult financial decisions yourself.
Other brokers distinguish themselves by a high level of education. Some brokers also offer a free demo, so you can try out the possibilities without risk. Think about the extra options you need and cross out the brokers that don't offer them.
View the conditions
Also investigate whether there are any special conditions that could be detrimental to you as an investor. At some brokers your securities are lent to other parties. This increases the risk of your investment.
Some brokers also charge extra fees for paying dividends or making a deposit. Therefore, when selecting a good broker, always check whether the broker has any disadvantageous conditions.
When choosing a broker, also consider whether you want to invest in shares yourself or whether you want to put a periodic amount in a fund. Not every broker is equally suitable for every investment product. At some brokers, for instance, you can invest in all kinds of funds at very low rates, while at other brokers you can buy shares at low rates.
Pay attention to the financial characteristics
When selecting a broker, it is also advisable to pay attention to other financial characteristics. For example, does the broker have a minimum deposit? At some providers, you can only invest with thousands of pounds.
Some people want to invest on margin; discover what the maximum margin is and what the requirements are for this.
Choosing a broker
There are quite a few factors that are important when selecting a good broker. Ultimately, it is important to choose a broker that suits your requirements. Therefore, compare the brokers that offer the possibilities you need and finally choose the party with the most advantageous rate. In our broker section, you can take a look at different brokers and compare them on various factors, so you can make an informed choice.
Author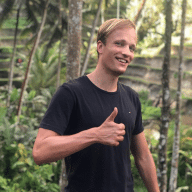 About
When I was 16, I secretly bought my first stock. Since that 'proud moment' I have been managing trading.info for over 10 years. It is my goal to educate people about financial freedom. After my studies business administration and psychology, I decided to put all my time in developing this website. Since I love to travel, I work from all over the world. Click here to read more about trading.info! Don't hesitate to leave a comment under this article.