How to buy Singapore Airlines shares (2023)?
Singapore Airlines is often awarded as the best airline in the world. Do you also want to invest in Singapore Airlines stocks? Then you have come to the right place! In this article, you can read how to buy Singapore Airlines shares. You can also check the latest stock price here.
How to buy Singapore Airlines stocks?
Are you considering buying Singapore Airlines shares? First, analyse whether the company's profitability is sustainable. More people can fly, which increases the potential market size. However, a high oil price can put significant pressure on the profitability of airlines. If you are certain that you want to invest in Singapore Airlines stocks, it is best to do so with a reliable broker.
Below, you can see which brokers offer Singapore Airlines shares:
| Brokers | Benefits | Register |
| --- | --- | --- |
| | Buy Singapore Airlines without commissions. Your capital is at risk. Other fees may apply. | |
| | Speculate with CFD's on increasing & decreasing prices of Singapore Airlines! 82% of retail CFD accounts lose money. | |
| | Benefit from low fees, an innovative platform & high security! | |
| | Speculate on price increases and decreases of Singapore Airlines with a free demo! | |
What is the current stock price of Singapore Airlines?
Do you want to check the latest share price of Singapore Airlines? In the graph below, you can see the most recent stock price of Singapore Airlines. You can also use the buttons to open a position on the stock directly.
Company details of Singapore Airlines
Below, you can see the key company details of Singapore Airlines.
Stock prices of the last 5 days
In the table below, you can see the stock prices of Singapore Airlines for the last 5 days:
Are you curious what analysts think Singapore Airlines will do in 2023 and the years to come? We have combined the analysts' forecasts using Alpha Vantage data. Keep in mind that this figure is only a prediction about the stock price of Singapore Airlines, and this prediction may not come true.
Strong brand: Singapore Airlines is known as one of the best airlines in the world.
Focus on luxury: Singapore Airlines strongly focuses on the luxury segment. It is precisely in this segment where profit margins are higher, which can make an investment in the stock interesting.
Collaborations: Singapore Airlines entered into various strategic collaborations with, for example, Air New Zealand and Virgin Australia.
Diversification: Because Singapore Airlines is active in transporting both cargo and passengers, it is less dependent on one specific source of income.
These are the biggest risks of investing in Singapore Airlines stocks
Dependency: Singapore Airlines heavily relies on the travel industry for a significant portion of its revenue.
Intense competition: Singapore Airlines faces strong competition from other major airlines, especially in the luxury segment.
Oil prices: Singapore Airlines is highly dependent on the price of oil. When the price of kerosene rises, the profitability of the company may decrease.
Regulations: When governments impose stricter regulations on airlines, profitability may decrease.
How to invest in Singapore Airlines stocks?
Step 1: Research Singapore Airlines and its stocks.
Step 2: Are you sure you want to invest in Singapore Airlines? Then open an account with a reliable broker.
Step 3: Activate your investment account and deposit sufficient funds for your investment.
Step 4: Navigate to the Singapore Airlines stock within the trading platform.
Step 5: Enter the amount you would like to invest and press buy to submit the order immediately.
Step 6: You can sell your investment at any time and withdraw the money to your bank account.
Analysis of an investment in Singapore Airlines
There are both arguments for and against investing in Singapore Airlines stocks. A favourable aspect is that the world population is becoming increasingly prosperous, which means more people can afford to buy a plane ticket. When the aeroplane is increasingly used for holiday travel, this is beneficial for Singapore Airlines.
At the same time, business travel is expected to decrease. Especially after the coronavirus pandemic, companies have become accustomed to online communication and meetings.
Another risk for investments in Singapore Airlines shares, are international regulations. Flying is far from environmentally friendly, and many governments try to make flying pricier. This can be a significant risk for long-term investments in Singapore Airlines stocks.
About Singapore Airlines
Singapore Airlines is the largest airline in Singapore. This Asian airline collaborates with other airlines. In the Star Alliance partnership, Singapore Airlines collaborates with, for example, the German Lufthansa, Air Canada, Air Brussels, Austrian Airlines, and SAS. The headquarters of Singapore Airlines are located in the German city of Frankfurt am Main.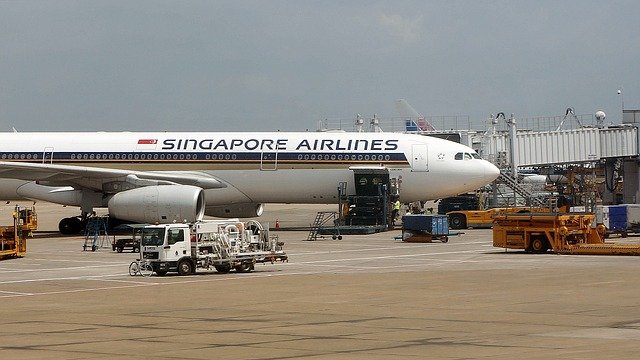 History of Singapore Airlines
Singapore Airlines was founded in 1947 under the name Malayan Airways. This name was chosen because it was the airline for Singapore and the neighbouring country of Malaysia. In 1972, this airline was split, which resulted in the airlines Malaysia Airlines and Singapore Airlines.
After this split, Singapore Airlines continued to grow in Asia. Boeing 747s were added to the fleet of Boeing 707s and 737s. In the 1980s, Singapore Airlines began flying to European and North American destinations. In the 1990s, the company also began flights to South Africa.
In 2000, Singapore Airlines was the first customer for the yet-to-be-built new Airbus A380. 19 aircraft were ordered, and an option was also taken for 15 of this type. The construction of the aircraft was delayed. It was not until 2007 that the first A380 was officially handed over to Singapore Airlines. This aircraft was used to operate a scheduled service between Singapore and Sydney.
A brief supersonic adventure
In December 1979, Singapore Airlines decided to fly with British Airways between Bahrain and Singapore with the supersonic Concorde. This British Concorde was painted on both sides: on one side of the fuselage, the Concorde had a Singapore Airlines livery, and on the other side, the aircraft had a British Airways livery. Singapore Airlines' supersonic adventure was not a success: the flights were halted after only a week.
The flights were halted because Malaysia prohibited the Concorde from flying over its airspace. Two years later, the Concorde flew again under various restrictions. As a result, the supersonic part of the route became shorter and shorter. In addition, the aircraft's occupancy rate continued to decline. Singapore Airlines stopped flying the Concorde on November 1, 1989.
Such innovations can have a strong influence on the Singapore Airlines stock price. If you see the company trying something new in the future, it may be interesting to actively trade in the stock.
Should you buy Singapore Airlines stocks?
If you want to invest in an airline, Singapore Airlines can be an appealing choice. Since Singapore Airlines mainly focuses on the luxury segment, profit margins are higher. In addition, the airline has built a strong reputation and is seen as one of the best airlines in the world.
It is important to monitor the situation within the travel industry. If the number of global flights decreases, the value of Singapore Airlines stock can decrease significantly.
Furthermore, research whether Singapore Airlines stocks fit within your investment portfolio. Investments in Singapore Airlines shares are always risky, and you can lose a significant portion of your investment.
Author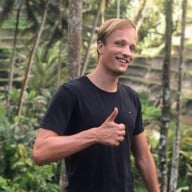 About
When I was 16, I secretly bought my first stock. Since that 'proud moment' I have been managing trading.info for over 10 years. It is my goal to educate people about financial freedom. After my studies business administration and psychology, I decided to put all my time in developing this website. Since I love to travel, I work from all over the world. Click <a href="/about-us/">here</a> to read more about trading.info! Don't hesitate to leave a comment under this article.