How to buy TikTok shares (2023): everything you need to know!
Are you considering investing in TikTok shares? On this page, you will read everything you need to know about buying TikTok stocks! I discuss the strengths & weaknesses of TikTok, so you can decide whether you should add the stock to your investment portfolio.
Step 1: open an account with a broker
You need an account with stockbroker to trade TikTok shares. The overview below shows you which brokers you can use for your investments:
| Brokers | Benefits | Register |
| --- | --- | --- |
| | Buy TikTok without commissions. Your capital is at risk. Other fees may apply. | |
| | Speculate with CFD's on increasing & decreasing prices of TikTok! 82% of retail CFD accounts lose money. | |
| | Benefit from low fees, an innovative platform & high security! | |
| | Speculate on price increases and decreases of TikTok with a free demo! | |
Step 2: verify your account & deposit fund
Before you can buy TikTok shares, you must first verify your account. You verify your account by uploading a copy of your passport and proof of address. Once these details are approved, you can immediately send your funds to the platform.
Select the TikTok shares within the broker's platform and enter the amount you wish to invest. Press buy to send the order to the stock exchange.
Can you invest in TikTok?
TikTok itself is not yet listed on the stock exchange: it is therefore impossible to make a direct investment in TikTok. However, with a little workaround, you can still become a small part-owner of TikTok.
TikTok is owned by China's ByteDance which is worth over $250 billion. Despite this huge value, the $250 billion shares are also not tradable on the stock exchange.
However, there are several private equity firms that have invested in TikTok and are thus co-owners. By buying the shares of these companies, you are still indirectly investing in TikTok. However, it is important to research the companies carefully, as they also invest in many other companies. Private equity firms' share prices are determined by the total results of all their investments.
You can invest in the following private equity firms that own part of TikTok:
Kohlberg Kravis Roberts (KKR)
SoftBank Group (SFTBY)
What is TikTok?
TikTok is a popular video sharing application that has grown tremendously since its inception in 2016. In 2022, the application has been downloaded over a billion times. The application is very popular among young people who, for example, share videos of them doing dances in the hope of gaining more followers.
The algorithm
TikTok has created a highly developed AI (artificial intelligence) and many experts believe this is the secret behind the application's success. The algorithm also collects data on all its users, which is obviously worth a lot of money.
Social media networks make money from the time users spend on their websites and applications. TikTok's algorithm tries to keep users engaged for as long as possible by showing videos that fit the interests of the user.
Large number of users
The number of users is also impressive: one billion people use the application every month despite the blockade in India. According to Oberlo, users are on this app for an average of 52 minutes a day.
Takeover
Both Oracle and Walmart have tried to acquire TikTok. Both companies are likely to be very interested in the algorithm behind the application.
For example, Walmart could use the algorithm to predict which products customers want to buy. In the future, algorithms will play an increasingly important role within our society.
How much is TikTok worth?
ByteDance Ltd estimates that TikTok is currently worth $60 billion, but some investors believe it is worth more than $100 billion.
The company achieved revenues of more than $17 billion in 2019 which is huge for a relatively new company.
What makes investing in TikTok a smart decision?
The huge number of users makes TikTok an attractive investment. Its wide reach allows the company to collect and sell valuable data. The company also offers innovative advertising options that can effectively promote products and services.
Moreover, TikTok's algorithm is strong, and the company can sell (parts of) this algorithm to other companies.
What are the risks of investing in TikTok?
Not all countries are happy that TikTok's parent company, ByteDance, is Chinese. Many governments are afraid that the Chinese government will misuse the data collected. As a result, TikTok has been banned in India. In America, TikTok has to offer its services through TikTok Global to prevent privacy issues.
Another risk is the strong competition. TikTok competes with other popular social media applications such as Facebook, Instagram and YouTube. If the popularity of a competing platform increases, TikTok may lose users and revenue. This uncertainty about future growth could make TikTok a risky investment.
Whether you should invest in TikTok is ultimately a personal choice. Its massive popularity and powerful algorithm surely make TikTok an attractive investment. At the same time, online social media are vulnerable: Myspace quickly lost its popularity in the past. It is therefore wise to spread your investments well and avoid only investing in high-risk stocks.
Author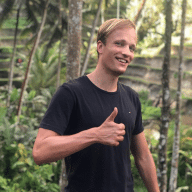 About
When I was 16, I secretly bought my first stock. Since that 'proud moment' I have been managing trading.info for over 10 years. It is my goal to educate people about financial freedom. After my studies business administration and psychology, I decided to put all my time in developing this website. Since I love to travel, I work from all over the world. Click here to read more about trading.info! Don't hesitate to leave a comment under this article.