Trade Republic review (2023): advantages and disadvantages of the platform
The German Trade Republic is now available in the Netherlands! Trade Republic allows you to invest in thousands of stocks & ETFs with your mobile phone. It's also convenient that with this broker, you can automatically invest in shares & ETFs on a regular basis. In this review, I will share my experiences with Trade Republic.
About Trade Republic
Trade Republic was launched in Germany in 2005, but is now also active in Austria, Belgium, Estonia, Finland, France, Germany, Greece, Ireland, Italy, Latvia, Lithuania, Luxembourg, Netherlands, Portugal, Slovakia, Slovenia, and Spain. Despite the fact that the broker only offers an app, you can invest in an extensive range of stocks and ETFs. The low transaction fees (maximum of €1) make the application an attractive alternative to many traditional brokers.
If you want to try Trade Republic for yourself, you can open an account directly with the button below:
| | |
| --- | --- |
| Year of foundation: | 2015 |
| Products: | Stocks & ETF's |
| Costs: | Maximum €1 per order |
| Minimum deposit: | €1 |
| Payment methods: | Bank transfer & credit card |
Advantages of Trade Republic
You pay a maximum of €1 in transaction costs per order
You can invest in over 7500 products
Trade Republic is regulated by the German BaFin
The savings program is an interesting feature
You can trade outside of regular trading hours
Disadvantages of Trade Republic
The application is only available in English
It is not possible to deposit with iDEAL yet
Your orders are sold to the Hamburg stock exchange
The customer service is only available by email
Unique feature: savings plan
I am a big fan of the savings plan which is offered by Trade Republic.
With a savings plan, you can invest a fixed amount periodically (e.g., every month) in a selection of stocks and ETFs. Not all products are available in the savings plan: you can choose from 1,000+ ETFs and 2,500+ stocks.
You then only pay one euro in transaction fees for your entire transaction. This means that you can also invest a small amount in stocks like Amazon and Alphabet shares. Within Trade Republic, you can also buy fractional shares, which allows you to buy part of a bigger stock.
You can, for example, invest €100 each month in Amazon, €100 in an ETF of your choice, and €100 in Philip shares. By creating your own savings plan, you retain complete control.
By investing periodically, you can take advantage of dollar-cost averaging, which allows you to achieve an average return on your investment. By consistently investing a fixed amount, you can build up a large sum over a longer period. With this tool, you can see for yourself what the effect of periodic investments can be.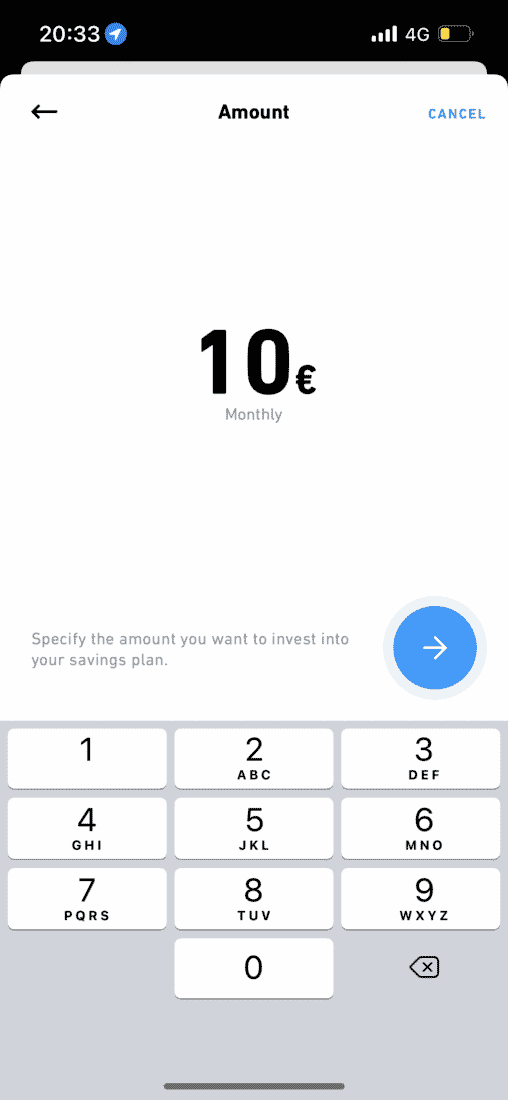 Unique feature: longer trading hours
Another advantage of Trade Republic is that you can also invest outside of regular trading hours. Because you can still trade stocks after the market closes, you can also react to events outside the trading hours.
There is a disadvantage to this: outside of normal trading hours, the spread increases. The spread is the difference between the buy and sell price of a stock. Outside regular hours, there are fewer active traders, which makes it difficult to find buyers and sellers. This makes it important to be extra careful when investing with Trade Republic in the late hours!
Trading options with Trade Republic
The trading options at Trade Republic are excellent, especially for a mobile application. You can invest in thousands of different stocks from the United States, China, Germany, and the United Kingdom, among others.
It is also possible to invest in ETFs at Trade Republic: with over 400 products, there is plenty of choice. If you like, you can also trade more than 500 bonds from companies and governments.
You can also invest in commodities to a limited extent at Trade Republic; in gold, silver, and oil. For Forex traders, Trade Republic is less interesting since you can only trade the euro versus the dollar.
How does investing with Trade Republic work? The application
The Trade Republic application is just as user-friendly as BUX's. The company's target audience is therefore mainly younger, less experienced investors.
In my opinion, a big disadvantage of web applications is the lack of extensive analysis capabilities. You can quickly place and execute orders within Trade Republic, but don't expect many other options.
You can use the following order types at Trade Republic:
Market order: with a market order, you open the investment immediately at the prevailing price.
Limit order: with a limit order, you set a price at which you open an investment
Stop order: with a stop order, you can automatically close a trading position at a certain loss
Periodic order: this allows you to place a savings plan order, you can read more about this earlier in the review.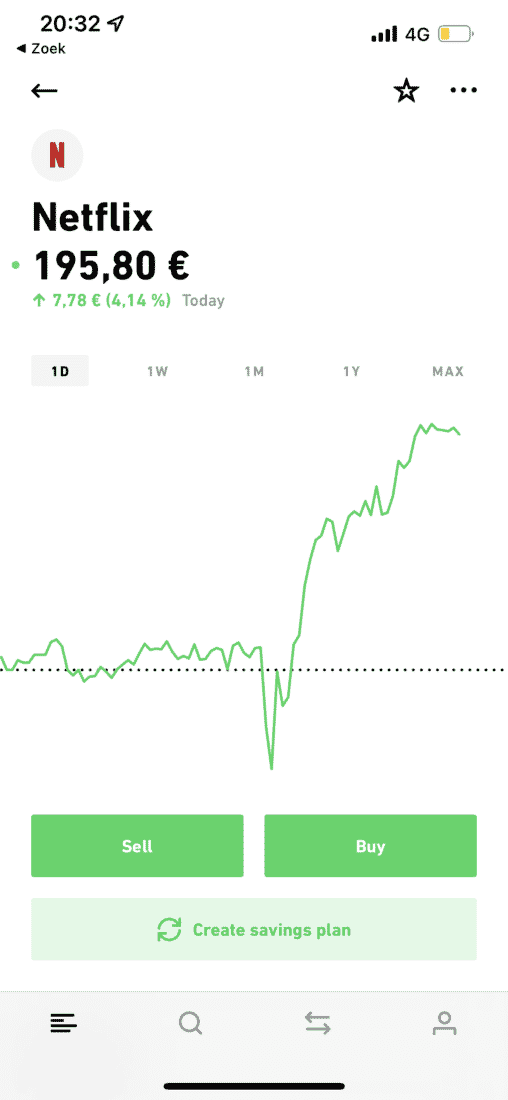 What are the costs of Trade Republic?
A positive point within the review is the low costs: at Trade Republic, you pay a standard fee of €1 for each order.
In the article free investing, I investigated various 'free brokers' and they were found to regularly charge additional fees. This is not the case with Trade Republic, and there are no hidden costs. With Trade Republic, you do not pay custody fees and depositing and withdrawing money is entirely free of charge.
An additional advantage is that Trade Republic does not charge conversion or currency exchange fees. With many brokers, you pay a markup for exchanging euros for dollars, e.g. 0,25%. When you buy US stocks, you almost always need to exchange euros for dollars. By not charging conversion fees, Trade Republic can save you a lot of money.
Is Trade Republic trustworthy?
Before opening an account with Trade Republic and starting to invest, you probably want to know if it is a trustworthy party. In this part of the review, I will discuss if this is the case!
Regulation
Trade Republic is supervised by BaFin, which is a German financial watchdog. This is a good sign: Trade Republic must comply with German and European laws and regulations, which means your money is protected.
Trade Republic is also registered with the Deutsche Bundesbank (the German central bank), which guarantees the balances in your account up to €100,000. This is higher than some other brokers offer: a reassuring thought!
Sale of orders
Trade Republic states that they do not earn money from transaction fees. However, the broker does make money in another way: by reselling all orders to the Lang & Schwarz Exchange in exchange for a commission.
This practice is not allowed in every country, since it can, in theory, work against the interests of customers. If exchange A sells shares at a higher price but charges a higher commission, orders could be executed on the less attractive exchange.
This doesn't seem to be the case with Trade Republic. According to this study (which they conducted themselves), Trade Republic is almost always as cheap as the usual exchange and sometimes even cheaper. I have examined some random examples myself and came to the same conclusion. Therefore, it seems that reselling orders is not a problem with Trade Republic.
Securities lending
The second method Trade Republic uses to make money, is by lending out your securities. This may sound scary, but it is very common.
The risk is minimal, because the parties borrowing the securities must provide collateral. This collateral typically consists of high-quality government bonds. If the other party is unable to repay the securities, the collateral can be sold.
If you object to securities lending, you can open a special custody account. You will then pay higher transaction costs, but your securities will not be lent out.
Depositing & withdrawing money
You can deposit money with Trade Republic using the following methods:
Bank transfer (can take up to 3 days)
Credit card
Apple Pay
Google Pay
You can withdraw the money in your account to your bank account after verification.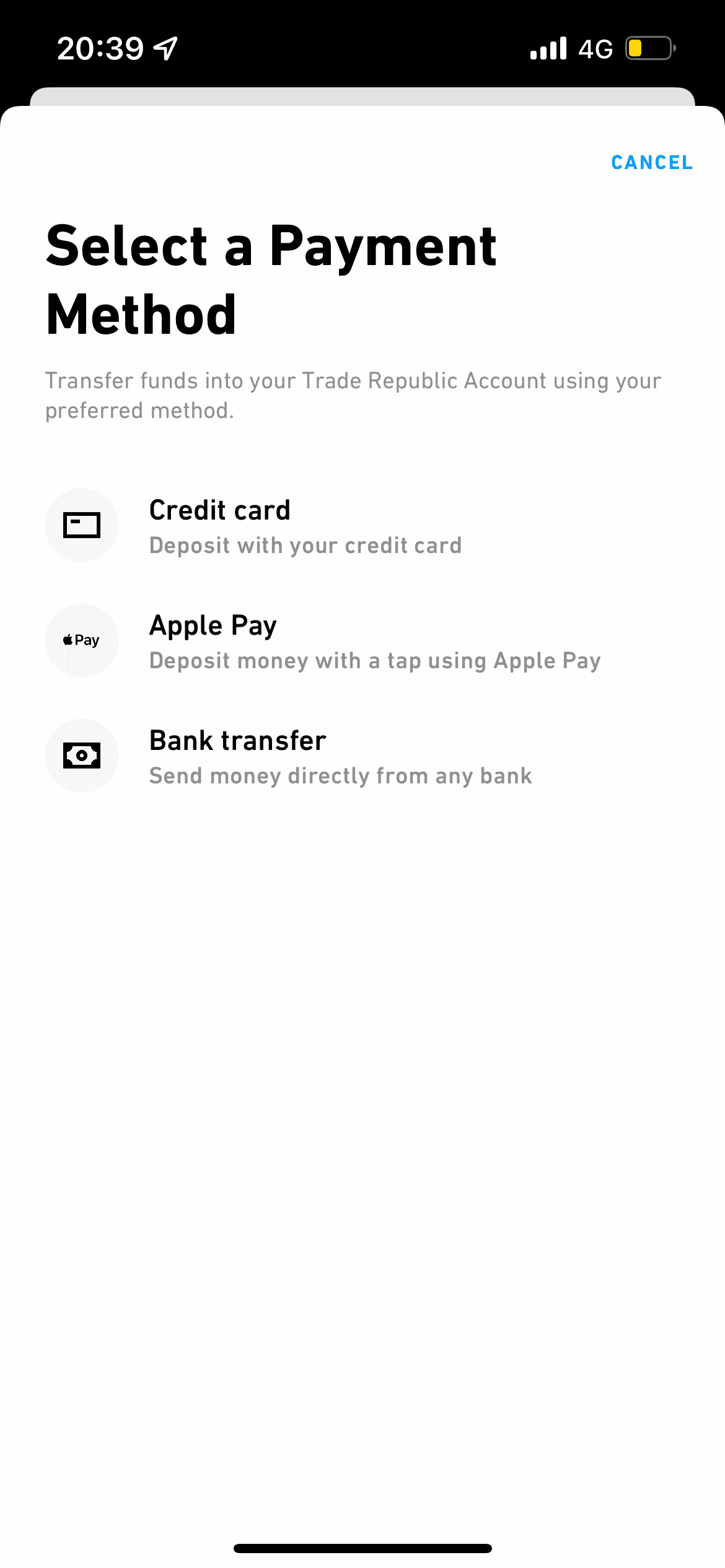 Trade Republic customer service
Trade Republic's customer service is disappointing. Unlike some other brokers, you cannot call or use live chat. The only way to request support from Trade Republic is via email and in English, which is a major disadvantage of this broker.
Conclusion review: investing with Trade Republic
I am a fan of Trade Republic: I definitely think that this new broker can compete with existing parties in Europes. With the savings plan, investors can also invest in interesting stocks with a small amount of money. If you don't mind your orders being resold, then Trade Republic is a good choice!
Frequently Asked Questions about Trade Republic
Trade Republic earns money from your investments in two ways. The first way Trade Republic earns money is by reselling the orders. The exchange pays Trade Republic a small commission for this.
The second way Trade Republic earns money is by lending out your securities. This is also common practice among brokers and carries a limited risk.
Investing is never completely safe: you can always lose your investment. However, Trade Republic is a reliable party with registration with the German regulator and the German Central Bank. This ensures that Trade Republic must adhere to strict rules.
I find Trade Republic to be cheap: you never pay more than €1 in transaction fees at this broker. Some brokers offer free trading, but then you often face additional costs. Trade Republic is very transparent and does not charge fees for exchanging currencies such as euros to dollars. Compared to the competition, Trade Republic is a cheap company.
Author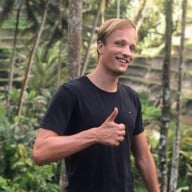 About
When I was 16, I secretly bought my first stock. Since that 'proud moment' I have been managing trading.info for over 10 years. It is my goal to educate people about financial freedom. After my studies business administration and psychology, I decided to put all my time in developing this website. Since I love to travel, I work from all over the world. Click <a href="/about-us/">here</a> to read more about trading.info! Don't hesitate to leave a comment under this article.