How to buy VeThor: How can you invest in VeThor?
When the term 'cryptocurrency' comes up, most people immediately think of Bitcoin. But there are many other cryptocurrencies. One of these units is the VeThor Token. This article will take a closer look at this coin. We will explain what the VeThor Token entails, what its functions are, and we will also list its advantages and disadvantages.  This way, you can decide whether it is attractive to invest in VeThor by buying the cryptocurrency.
How can you actively trade in VeThor?
Would you like to actively trade in VeThor? This is possible with an online broker! At an online broker, you can use CFDs to bet on both falling and rising Waves prices. At Plus500 you can try CFD trading completely free and risk-free with a demo. Use the button below to open an account with Plus500 immediately:
How to buy VeThor?
Do you want to buy the VeThor cryptocurrency? You can do this at a reliable crypto exchange:
| Brokers | Information | Register |
| --- | --- | --- |
| | Speculate on increasing & decreasing crypto prices with the CFD provider Plus500 using a demo account. 82% of retail CFD accounts lose money. | |
What is VeThor Token?
VeThor Token (VET) is seen as the fuel for the VeChain Thor (VTHO) blockchain. Every transaction that takes place on the VTHO blockchain consists partly of added transaction costs. These costs are covered by the VeThor Token. Think for example of costs for making payments or sharing data.
VeChain believes that blockchain technology is part of the foundation for future IT generations. AR, AI, VR and 5G are also seen as part of this foundation. With the VeThor Token, they want to boost the effectiveness and authenticity of information exchange. In this way, products and information can be exchanged with increased reliability.
An example: large companies lose billions because counterfeit products are offered on the market somewhere else in the world. VeChain wants to tackle this problem by giving the products a unique chip. In this way, a buyer of, for example, a Gucci bag can see whether it is real or fake by simply scanning a code.
How did VeThor originate?
VeThor Token is a part of VeChain. VeChain realizes the capture of authenticity of goods on their blockchain. The platform was founded by Sunny Lu. Lu could not stand the fact that so many counterfeit products are made and sold. The company in question is basically losing money and counterfeit products do nothing for the company's image. Sunny Lu decided to do something himself to combat this global problem. And he came up with a solution that could be worth quite a bit of money.
VeChain has been in existence since 2015. Since its inception, it has been striving to build a valuable company. Unfortunately, the VeThor price is lower than the reputation of VeChain. This is normal for a currency used to facilitate transactions.
VeThor Token: How does it work?
You can manage VeThor Tokens from wherever you feel comfortable. Through Bitvavo you can get monthly payments for your VeThor tokens. How much is calculated by the following formula:
There is a daily check on how many VeChain Thor each Bitvavo user owns. The daily numbers are added up at the end of the month.
At the end of each month it will be determined how many VeThor Token have been produced by the VeChain Thor of all Bitvavo users.
The VeThor Token produced is distributed evenly among Bitvavo users who hold the VeChain Thor.
The distribution of the VeThor Token takes place on the first Tuesday of the month. It will be credited directly to your Bitvavo account.
What should you watch out for when investing in VeThor Token?
In this article you have been able to read what VeChain stands for and what its purpose is. Now, the bigger VeChain becomes, the better this will be for the price of the VeThor Token. It is therefore anything but disadvantageous to keep track of how VeChain performs on the international markets. The fact that access has been given to the enormous network could mean that large customers approach VeChain. Should this be the case, it will certainly benefit the price of the cryptocurrency.
A potential advantage, but also disadvantage, of buying cryptocurrency is that no one knows for sure how things will turn out. It is wise to first realise that predicting the price is not an exact science. So do thorough preliminary research before you decide to invest in VeThor (the same goes for VeChain).
To invest or not to invest in VeThor?
VeChain, the developer of VeThor Token, is engaged in various markets. It has also started a Dapp platform. With this platform, they want to compete with superpowers such as Ethereum and NEO. There are several markets whose performance will affect VeThor Token. This can always be both positive and negative. But for now, the outlook is positive. VeThor is showing itself more and more. For example, VeChain has been chosen by the Chinese government as its technology partner.
In short, there is a lot of potential, including good growth potential. If companies start to apply VeThor in their production line, the value may increase. The predictions for the next few years are still fluctuating, but the prospects are positive.
It is advisable that you first carefully study the price development of VeThor and that you make a good price analysis. Investing in VeThor is a good opportunity to diversify your current investment portfolio. Make sure you also have traditional investments in your portfolio. This way you maximize your potential price gain and reduce your investment risk.
Author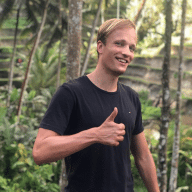 About
When I was 16, I secretly bought my first stock. Since that 'proud moment' I have been managing trading.info for over 10 years. It is my goal to educate people about financial freedom. After my studies business administration and psychology, I decided to put all my time in developing this website. Since I love to travel, I work from all over the world. Click here to read more about trading.info! Don't hesitate to leave a comment under this article.