Virtual investing in stocks & currencies
Have you never invested before, but would like to do so? In that case, virtual stock exchange investing might be the solution for you! Nowadays, you can try online virtual trading without any risk. But how does virtual trading work?
What is virtual investing?
With virtual trading, you use an online trading programme. With a virtual programme, you can try out the possibilities without any risk. The stock market is simulated, and you can trade in, for example, stocks, commodities, Forex and options.
How can you make virtual active investments?
You can trade virtually using the free software of a broker such as eToro. eToro offers CFD trading on popular securities. You can open an account by leaving your email and a password. Then you can begin trading financial securities immediately.
Do you want to give it a go? Use the button below to create your own virtual account at eToro immediately.
Why virtual trading?
Everything is 100% virtual. This means that there is no risk of losing money. Yet, you can also choose to invest with real money. Within the software you can easily switch to a real money account.
The virtual account is perfect for training your skills. By trading virtually, you become familiar with the software and discover how trading works.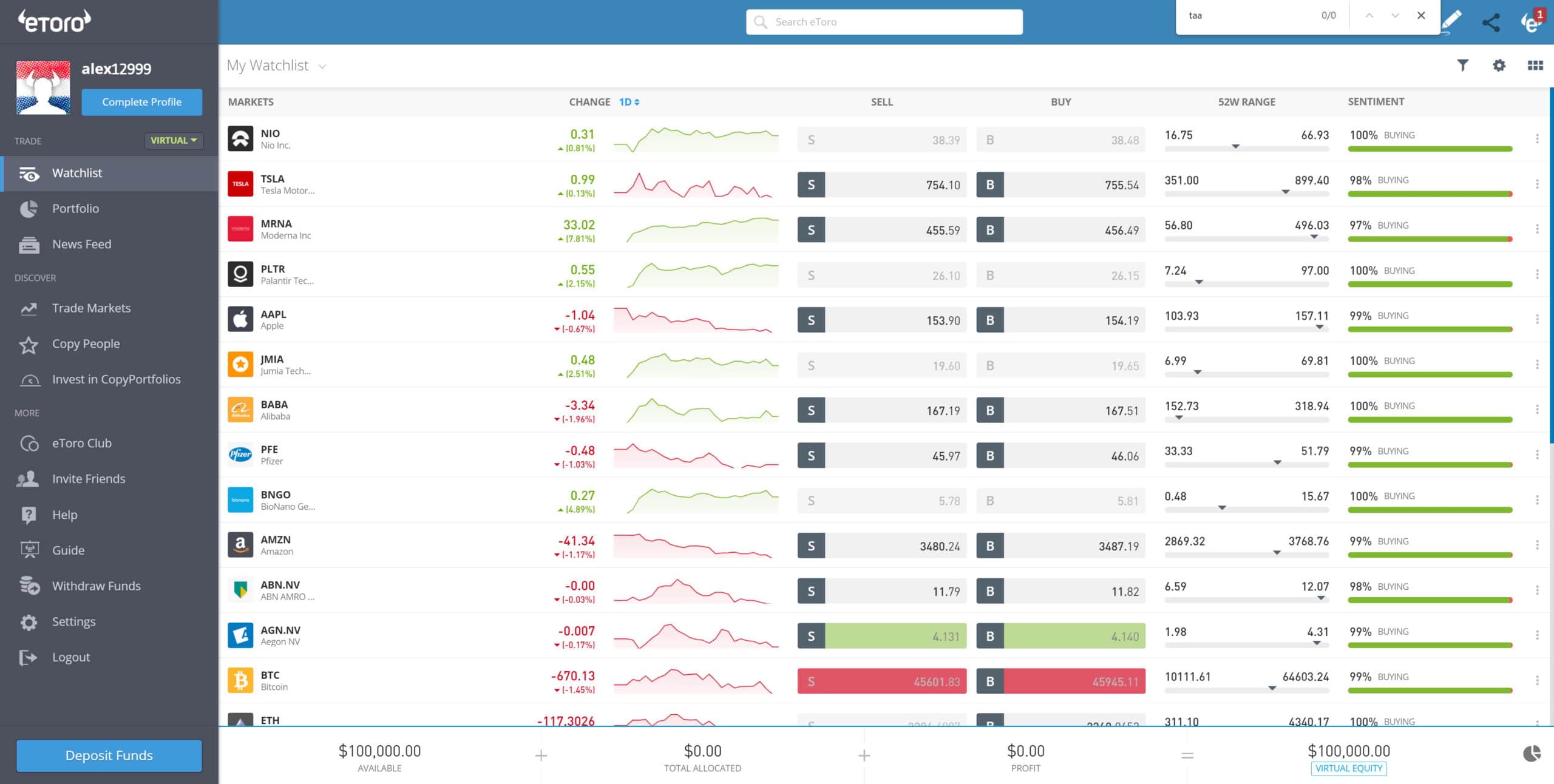 Virtual Trading at Plus500. Illustrative prices.
Trading in shares used to take place physically, with stockbrokers travelling to the stock exchange to buy and sell stocks on the trading floor. However, with the rapid developments in the field of communication, more and more is possible. Nowadays, anyone can trade shares virtually, and because the market is becoming more and more digital, the costs of doing so have dropped enormously.
At eToro, for example, you can virtually trade stocks without paying fixed commissions on your transactions. Use the button below to immediately open a free virtual demo account at eToro:
Did you know that all this is possible?
Anyone can short sell: you then bet on a falling price!
You can trade in shares from as little as one hundred pounds.
You pay no commissions when trading CFDs.
You will simply receive a dividend at the time of payment.
You can try investing in stocks 100% free with a demo!
Do you want to try virtual trading for yourself? Then use the button below to open a free demo:
Stocks generally move more erratically than currency pairs. Because the market for shares is smaller, an article in a reputable daily newspaper can already have a great influence on the share price. By keeping a close eye on the news, you can profit from these sudden movements, as you can quickly buy and sell stocks virtually.
When you buy a stock, you are actually indicating that you expect the stock to rise. If this is the case, the money you earn will be credited to your account. You can also indicate that you think that the share is going to fall, in which case you will earn money when the price drops.
Do you want to learn more about predicting the price of a stock? The following articles can help you:
Better results with virtual investing
There are two reasons why virtual investing can be more profitable than the old-fashioned way of buying up shares. The first reason is the fact that you can use leverage. By using leverage, you can also buy up a considerable number of stocks with a relatively low amount and thereby profit from the entire price movement. It is important to remember, however, that a leverage instrument also involves risks: you could lose your entire deposit more quickly as a result.
A second reason that virtual stock market investing can help you make more profitable investments is that you learn practical lessons that you can apply to your real money investments. By keeping track of the mistakes you make, you can prevent making them again. In this way, you can ensure that you achieve better investment results over time.
Investing in shares can be a bit overwhelming in the beginning: the options are endless! You can trade in shares quoted on the FTSE, but also in shares that are traded in Greece, for instance. I myself started by following some specific stocks: by doing so, you will automatically learn to recognize patterns, and you can increase the chance of achieving profitable results.
Ultimately, practice is the best way to learn how to make money with stocks. At a broker, you can easily open a virtual account with which you can try out stock trading completely without risk. By opening positions on your account, you'll find out if you can trade profitably too!
Do you want to compare brokers where you can open a virtual account? Use the button below to compare the best brokers.
Author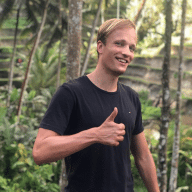 About
When I was 16, I secretly bought my first stock. Since that 'proud moment' I have been managing trading.info for over 10 years. It is my goal to educate people about financial freedom. After my studies business administration and psychology, I decided to put all my time in developing this website. Since I love to travel, I work from all over the world. Click here to read more about trading.info! Don't hesitate to leave a comment under this article.