How to buy Zoom Video Communications stocks (2023) – invest in Zoom
During the pandemic Zoom Video Communications rose strongly in value. This company was clearly one of the winners of the crisis and has experienced tremendous growth. But where can you buy Zoom Video Communications shares, and what is the current stock price? In this article, we you will learn everything you need to know about investing in Zoom shares.
Do you think the company will continue to grow significantly in the future? Then it might be wise to invest in Zoom stocks for the long term. However, it is important to be extra cautious when investing in the company. After the pandemic, the stock price has dropped significantly as people meet in real life more often.
Therefore, it is not recommended to invest your entire wealth in Zoom shares. If you still want to take a small investment position in the company, you can do so through a reliable online broker:
| Brokers | Benefits | Register |
| --- | --- | --- |
| | Buy Zoom without commissions. Your capital is at risk. Other fees may apply. | |
| | Speculate with CFD's on increasing & decreasing prices of Zoom! 82% of retail CFD accounts lose money. | |
| | Benefit from low fees, an innovative platform & high security! | |
| | Speculate on price increases and decreases of Zoom with a free demo! | |
What is the stock price of Zoom?
Do you want to know the latest stock price of Zoom Communications? The graph below shows how the share price has evolved.
Company information of Zoom Video Communications
Below you can find the key company information of Zoom Video Communications.
Before deciding whether to buy or sell Zoom Video Communications, it is essential to analyse the stock thoroughly. The overview below shows how Zoom Video Communications has performed over the past period.
Stock prices of Zoom over the last 5 days
In the table below, you can see the stock prices of Zoom Video Communications for the last 5 days:
What will be the performance of Zoom Video Communications in 2023?
Are you curious about what analysts think Zoom Video Communications will do in 2023 and the following years? We have combined the predictions of analysts using data from Alpha Vantage. Remember that this figure is just a forecast of the stock price movement of Zoom Video Communications and may not be accurate.
Strong growth: Zoom has experienced tremendous growth recently. Video calling became especially popular during the pandemic, also due to the lack of alternatives.
Large market: The global market for video conferencing is worth more than $20 billion, and Zoom has established a strong position to capture a large market share. Zoom is a globally recognized brand with a loyal customer base.
Competitive advantages: Zoom offers high-quality video and audio calls and excels in user-friendliness. The services are attractively priced, allowing even smaller companies to make use of them.
What are the risks of investing in Zoom stocks?
Competition: Zoom does not have strong barriers to entry, which means that other companies also offer similar software packages. Key competitors include Microsoft Teams, Google Meet, and Cisco Webex. Zoom constantly needs to innovate to keep up with the competition.
Regulation: Zoom came under scrutiny due to various privacy and security issues. In 2020, the company had to pay an $85 million fine to the Federal Trade Commission for failing to protect user data adequately.
Economic situation: During a recession, companies cut back on non-essential expenses. Companies may decide to spend less on video conferencing software, which could put pressure on Zoom's profitability.
Pandemic-related dependency: During the pandemic, there were no alternatives to Zoom, but now that lockdowns are over worldwide, more and more companies are opting for in-person meetings again.
Who are the biggest competitors of Zoom?
Cisco WebEx
Amazon Chime
BlueJeans
GoToMeeting
Lifesize
Pexip
RingCentral
Step 1: You need a stockbroker to trade Zoom and other US stocks. Click here to compare the options.
Step 2: Activate your account by uploading a copy of your passport and proof of address.
Step 3: Navigate within the trading platform to find the Zoom stock.
Step 4: Enter the amount you want to invest in Zoom shares.
Step 5: Click "buy" to purchase Zoom shares immediately.
About the company Zoom
There is a growing need for video conferencing. People who work from home still wish to be able to have meetings, and the American company Zoom Video Communications meets that need. The company's headquarters for external conferences is located in San Jose, California.
A rapidly growing company
Eric Yuan founded Zoom in 2011, and in 2013, the company started offering video conferencing services. Just a few months after the introduction of video conferencing, there were already one million users. The number of users grew rapidly, reaching 40 million registered users in 2015.
Zoom Video Communications connects people
Companies that use Zoom's video conferencing services can connect people through video, voice, and chat experiences. People also have the option to share content with each other.
With Zoom's video conferencing program, a meeting can be attended simultaneously by up to a thousand people. Zoom delivers high-quality and reliable video quality through a cloud-native platform. The video conferencing program developed by Zoom can be easily used, managed, and implemented by individuals and businesses.
Negative news coverage
The FBI discovered that Zoom conversations are not encrypted. Conversations can be infiltrated by strangers, a practice known as 'zoom-bombing.' The FBI advises users to use a password to ensure that video calls are only shared with the intended participants.
The program offered by Zoom also includes a waiting room feature. The administrator of the video call has the option to manually select which participants are allowed into the video call.
The company received significant attention during the coronavirus crisis in 2020. Due to its focus on video meetings, this company is often preferred over others. Programs offered by other companies are focused on chatting and are also pricier. For example, users of Microsoft Teams have to pay a fixed monthly fee, while the program offered by Zoom can be used for free with limitations.
Under the free usage, there is a time limit of 40 minutes, and a maximum of 100 participants can join a meeting. For companies that require additional features, a paid version is available. Zoom has been widely used during the coronavirus crisis, with the (mobile) Zoom apps being downloaded an average of 240,000 times per day in 2020.
After the coronavirus pandemic, the stock price of Zoom has dropped significantly. Do you think the company can still establish a strong position in the future? Then you might consider investing in Zoom shares.
Zoom's IPO
The company Zoom had a valuation of $1 billion in 2017. Zoom made its debut on the Nasdaq, the American technology exchange, in 2019. Zoom issued 9.91 million shares, and existing shareholders sold approximately 11 million shares. The offer price during the IPO was $36, and the company raised $356.8 million.
Zoom is a true technology stock
The rapidly growing company Zoom is valued as a true technology stock. Both the stock's valuation and expectations are extremely high. It is a highly scalable technology company with rapidly increasing profits and user numbers. An increasing number of companies with more than ten employees become customers of the company. The company's strong focus on the mobile application contributes to its rapid growth.
However, it is important to remember that these types of technology stocks carry risks. If a competitor with a better program emerges, the company can quickly lose a significant market share. This was seen, for example, in Yahoo's battle against the search giant Google and Myspace's struggle against Facebook. Therefore, when investing in Zoom stocks, it is critical to closely monitor the competition.
Interesting fact
There is also a company in China called Zoom, specifically Zoom Technologies. When Zoom Communications performs well, the stock price of Zoom Technologies often experiences a significant increase. At one point, the stock price of this company had increased by more than a million percent! This highlights the importance of being attentive when investing in stocks.
Personally, I am cautious about investing in Zoom shares. In the early stages of the pandemic, Zoom performed exceptionally well as people were forced to switch to Zoom for digital meetings. However, as people started meeting in person again after the pandemic, Zoom's performance has declined.
At the same time, competition in the video conferencing market has significantly increased. Companies have seen how profitable this sector can be, and it can be challenging for Zoom to compete with products from major companies like Google and Microsoft.
If you still want to invest in Zoom stocks, it is important to compare the company with its competitors. Then, develop a plan and determine the price at which you would like to buy and sell the Zoom shares. A savvy investor removes emotions from investments and thinks ahead!
Author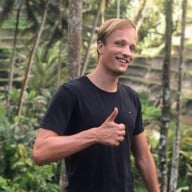 About
When I was 16, I secretly bought my first stock. Since that 'proud moment' I have been managing trading.info for over 10 years. It is my goal to educate people about financial freedom. After my studies business administration and psychology, I decided to put all my time in developing this website. Since I love to travel, I work from all over the world. Click <a href="/about-us/">here</a> to read more about trading.info! Don't hesitate to leave a comment under this article.