ZuluTrade review: is ZuluTrade a reliable party?
Is your bank balance not growing fast enough but don't you feel like investing yourself? In that case, the new automatic investment option is an ideal option for you! At ZuluTrade dozens of professional investors offer their investments and thanks to the innovative software you can automatically take over the investments within your account. In this extensive review we explain if ZuluTrade is a good investment platform.
What are the advantages of ZuluTrade?
Automatic investing: you do not have to select investments yourself.
Good protection against losses: follow an investor automatically in the event of a high loss.
The platform is fully localized in 20+ languages and the software is very user-friendly.
You can invest automatically at ZuluTrade from as little as $100.
You can try out the possibilities unlimited with a demo.
Investing at ZuluTrade is attractive for the investor who wants to benefit from active trading, without making the decisions themselves. It is recommended to first try the possibilities for free with a demo. In this way you will discover for yourself whether you can achieve good results with investments at ZuluTrade. Use the button below to directly open an account with ZuluTrade:
How does the ZuluTrade platform work?
ZuluTrade is a platform you can use to automatically open trades within your trading account. ZuluTrade has a platform where thousands of traders try to make the best trades available to you. When you follow successful traders, you can achieve good results with your ZuluTrade investments.
Investors on the platform do not deliver their trading signals without reason. They usually invest with their money, which gives them a good motivation to achieve good results. In addition, the investor receives a small commission for each investment opened. This commission increases when the investment is opened with more followers: this creates a healthy motivation among investors to achieve good results. Good results give the signal provider more followers and more money.
The investors on ZuluTrade always try to achieve the best results as this is how they earn the most money. You can learn how to invest, and the best members on this website have spent a large part of their lives doing so. By opening a free account on the site you can start tracking these investors right away.
Tip: First open a demo account and test different signal providers. Are the providers profitable? Only then place them in your live account and let them invest with your real money!
How does automatic trading work at ZuluTrade?
The principle of automatic investing at ZuluTrade is simple. On the website you will find several people interested in Forex trading or currency trading. These people like to share their trades and earn some extra money. These investors are called signal providers.
You can follow these signal providers with an amount of $100 or more. When the signal provider opens a position, the position also opens automatically within your account. This gives you the same results as the investor you are following.
How can you try ZuluTrade yourself?
On the ZuluTrade website you can open a demo account completely free of charge. When you press open an account you can choose to start working with a live account or to open a demo first. With a demo, you can start immediately: you will receive a virtual amount and your results will be 100% fictitious. For this review, we opened both a demo and a real account: opening an account is not difficult.
Automatic selection
You can use ZuluTrade's algorithms to automatically follow a selection of providers that suit you. Within our review of the platform, this is a useful feature, especially for novice investors.
With the risk scan, you can immediately indicate the level of risk you want to take. The algorithm then calculates a combination of traders that fits your risk profile.

Self-selection of signal providers
Of course, you can also choose to select traders yourself. If you want to select traders yourself, it is often best to go for the top traders. In this section you'll find the signal providers who deliver the best results. You can examine the following data in the overview:
ROI: how much did the signal provider earn in relation to the first deposit?
Drawdown: what is the maximum loss the trader has ever had on open positions at any one time.
Graphic progression: a smooth, equivalent graphical progression indicates that investments are developing steadily.
Followers: how many people are following the account?
Capital: how much capital is following the trader?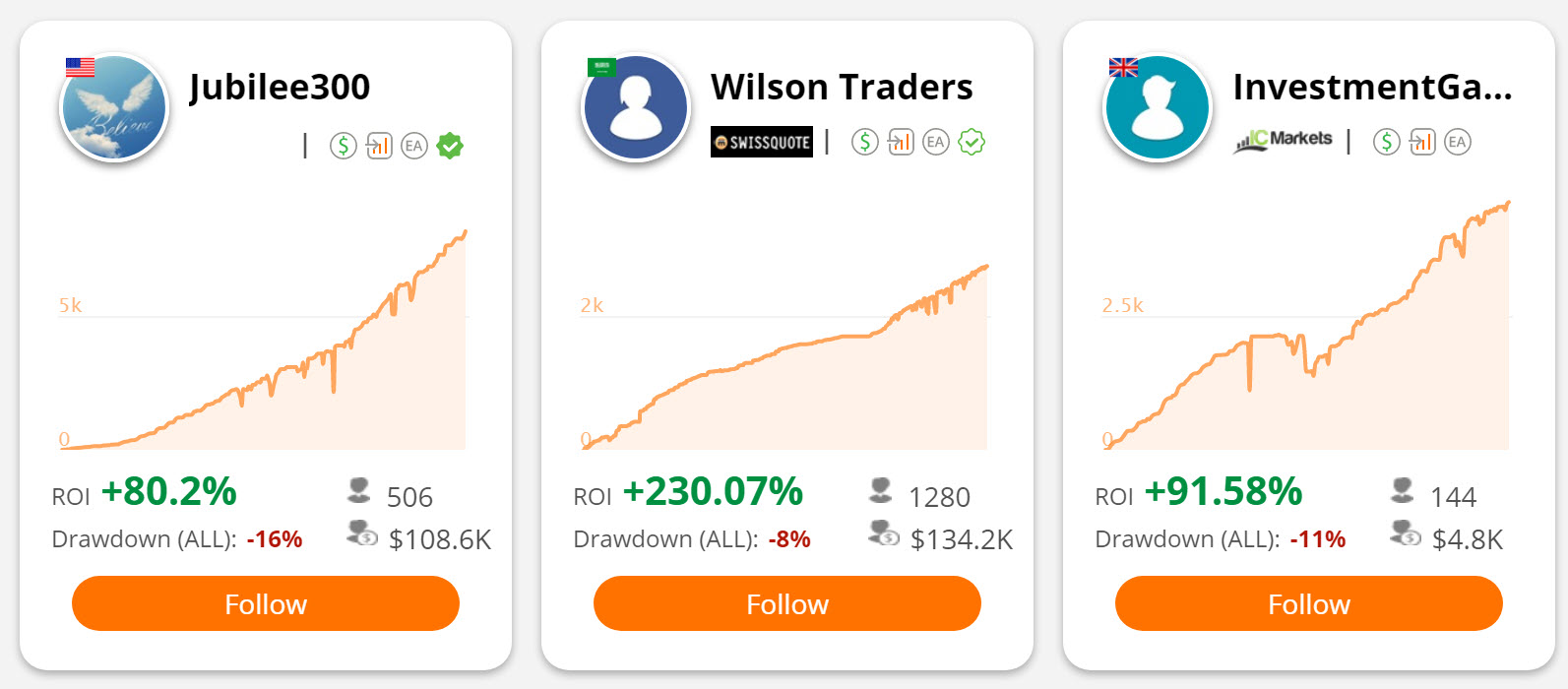 If you are interested in the signal provider, you can visit the profile. Within the profile you will see much more detailed information about the signal provider. There you can see exactly how the results have developed and how risky the provider is. If you have confidence in the qualities of the signal provider, you can choose to follow them.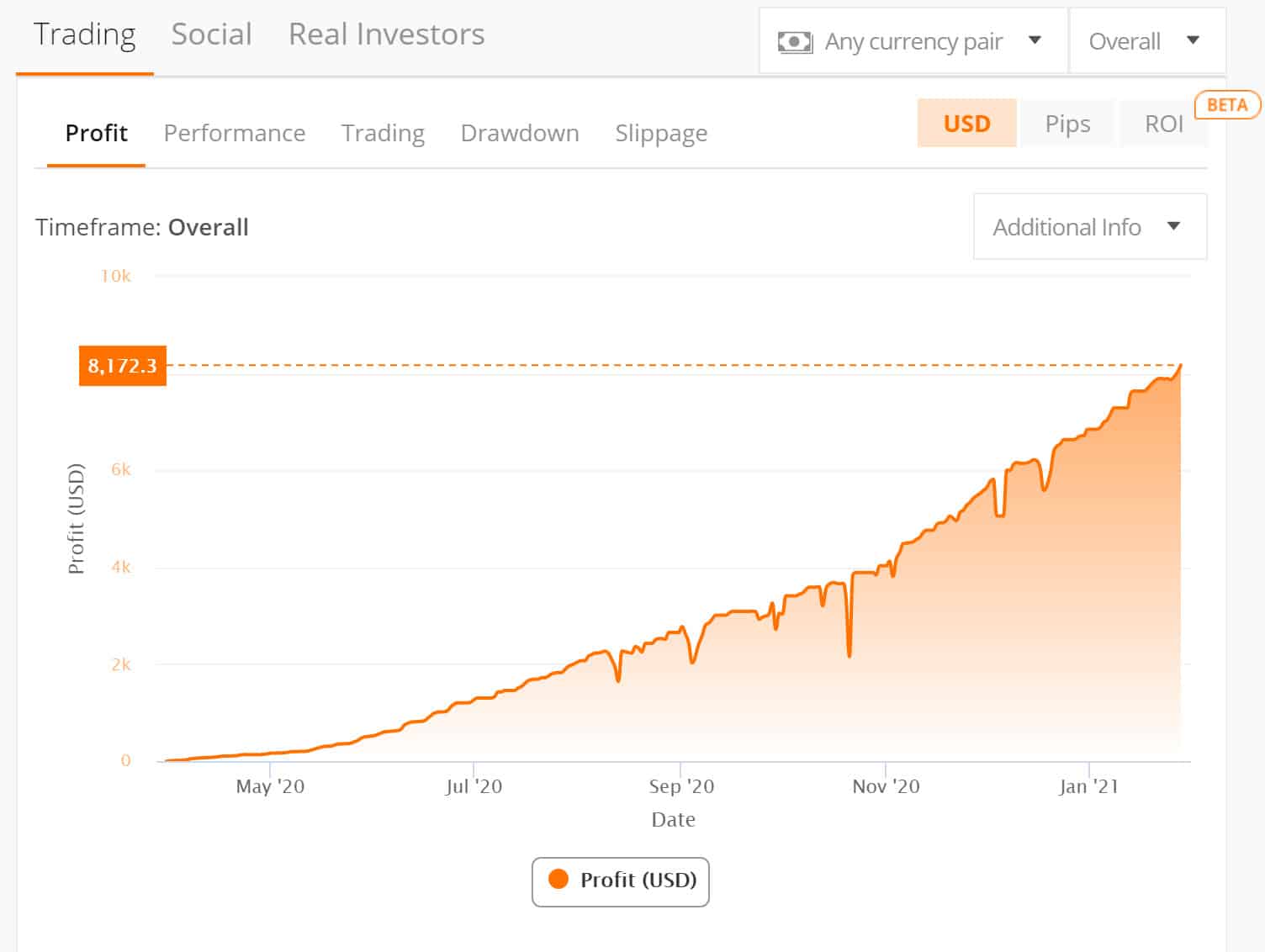 When you follow a signal provider, the trades are automatically opened within your account. You can in any case pay attention to the following when selecting signal providers:

High win rate: the signal provider must win at least 30% of the trades.
Long-term positive ROI: in the long term the provider achieves a positive result
Experience: the signal provider has carried out at least 100 trades.
Drawdown: the provider's drawdown is limited.
How can you invest with real money at ZuluTrade?
After you have tested the possibilities, you can choose to follow other providers with real money. To do this, you need to link your ZuluTrade account with a broker. After you have opened an account with ZuluTrade, you can also open an account with a broker the company works with.
The most advantageous broker where you can open an account is AAFx. At AAFx you benefit from favourable rates for the transaction costs, allowing you to achieve a higher return. After you have linked the account you can keep track of the results within your ZuluTrade account.
Investing with ZuluTrade happens automatically, but it is important to keep a close eye on the results. With ZuluTrade you can automatically stop following investors when they suddenly lose a lot of money. However, it is also wise to regularly evaluate the results and risks: in this way you avoid losing your entire investment with ZuluTrade.
Successful investing with ZuluTrade
When you decide to automatically start investing, you no longer have to make complicated decisions about whether to purchase certain securities. However, you do have to decide which investors you trust handling your money. Of course, it is important to look at long-term returns. On ZuluTrade, you can see at a glance how an investor's return has developed.
When composing your signal providers, take the risk into account. Check whether the graph is (almost) smooth and check whether the provider has a not too strong a drawdown. Drawdown is the maximum loss of open positions within a given period of time. A drawdown that is too high carries a high risk: this can be a sign that the signal provider is leaving positions open for a long time until they become profitable again.
When the drawdown rises, you may even face a margin call. A margin call occurs when you no longer have enough money in your broker account. You may then lose the full amount of your deposit.
Investing in cryptocurrencies with ZuluTrade
It has also recently become possible to invest in cryptocurrencies at ZuluTrade. Cryptocurrencies offer many opportunities for achieving high returns. In 2020, for example, the Bitcoin rose by hundreds of percent when investors started looking for safe havens under the influence of the corona pandemic. When you don't have the knowledge, it can be difficult to take advantage of these developments.
Luckily, ZuluTrade also has several experienced cryptocurrency traders that you can follow. This way you can benefit from active cryptocurrency trading even when you don't have a lot of time.
Is ZuluTrade reliable?
You may wonder if ZuluTrade is reliable. For this review, we have of course extensively investigated the reliability of ZuluTrade, and we came to the conclusion that ZuluTrade is reliable. The platform and the brokers behind the platform are all regulated and follow international rules. You can deposit money using the familiar methods: for example, iDEAL, PayPal, credit card and bank transfer. We have also requested deposits from ZuluTrade several times: we always got the money paid out into our bank account without any hassle.
How much does it cost to use ZuluTrade?
Using ZuluTrade is not completely free: you pay an extra 1.5 pips over every transaction. Half a pip goes to the signal provider, provided the investment ends positively. The other full pip goes to the owner of the ZuluTrade platform.
These are reasonable fees when you manage to follow good signal providers. However, a profitable position does not have to be immediately profitable for you: when a provider closes positions with a minimal profit, you do not always achieve a favourable result yourself.
Fortunately, the ZuluTrade Guard ensures that your capital is protected when a signal provider makes multiple bad decisions. In this way, you avoid losing a lot of money because a signal provider is playing crazy tricks on you. We consider the costs to be reasonable: after all, when you invest in an investment fund, you also pay management costs.
Customer service
Another important part of a financial platform is customer service. We tested customer service extensively for this review, and it came out well. You can always schedule a phone call with the team behind ZuluTrade or you can choose to send an email. The customer service is easy to reach and available in English.
Incidentally, as a point of criticism, we noticed that the website has not always been translated into other local languages well. Some parts of the website are in English, while other parts have been translated. It would be nice if ZuluTrade translated the entire website to provide international investors with a better experience.
Last tip: be careful with the leverage
You can use leverage within the platform of ZuluTrade. Leverage allows you to take a larger trading position with a smaller amount of money. The problem with leverage is that you can also quickly make a large loss. Therefore, be careful with highly leveraged investments!
General information about ZuluTrade
ZuluTrade is a financial company headquartered in New York. ZuluTrade's daily business activities are carried out from Cyprus and ZuluTrade has offices in Hong Kong, Shanghai, Athens, Greece and other countries.
The company was founded in 2007 and works via a peer2peer system where traders exchange trades among themselves. By opening an account with a broker, it is possible to automatically invest as a user by following the investments of other users.
Conclusion ZuluTrade
ZuluTrade is a unique online platform that is suitable for the investor with little time & knowledge who still wants to benefit from active trading. For a relatively low fee you can follow successful traders who sometimes offer hundreds of per cent return per year.
Make no mistake: automatic investing does not mean that you can just forget about your positions all together. It is important to keep a close eye on your account and to regularly evaluate your signal providers. In this way, you avoid losing a large part of your deposit due to the mismanagement of a signal provider.
Thanks to the presence of an unlimited demo, you can try out the possibilities without any risk. Do you still doubt after this review if automatic investing with ZuluTrade is something for you? In that case, opening a demo the ideal way to try out the possibilities yourself!
Why invest automatically with ZuluTrade?
Without investing time, you can still benefit from active trade!
Automatically follow professionals with years of experience.
No commissions: even small amounts can be invested.
Reduce risks thanks to ZuluTrade's handy tools.
Convenient predictions so that you know what return you can expect.
You can try ZuluTrade 100% free with a demo.
Starting with ZuluTrade in three steps
Search and select signal providers.
Deposit money and positions open automatically!
Would you rather try investing yourself with a free demo? Open a free demo account and try active speculation yourself:
Frequently asked questions about ZuluTrade
Is ZuluTrade regulated?
Yes, ZuluTrade is regulated under Triple A Expert SA # 2/540/17.2.2010. This means that the company has to adhere to strict rules and this is a good sign for the reliability of ZuluTrade.
Is ZuluTrade a broker?
ZuluTrade itself is not a broker: to use the platform you need to open an account with one of the connected brokers. Fortunately, on the ZuluTrade website you will immediately have a clear overview of the connected brokers.
Is your money safe with ZuluTrade?
You do not deposit money on ZuluTrade's platform yourself: it is therefore important to thoroughly investigate whether the party you are depositing money with is reliable.
How can you make money with ZuluTrade?
You can make money with ZuluTrade by following the right signal providers. However, it is important to pay attention to the consistency of the trader. Some investors are temporarily successful, but then lose all their profits. You can also make money with ZuluTrade by offering your services as a signal provider.
What is a good alternative to ZuluTrade?
I am a fan of eToro's social trading platform. eToro itself is also a broker, enabling you to buy and sell shares with this party. Would you like to know more about the possibilities at eToro? Read more in this article.
ZuluTrade is not necessarily the best platform, but it is certainly one of the better options. By opening a demo yourself you can check if the platform suits your needs.
Can you open an account anywhere at ZuluTrade?
A big advantage of investing with ZuluTrade is that you can open an account from almost any country. A few possibilities are for example England, America, Saudi Arabia and the Netherlands.
Author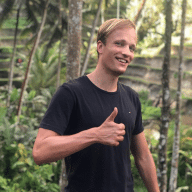 About
When I was 16, I secretly bought my first stock. Since that 'proud moment' I have been managing trading.info for over 10 years. It is my goal to educate people about financial freedom. After my studies business administration and psychology, I decided to put all my time in developing this website. Since I love to travel, I work from all over the world. Click here to read more about trading.info! Don't hesitate to leave a comment under this article.