How can you invest in Africa?
You can focus on Europe, America and China if you want to invest part of your assets, but you can also focus on other regions. Although most people invest in the European market or the American market, more and more people are also investing on the continent of Africa. This is for a reason, because with the right investments in Africa you can make a nice profit.
In this article you can read more about investing in Africa. We will discuss the possibilities for investing in Africa. Besides this, we also discuss the things you have to pay attention to when you invest part of your assets in Africa.
How can you invest in Africa yourself?
African stock exchanges are less accessible than European or American exchanges. The entire stock exchange in Ghana, for example, has been bought by a large pension fund. However, by taking advantage of the opportunities, it is possible to invest in Africa. In this part of the article we discuss how you can invest part of your assets in this interesting region.
Unfortunately, it is difficult to buy individual African shares through the stock market. This is due to the fact that many stock exchanges are not yet well-connected abroad. Nevertheless, you can invest indirectly in shares of companies with an interest in Africa. For example, many Chinese companies invest in Africa as the country is working on a Belt & Road project that will connect China better with Africa and Europe.
When you want to buy shares, it is important to investigate the underlying company well. After all, the company results can fluctuate sharply. At eToro, you can buy & sell shares without commissions. Use the button below to open an account immediately:
Investing in an ETF
The easiest way to invest in Africa is to buy an ETF. A well-known ETF, for example, is the iShares MSCI South Africa. An ETF invests the money of many investors at the same time in a composition of shares. As a result, with one investment you immediately apply a certain degree of risk diversification. Moreover, investing in ETFs is relatively cheap, and by stepping in periodically, you avoid investing in Africa at the wrong time.
Do you want to try investing in Africa yourself? Then open an account with DEGIRO! At DEGIRO you can buy & sell ETFs from the core selection for free. Use the bottom button to directly open an account with DEGIRO:
Real estate
Some investors choose to invest in real estate in Africa. Real estate in Africa is still relatively cheap. Nevertheless, a direct investment in real estate in Africa is very complex: legislation is complicated and corruption can cause you to lose your property. Moreover, when the local currency falls in value, your investment can become considerably less valuable.
However, you can choose to invest in African real estate by buying a fund: examples are the Momentum Africa Real Estate fund or the Actis Africa Real Estate Fund.
Investing in raw materials
You can also choose to invest in raw materials. When you trade in raw materials on the market, you can't be sure where they originate from. In other words, you invest only partially in Africa.
Nevertheless, it can be interesting to actively speculate in raw materials. Because raw materials are becoming increasingly scarce, there is a good chance that you will be able to achieve a positive return in the long term. Would you like to know more about investing in commodities? Then read our special on the subject:
Microcredit
If you also want to do something good for the world, you can provide microcredit. A microcredit is a small loan that helps local residents to set up a small business. The interest rate on a microcredit is relatively low, which does not make it the best investment.
Why can it be smart to invest in Africa?
There are many developing countries in Africa. All over the world you see that prosperity is increasing and that people are getting more and more money to spend. Africa, too, is no exception to this trend: there is still a lot of work to be done, but something that is still small can also grow rapidly. As a result, there are still plenty of opportunities to achieve a high return in Africa.
Moreover, it seems that African leaders are starting to cooperate more and more. 54 of the 55 states on the continent (only Eritrea is not participating) have joined the African Continent Free Trade Area. The area is home to 1.2 billion people and its gross domestic product totals USD 2.5 trillion.
This new agreement may be successful: at the moment, most trade still takes place along lines of colonial origin. Most exports from Africa are going to Europe. The fact that trade tariffs within Africa have now largely been brought to zero means that trade between African countries can be boosted, which is, of course, good for business within the continent.

Young population
The relatively young population also offers opportunities. The continent is home to many young people who can work. Because wages are low, companies can produce products cheaply. The average hourly wage in Africa is only 50 cents, with people in Mozambique receiving 0.34 dollars and people in Nigeria 1 dollar 62. This contrasts sharply with America and Europe, where companies have to pay multiples of these amounts.
Raw materials
Another good reason to invest in Africa is its rich resources. There is a lot of cobalt in the Congo, for example, and there is also plenty of building space. All this can contribute to a great success for Africa, where you can still buy shares relatively cheaply.
When you invest in Africa, you also directly help the countries to build a stronger position. An investment in Africa can therefore be an ethical investment!
What are the risks of investing in Africa?
Investing in underdeveloped countries always involves risks. You must therefore be extra vigilant when investing in Africa.
Untrustworthy governments
Corruption is the order of the day in Africa. This can lead to unexpectedly higher costs for companies. Moreover, there is a lot of instability: a war or famine can seriously erode returns in a region. That is why it is particularly important to spread investments in Africa.
Moderate infrastructure
Infrastructure in Africa is still very limited: yet it seems to be slowly improving. If African countries improve the infrastructure, they will be able to trade more easily, which is good for the profitability of companies.

What are known investment funds in Africa?
The best way to invest in Africa is to invest (part of) your assets in an investment fund. There are various investment funds that focus on the African market.
An index fund you can invest in is the Market Vectors Africa Index Fund. This index fund follows the Dow Jones Africa Titans 50 and helps you to invest widely in Africa. If you invest in this fund, you invest in companies that are listed on the African stock exchange and in companies that generate more than 50% of their turnover in Africa.
Are you looking for a method to invest in a specific African country? In that case, you can invest in the iShares MCI South Africa Index. This index tracks the economy of South Africa: economically one of the most stable countries on the continent. Another fund that follows a specific African country is the Market Vector fund for Egypt.
Finally, you can also invest indirectly in Africa. For example, it is possible to invest in the currency of South Africa. You can then estimate whether the exchange rate of the South African Rand will increase or decrease. You can also invest in commodities where you can buy raw materials that are common in African countries. All in all, there are plenty of opportunities to invest in Africa!

Investing in Africa: 3 important tips
You can make a lot of money by investing in Africa, but you have to do it right. We would like to give you three important tips to invest responsibly in this continent for the highest possible return.
Tip 1: take additional investment risks into account. After all, the continent of Africa is less stable than, for example, Europe. If you invest in Africa, it is good to take some extra risks into account.
Tip 2: Stay calm when things are going so well with your investments. If you invest with emotions, you are more likely to make the wrong investment decision. If things are not going well, stay calm. When things are going very well, also stay calm. Euphoria is also not good for the wise investor.
Tip 3: only invest money that you can afford to lose. It is unwise to invest your entire capital. If you unexpectedly need money, it is not easy to get it back once you have invested it. That's why you only invest money that you can really spare and always keep some assets in your bank account.
How can you invest directly in Africa?
You can invest in Africa by opening a free account with a broker. At a broker, you can buy different shares with one click. It is also possible, for example, to buy a participation in an investment fund at a broker. Without opening an account with a broker, it is not possible to invest in Africa.
Author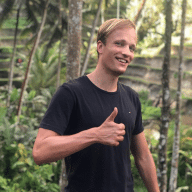 About
When I was 16, I secretly bought my first stock. Since that 'proud moment' I have been managing trading.info for over 10 years. It is my goal to educate people about financial freedom. After my studies business administration and psychology, I decided to put all my time in developing this website. Since I love to travel, I work from all over the world. Click here to read more about trading.info! Don't hesitate to leave a comment under this article.