How to buy Bacardi shares?
Bacardi Limited is now a large American privately held family business. Originally, it is a Cuban brand of spirits. We know the brand mainly because of the well-known rum. Still, the drinks brand also produces and sells many other different drinks. Do you want to invest in this well-known beverage company? In this article you discover what the possibilities are!
How can you invest in Bacardi?
It is not yet possible to invest in Bacardi. Bacardi's share is not listed on the stock exchange. The company is currently a private company. Do you still want to invest in a beverage related company? Then you can choose, for example, to invest in Heineken shares. Do you want to know the best method for buying shares? In our special on buying stocks, you'll discover how you can do this:
About Bacardi
Bacardi is best known for its rum. In addition to the rum, the company supplies gin, vodka, and mixed drinks. The company also owns the Cazadores tequila brand. The company currently has more than 200 brands and labels. The more than 200 million bottles the company sells annually are produced in 29 locations. Those bottles are sold in more than 150 countries. Bacardi Limited is headquartered in Hamilton, Bermuda.

The founding and early years of Bacardi
Bacardi was founded in Cuba by Don Facondo Bacardi Masso. In 1862, he succeeds in making clear rum. His rum attracts attention. The rum wins several prizes in terms of taste and quality. The sons of Don Facondo all play an important role in the family business.
In 1900, Bacardi opened a branch in Barcelona, Spain. This makes the company Cuba's first multinational. A short time later, a branch in New York is opened. This is followed by a branch in New York. Thanks to this location, the future of the company can be secured, as it will later become apparent.
Bacardi and Fidel Castro
The 1960s are black pages in the company's history. Fidel Castro's dictatorial regime takes possession of all enterprises. Properties such as factories and other important items are seized. Fortunately, the regime fails to seize the Bacardi brand name.
In Cuba, the rum no longer bears the name Bacardi. A Bacardi rum is a Havana Club. The family manages to flee by boat and settle in Bermuda. New headquarters will be opened there. It is decided to only do business with suppliers outside Cuba. This way, the family business manages to limit Fidel Castro's influence on day-to-day operations.
Beverage brands acquired by Bacardi
The company managed to grow by expanding its product range and by taking over companies. In 1993, there was a merger between Bacardi Limited and Martini & Rossi S.p.A. This Italian company produces Martini Vermouth. The acquisition of Martini enabled Bacardi to build a strong network in Europe. Bacardi also took over other beverage brands, such as Bombay Sapphire Gin and Eristoff Vodka.
Some facts about Bacardi
More than 8 million Bacardi Rum cocktails are drunk every year. No less than 228 Bacardi cocktails are drunk every second. A Bacardi rum is perfect if it contains 6 ice cubes. The logo of the Bacardi brand is a bat. Why? In 1862, when the company was founded, the bat stood for good health and for cleanliness and happiness in families.
Bacardi is a private company. Therefore, no investment can be made in Bacardi shares. There may be an IPO in the future. An IPO is only possible if the owners of the company want it. An IPO in 2003 was cancelled because the owners got into a fight.
When the company goes public, we will let you know!
Author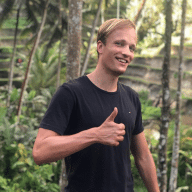 About
When I was 16, I secretly bought my first stock. Since that 'proud moment' I have been managing trading.info for over 10 years. It is my goal to educate people about financial freedom. After my studies business administration and psychology, I decided to put all my time in developing this website. Since I love to travel, I work from all over the world. Click here to read more about trading.info! Don't hesitate to leave a comment under this article.