Bitvavo vs Binance: which crypto broker is better?
In this extensive comparison, we will examine which crypto exchange is better: Bitvavo or Binance. This allows you to decide which crypto broker you want to start trading Bitcoins and other cryptos with.
Do you want to test Bitvavo and Binance?
Do you want to find out for yourself if you like Bitvavo or Binance? You can open a free account with these exchanges right away:
At Bitvavo, through the link above, you will temporarily pay no transaction fees on your first €1000 of transactions!
| Comparison | Bitvavo | Binance |
| --- | --- | --- |
| Crypto offer | 100+ | 500+ |
| Costs | 0,25% | 0,1% |
| Software | User-friendly | Advanced |
| Reliability | Not regulated | Supervised in EU |
| Costumer support | Multiple languages | Only in English |
| Payment options | iDEAL & wire transfer | Creditcard |
| Staking | Yes | Yes |
| Creditcard | No | Yes |
| Short selling | No | Yes |
Cryptos available for trading: Bitvavo vs Binance
At Bitvavo, you can trade more than 150 different cryptocurrencies. All known cryptocurrencies are tradable at Bitvavo, including Bitcoin, Ethereum and Dogecoin. Bitvavo constantly analyses the market and regularly adds new, relatively stable altcoins to its platform. An advantage of this approach is that you will not easily find a crypto scam coin on the platform.
If you prefer to trade in exotic altcoins, Binance is the best choice. Binance offers significantly more trading options than Bitvavo. Some active traders like to buy unknown coins in the hope that they will rise in value sharply.
At Binance, the crypto offering is more extensive, but at Bitvavo there is more control.
Costs: is Bitvavo or Binance cheaper?
At Bitvavo, you will never pay more than 0.25% in transaction fees. If you trade large amounts, your transaction fee can even decrease to 0%. For the smaller trader, however, the fee is 0.25%: this is the case when you trade less than €100,000 per month. Click here to read more about the fee structure at Bitvavo.
The costs are clearly lower at Binance: the maximum costs you pay there are 0.1%. At Binance, the transaction costs also decrease when you trade a lot. You can also further reduce your transaction fees by buying Binance Coins.
Both crypto exchanges are cheap, but Binance is clearly the cheapest. If you want to start trading actively, Binance is a better choice. If you only want to buy crypto's sporadically to hold them for the long term, Bitvavo is also a good option.
Software: Binance vs Bitvavo
An important part of a crypto exchange, is of course the software. At Bitvavo, you make use of a user-friendly web trader. Because of the simple design, even a beginner can quickly find and buy cryptocurrencies.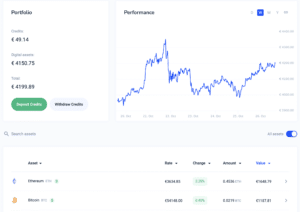 The trading software of Binance is more complicated: the menus are quite extensive, which can make Binance's software rather overwhelming, especially for beginners. In return, however, there are many extra options.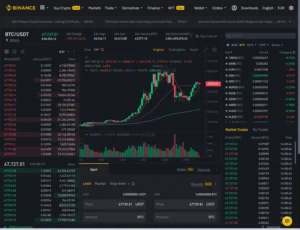 Which software package is better depends very much on your personal preference. If you want to trade actively, you might want to choose Binance. If this is not your goal, Bitvavo might be the best option.
Reliability: Bitvavo vs Binance
As for Reliability, Bitvavo clearly wins: there is simply not that much known about Binance. I was even able to visit Bitvavo's office, where they explained everything they do to keep your assets safe. Cryptos, for example, are stored in data centres without being connected to the internet. In this article you can read all about the measures Bitvavo implements.
Binance, on the other hand, is regularly portrayed in a negative light: this is mainly because they do not always follow local legislation. As a result, local banks regularly block payment options and there is a bit more uncertainty about the future course of the company. Personally, I don't think your funds will just disappear, but it feels safer to have a clear and local point of contact.
For me, Bitvavo's higher reliability is a good reason to choose this provider.
Customer support: Bitvavo wins
Due to the rapid growth of cryptocurrencies, many exchanges are struggling with their customer service. At both Bitvavo and Binance, it's not possible to get someone on the phone. Fortunately, Bitvavo can help you fairly quickly via email or live chat in Dutch.
My experiences with the customer service at Binance was not as good: they can be difficult to reach (I only received a reply after several emails) and they only help costumers in English. Bitvavo therefore wins from Binance when it comes to customer service.
Payment options: Bitvavo or Binance?
Bitvavo is the best choice if you want to deposit or withdraw money into your account quickly. Because it is a Dutch company located in the EU, you can deposit money quickly with iDEAL or your local bank. You can then have the money paid back into your bank account in no time as well. It is a pity that credit cards are not supported: this is because the Dutch central bank is afraid of people using thenm to buy crypto with borrowed money
Binance is a better choice if you want to deposit money into your account with your credit card. Since Binance does not always comply with local laws, it is not possible to deposit / withdraw money from a European bank account. This is obviously a major drawback and a good reason to prefer Bitvavo over Binance.
Possibilities and unique features
Bitvavo was developed for one specific purpose: to be able to buy and sell cryptocurrencies quickly. Therefore, the crypto exchange is very well-developed for this specific purpose.
However, if you are looking for an exchange with more 'unique' features, Binance is a better choice. For example, at Binance, you can apply for a special credit card that allows you to make payments with cryptos. Binance also offers more diverse crypto products and a more advanced trader, giving you more options.
Of course, more options are not always better: if you only need a solid trading platform, Bitvavo is a good choice. However, if you want to trade in more exotic products, Binance may be a better choice.
Staking at Bitvavo and Binance
You can earn additional returns on your investments by staking crypto. This is possible at both Bitvavo and Binance. At Bitvavo, the return on staking is not very high compared to other providers.
If you want to participate in staking, you can consider opening an account at Binance. At this provider, you can also participate in swaps and launch pools. It is important, however, that you research what these are so you can properly assess the risks.
Bitvavo or Binance which is better?
After reading this comparison, you might wonder which exchange is better: Bitvavo or Binance. It's difficult to give a definitive answer, since this will strongly depend on your personal preference. Personally, I think Bitvavo is a better exchange because of its higher reliability and user-friendliness. However, if you want to trade in more exotic products, Binance may be a better option.
Are you not sure which exchange is a better fit? Then it is certainly advisable to open an account with both crypto exchanges. This is completely free and allows you to discover which exchange fits you better.
Click here to open an account with Bitvavo & Click here to open an account with Binance
frequently asked questions
Are you convinced of Bitvavo's reliability? Then you can quickly transfer your cryptos to Bitvavo. You can choose to simply sell your cryptos at Binance and buy them again at Bitvavo. However, it is also possible to transfer the cryptos within your account to your Bitvavo wallet address.
Are you convinced of the lower costs and more extensive possibilities at Binance? Then you can switch to Binance. You can choose to sell and buy your crypto coins again at Binance. However, it is also possible to transfer your crypto coins from Bitvavo to your wallet at Binance.
Bitvavo has a better reputation in the European Union: this is because they operate according to the latest legislation and are registered with the Dutch bank. This guarantees that Bitvavo handles your funds with care.
Binance doesn't have a bad history when it comes to reliability, either. Even after the extensive hack in 2019, they made sure their users did not lose any money. The only problem with Binance is the instability caused by them not following local laws. As a result, it will no longer be possible to deposit and withdraw funds through bank accounts in the European Union in 2021.
Do you want to read more about crypto trading?
Author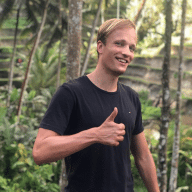 About
When I was 16, I secretly bought my first stock. Since that 'proud moment' I have been managing trading.info for over 10 years. It is my goal to educate people about financial freedom. After my studies business administration and psychology, I decided to put all my time in developing this website. Since I love to travel, I work from all over the world. Click here to read more about trading.info! Don't hesitate to leave a comment under this article.