How to buy BlackBerry shares?
The Canadian technology company BlackBerry became known mainly because of the smartphone made by this company. The smartphone is no longer very popular, but the company still exists. By investing in BlackBerry shares you can still make a good profit. In this article you will learn the best method for trading BlackBerry shares. You can also consult the current share price of BlackBerry on this page.
Do you want to buy BlackBerry shares? You can directly trade in BlackBerry stocks with one of these reliable brokers:

| Brokers | Benefits | Register |
| --- | --- | --- |
How can you actively invest in BlackBerry?
BlackBerry is not what it used to be. Where they used to produce popular phones, they have now switched to software. Still, they are not entirely without merit: BlackBerry has even managed to become profitable again. The beauty of modern investing is that regardless of the financial results, you can achieve good results with trades in BlackBerry.
This is possible because you can also open a short position. With a short position you achieve a positive result when the price of the share drops. This allows you to respond to the latest developments. This method of speculating requires more attention than average. A good party where you can actively trade CFD's on BlackBerry is Plus500. With Plus500 you can open a demo account free of charge to try the possibilities:
Do you want to know what the current share price of the BlackBerry stock is? Then you've come to the right place! Below you can see a graph with the CFD price development of the BlackBerry share. With the buy and sell buttons you can directly open a position on the stock.
Interesting facts about the once successful BlackBerry
Mike Lazaridis founded the Canadian company Research In Motion Ltd (RIM) in 2010 in Waterloo, Ontario. The company became well known through his smartphone. The well-known smartphone 'BlackBerry' was appreciated by business users. However, the company paid no attention to innovation.
Business users said goodbye to the BlackBerry. The many maintenance issues didn't do the company any good either. As of 2016, BlackBerry will no longer produce any phones. Other companies do still sell BlackBerry phones.

The CrackBerry
The Blackberry phone was initially very popular. Users called their device the CrackBerry. Crack refers to the addictive effects of crack, also known as cocaine. Users were addicted to their device. This was due to the fact that, thanks to this device, everyone was now permanently available. Someone could be reached at home as well as at work. As a result, the line between home and work became blurred.
A sharply lower stock price
Until fiscal year 2011, BlackBerry went through a spectacular development. In 2003, there were 545,000 active BlackBerry users. In 2012 there were 79,000,000 users. The increasing number of users also had an impact on the share price. In February 2011, for example, the share price was approximately €70 per share. Currently, the shares are only worth a fraction of that amount.
Do you think the price will drop further? With a short position, you make money when the price drops. Do you think the bottom has just been reached? Then you can consider buying BlackBerry shares.
The current activities of BlackBerry
The company's activities are currently focused on software. All software for the products is developed by BlackBerry itself. The main programming languages used are C++ and Java. In addition, BlackBerry develops technology for wireless applications. This technology is sold to other companies.
Compensation from Qualcomm
The judge awarded BlackBerry damages of $815 million against chipmaker Qualcomm in 2017. Why was this compensation allocated? According to the judge BlackBerry was forced to overpay for the usage of Qualcomm's technology. Qualcomm will also reimburse the costs of the legal proceedings.
BlackBerry sued by Facebook
In September 2018, BlackBerry was sued by Facebook. Why did Facebook sue BlackBerry? Facebook sued Blackberry because the company would have taken over patents from Facebook without permission. BlackBerry used voice technology and GPS data technologies from Facebook without permission.
Earlier that year, Facebook was sued by BlackBerry. BlackBerry sued Facebook because they had copied message encryption technologies.
Author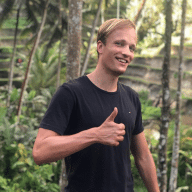 About
When I was 16, I secretly bought my first stock. Since that 'proud moment' I have been managing trading.info for over 10 years. It is my goal to educate people about financial freedom. After my studies business administration and psychology, I decided to put all my time in developing this website. Since I love to travel, I work from all over the world. Click here to read more about trading.info! Don't hesitate to leave a comment under this article.